#ASH20: Bain ex­ecs step in to po­si­tion a some­what bat­tered and bruised Sy­ros with a new clin­i­cal can­di­date and enough mon­ey to charge ahead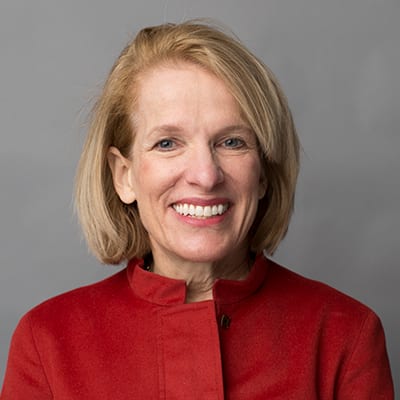 Nan­cy Si­mon­ian Sy­ros
Sy­ros $SYRS CEO Nan­cy Si­mon­ian had more than da­ta to dis­cuss dur­ing the vir­tu­al ASH ses­sions this week­end.
On top of a new cut of the da­ta for their lead can­cer drug, SY-1425, a trio of Bain ex­ecs has stepped in to set up a ma­jor new in­fu­sion of funds along with a new prod­uct ac­qui­si­tion aimed at beef­ing up the pipeline as they shoot for the prover­bial "ful­ly in­te­grat­ed" sta­tus of a com­mer­cial play­er.
"We had been talk­ing to Bain for the last cou­ple of years," says Si­mon­ian, who's been in­ter­est­ed in see­ing how they could work to­geth­er based on a sim­ple premise: "We've got this great team, great pipeline, if there's an in­ter­est­ing as­set you've been see­ing, let's talk."
It took some time, but Bain's Ricky Sun, An­drew Hack and Adam Kop­pel came up with an in­ter­est­ing prospect.
They point­ed to ORH-2014 from a biotech called Ors­enix as the kind of as­set that could make a ma­jor dif­fer­ence for a com­pa­ny like Sy­ros, which has had its share of ups and downs in re­cent years.
A lit­tle more than a year ago a de­ci­sion to switch out an IV CDK7 in­hibitor in fa­vor of an oral mod­el — SY-5609 — was greet­ed with a rout of the share price. Three years ago it was trou­ble with the lead, their RARα ag­o­nist, that trig­gered a plunge. And the biotech — which al­ways main­tains a sun­ny at­ti­tude on events — has con­tin­ued to have a rocky re­la­tion­ship with the mar­ket; since ear­ly Sep­tem­ber their shares have bled away close to half of their val­ue, with the stock trad­ing at about a third of what they fetched be­fore trou­ble came knock­ing in 2017.
In Bain's world, though, biotechs that stand some­what bat­tered and bruised of­fer an in­ter­est­ing op­por­tu­ni­ty, pro­vid­ed they can per­form on their pipeline plans. So the trio of Bain ex­ecs came through with a new as­set as well as a syn­di­cate to pro­vide a $90.5 mil­lion fi­nanc­ing in­jec­tion, which was made at a slight­ly el­e­vat­ed price of $8 a share.
Sy­ros gets a clin­i­cal-stage drug — now dubbed SY-2101 — that could pro­vide an oral al­ter­na­tive to the IV form of ar­senic tri­ox­ide used to treat pa­tients with acute promye­lo­cyt­ic leukemia. It's been through a Phase I, of­fer­ing some sig­nif­i­cant de-risk­ing, and is slat­ed for a dose con­fir­ma­tion study in 2021. If that all goes well, Si­mon­ian and her team are plan­ning a 2022 start for a reg­is­tra­tion study with an eye to get­ting to the FDA in 2024 with their NDA.
The drug comes at a rel­a­tive­ly mod­est cost: $12 mil­lion up­front, with $6 mil­lion in reg­u­la­to­ry mile­stones and $10 mil­lion on the com­mer­cial end, along with sin­gle-dig­it roy­al­ties.
One of the rea­sons why they've had trou­ble main­tain­ing en­thu­si­asm for SY-1425 is the weak da­ta they've re­port­ed on it as a monother­a­py. Si­mon­ian switched fo­cus to a com­bi­na­tion of the drug, us­ing it with azac­i­ti­dine. At ASH they up­dat­ed the on­col­o­gy world with the lat­est from Phase II, which fo­cused on new­ly di­ag­nosed AML pa­tients "who are not suit­able can­di­dates for stan­dard chemother­a­py, as well as hard to treat RARA-pos­i­tive AML pa­tients."
Some of the high­lights in­clude a snap­shot of da­ta from 51 new­ly di­ag­nosed un­fit AML pa­tients, with:
An over­all re­sponse rate (ORR) was 67% (12/18), with a com­pos­ite CR rate of 61%, (11/18) in­clud­ing nine pa­tients (50%) achiev­ing a com­plete re­sponse (CR), two pa­tients (11%) achiev­ing a com­plete re­sponse with in­com­plete blood count re­cov­ery. Me­di­an du­ra­tion of re­sponse was 10.8 months, and me­di­an over­all sur­vival among pa­tients who achieved a CR or CRi was 18 months.
Among re­lapsed and re­frac­to­ry pa­tients, there was a more mod­est im­pact:
ORR was 19% (4/21), con­sist­ing of one CRc, two CRi and one MLFS (mor­pho­log­ic leukemia-free state). Me­di­an OS was 5.9 months.