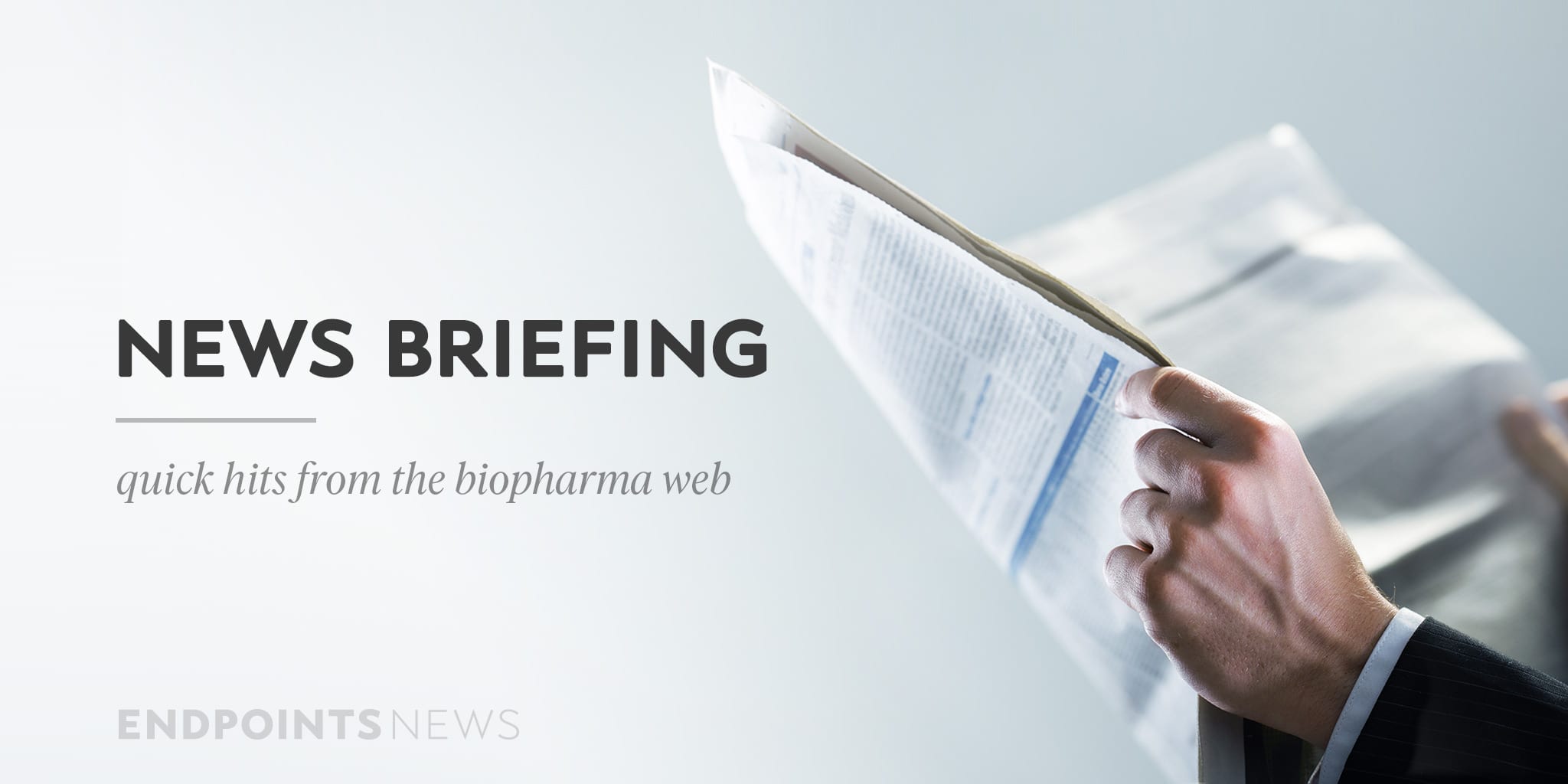 Astel­las signs on pluripo­tent stem cell part­ners at Ex­CellThera; Lit­tle Uni­cy­cive brings home $25M af­ter float­ing a small IPO
Astel­las has signed up on rights for a batch of pluripo­tent stem cells from Mon­tre­al-based Ex­CellThera, cen­ter­ing on the in vit­ro use of their UM171 com­pound.
Astel­las is hand­ing over an un­spec­i­fied up­front pay­ment and promis­ing a slate of mile­stones to get the col­lab­o­ra­tion un­der­way.
Guy Sauvageau, CEO and founder of Ex­CellThera, not­ed:
While Ex­CellThera has fo­cused on de­vel­op­ing our core strength in oth­er ther­a­peu­tic ar­eas, Astel­las has in­vest­ed sig­nif­i­cant­ly in PSC-re­lat­ed pro­grams and is ab­solute­ly the right part­ner for us in that re­gard.
— John Car­roll
Lit­tle Uni­cy­cive brings home $25M af­ter float­ing a small IPO
Not all biotech IPOs in­volve big, up­sized of­fer­ings and mega­cash win­nings. Take the case of Uni­cy­cive Ther­a­peu­tics.
The biotech has just raised $25 mil­lion gross by sell­ing 5 mil­lion shares at $5 a pop. That comes in at the low end of the range.
Uni­cy­cive is de­vel­op­ing drugs for kid­ney dis­ease, and gave "un­der­writ­ers a 45-day op­tion to pur­chase up to an ad­di­tion­al 750,000 shares of its com­mon stock and/or war­rants to pur­chase up to an ad­di­tion­al 600,000 shares of its com­mon stock, at the ini­tial pub­lic of­fer­ing price, less the un­der­writ­ing dis­counts and com­mis­sions." — John Car­roll
Aslan gets a $45M loan to pay for a loom­ing PhII study
Af­ter ex­pe­ri­enc­ing a host of prob­lems with its ear­ly can­cer drugs, Sin­ga­pore-based Aslan Phar­ma­ceu­ti­cals is now tak­ing out a $45 mil­lion loan to fund mid-stage work on ASLAN003. They'll start with a fo­cus on in­flam­ma­to­ry bow­el dis­ease with a Phase II planned for ear­ly 2022.
Aslan has been in plen­ty of hot wa­ter with in­vestors, es­pe­cial­ly af­ter a 2019 tri­al fail­ure. So they've turned to K2 HealthVen­tures for the first $20 mil­lion loan with the rest of the mon­ey sub­ject to "cer­tain terms and con­di­tions."
"These re­sources pro­vide ad­di­tion­al work­ing cap­i­tal, strength­en our bal­ance sheet, and en­hance our fi­nan­cial flex­i­bil­i­ty by ex­tend­ing our ex­pect­ed cash run­way through late 2023, as we look for­ward to ex­pand­ing our clin­i­cal ac­tiv­i­ties for ASLAN003," said Aslan CEO Carl Firth. — John Car­roll
Cure­Vac ex­ec­u­tives ditched shares be­fore vac­cine flop news broke: re­port
On Tues­day, Busi­ness In­sid­er re­port­ed that four mem­bers of Cure­Vac's board ditched large blocks of shares worth more than $38 mil­lion as the com­pa­ny's Covid-19 vac­cine can­di­date flopped. Wednes­day, the com­pa­ny clapped back, deem­ing the re­ports un­true.
The price of the Ger­man biotech dropped around 50% af­ter the dis­ap­point­ing ef­fi­ca­cy re­sults were an­nounced. But board mem­bers sold near­ly all of their re­main­ing shares, in­clud­ing com­pa­ny co-founder Flo­ri­an von der Mülbe, who ditched about half of his by June 21, when the four ex­ec­u­tives re­port­ed such to the SEC. Cur­rent chief tech­nol­o­gy of­fi­cer Mar­i­o­la Fotin-Mleczek sold 99% of shares, Busi­ness In­sid­er re­ports.
In a state­ment emailed to End­points News, a Cure­Vac spokesper­son said:
The re­ports that in­di­vid­ual mem­bers of the Board of Man­age­ment have sold al­most all of their blocks of shares is not true. We con­tra­dict this re­port­ing, the fol­low­ing is cor­rect: As stat­ed in the rel­e­vant SEC doc­u­ments, the Cure­Vac NV board mem­bers have blocks of shares in the form of vir­tu­al shares (Vir­tu­al Share Own­er­ship) as part of their com­pen­sa­tion. Parts of these vir­tu­al shares are con­vert­ed in­to re­al shares and made avail­able ac­cord­ing to de­fined de­vel­op­ment mile­stones for build­ing up the com­pa­ny – e.g. an IPO, start of a clin­i­cal ap­proval study for the first phar­ma­ceu­ti­cal prod­uct, etc. For the IPO on the New York tech­nol­o­gy com­pa­ny ex­change NAS­DAQ, this part was 10%. In our 20F doc­u­ment, you can see how that per­cent­age, af­ter tax, trans­lates in­to re­al­iz­able shares for the board mem­bers. Even if these shares were com­plete­ly sold, they would on­ly rep­re­sent a small pro­por­tion of the re­spec­tive block of shares held per board mem­ber. The rep­re­sen­ta­tion that an al­most com­plete sale of com­pa­ny shares by the board of di­rec­tors due to a lack of faith in Cure­Vac is not ap­plic­a­ble – we dis­agree.
— Josh Sul­li­van
NASH liv­er dis­ease drug deemed safe in PhI­Ia
He­p­i­on Phar­ma­ceu­ti­cals an­nounced that its Phase IIa tri­al of a liv­er dis­ease drug for the treat­ment of non-al­co­holic steato­hep­ati­tis was safe and well-tol­er­at­ed, with few side ef­fects.
The drug — dubbed CRV431 — was pro­vid­ed in ei­ther a 75 mg or 225 mg oral dose once dai­ly, and reached max­i­mum con­cen­tra­tions with­in 30 hours.
"Sta­tis­ti­cal sig­nif­i­cance in a dose re­sponse on ALT is very en­cour­ag­ing, sug­gest­ing a rapid drug ef­fect. A thor­ough re­view of lit­er­a­ture by our group sug­gest­ed that a 10% to 15% de­cline in ALT in four weeks over place­bo would in­di­cate a ben­e­fi­cial drug ef­fect," SVP of clin­i­cal phar­ma­col­o­gy Patrick Mayo said in a state­ment. "Our clin­i­cal phar­ma­col­o­gy group has al­ready de­vel­oped a pop­u­la­tion phar­ma­co­ki­net­ic-phar­ma­co­dy­nam­ic, or PK-PD, mod­el which pre­dicts CRV431 blood con­cen­tra­tion ef­fect on ALT re­duc­tions, which is not usu­al­ly pos­si­ble at this ear­ly stage in drug de­vel­op­ment." — Josh Sul­li­van