As­traZeneca, Can­cer Re­search UK set up ge­nomics hub to fight up­hill bat­tle against can­cer
In the wake of two big fail­ures for their check­point in­hibitor/CT­LA-4 com­bo, As­traZeneca $AZN is brush­ing its Brex­it fear aside and pour­ing its R&D heft in­to a new cen­ter in part­ner­ship with Can­cer Re­search UK, de­signed to har­ness the pow­er of ge­nomics to de­vel­op per­son­al­ized can­cer drugs.
The fa­cil­i­ty, which will be housed at the Uni­ver­si­ty of Cam­bridge, is hop­ing to tap in­to the po­ten­tial of func­tion­al ge­nomics, in par­tic­u­lar the gene edit­ing tool CRISPR, to bet­ter un­der­stand can­cer bi­ol­o­gy and ge­net­ic dri­vers of drug re­sis­tance, in a bid to bring treat­ments to pa­tients faster.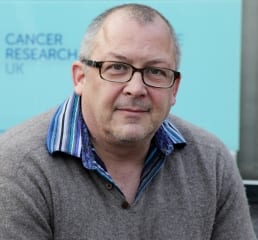 Greg Han­non
"As we de­vel­op high-qual­i­ty stan­dard­ised tech­niques through the cen­tre, we can cre­ate more so­phis­ti­cat­ed and pow­er­ful bi­o­log­i­cal mod­els of dis­ease, han­dle larg­er and more com­plex da­ta sets, and iden­ti­fy suc­cess­ful can­cer drug tar­gets with bet­ter ac­cu­ra­cy," pro­fes­sor Greg Han­non, di­rec­tor of the Can­cer Re­search UK Cam­bridge In­sti­tute, said in a state­ment on Mon­day.
As­traZeneca is hard­ly the first drug­mak­er to set its sights on ge­nomics to tack­le hard-to-treat dis­eases, such as can­cer. It joins fel­low British drug­mak­er GSK $GSK, who ear­li­er this year tied up with 23andMe to gain ac­cess to the lat­ter's data­base — to look for dis­ease rel­e­vant genes. Across the At­lantic, Re­gen­eron $REGN has carved out its own ge­net­ics cen­tre, Am­gen $AMGN has sharp­ened its abil­i­ty to iden­ti­fy and val­i­date dis­ease tar­gets with its in­vest­ment in Ox­ford Nanopore Tech­nolo­gies and ac­qui­si­tion of de­CODE ge­net­ics, while Ver­tex $VRTX has part­nered with UK-based Ge­nomics plc on their plat­form for ge­net­ics and ma­chine learn­ing.
Pre­lim­i­nary re­search at the As­traZeneca/Can­cer Re­search UK Cen­tre is ex­pect­ed to be­gin Jan­u­ary next year, with lab­o­ra­to­ry work ex­pect­ed to com­mence in the sec­ond half of 2019.
Can­cer Re­search UK is a char­i­ty that has long cat­alyzed re­search in­to can­cer ther­a­peu­tics, vac­cines as well as di­ag­nos­tics, and has pre­vi­ous­ly forged part­ner­ships with oth­er drug­mak­ers such as Te­va $TE­VA and Mer­ck $MRK.
The bat­tle against can­cer has long tak­en up a large chunk of the Na­tion­al Health Ser­vice bud­get, with an ag­ing pop­u­la­tion and fla­grant lifestyles cul­mi­nat­ing in high rates of can­cer — every two min­utes some­one in the UK is di­ag­nosed with the dis­ease, ac­cord­ing to the char­i­ty.