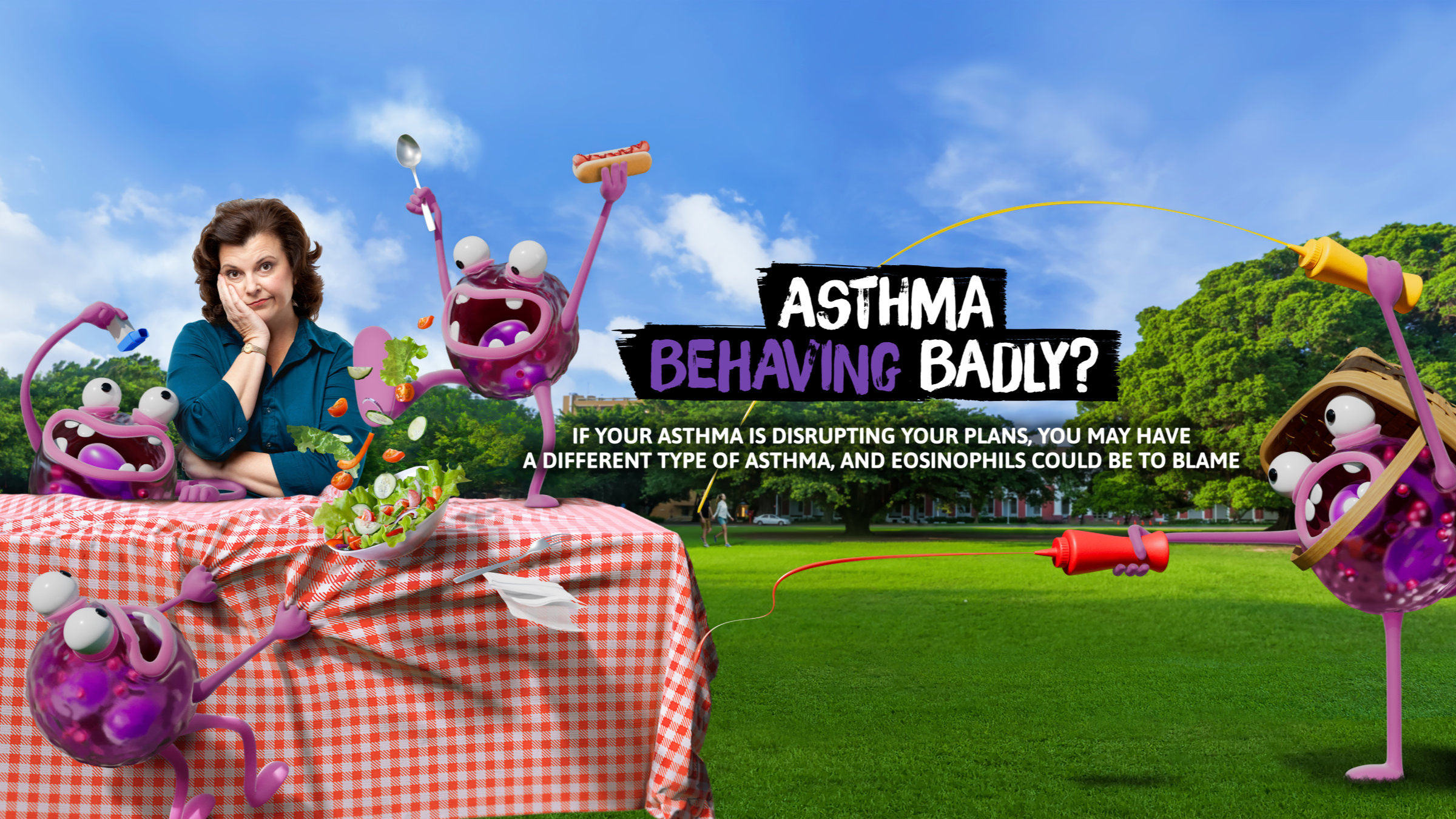 In AstraZeneca's latest campaign, wild eosinophils called Phils personify the acting up often seen in uncontrolled asthma
As­traZeneca de­buts an­noy­ing pur­ple 'Phil' crea­tures, per­son­i­fied asth­ma eosinophils 'be­hav­ing bad­ly'
There are some odd-look­ing pur­ple crea­tures lurk­ing around the halls of As­traZeneca late­ly. The "Phil" char­ac­ter cutouts are pur­ple, per­son­i­fied eosinophils with big bug­gy eyes and wide mouths, and they're a part of AZ's newest aware­ness ef­fort to help peo­ple un­der­stand eosinophilic asth­ma.
The "Asth­ma Be­hav­ing Bad­ly" char­ac­ters aren't on­ly on the walls at AZ to show the new cam­paign to em­ploy­ees, how­ev­er. The "Phils" are al­so show­ing up on­line on the cam­paign web­site, and in dig­i­tal and so­cial ads and posts on Face­book and In­sta­gram.
And the "Phils" are re­al pills. Shown chew­ing up a pic­nic table­cloth, kick­ing over sal­ad and squirt­ing mus­tard and ketchup, and gen­er­al­ly ru­in­ing a woman's pic­nic on the site, the point is to high­light the an­noy­ance and dif­fi­cul­ty of un­con­trolled asth­ma in a light­heart­ed way.
Matt Gray
"That dis­rup­tive na­ture of asth­ma — we hear pa­tients say 'my asth­ma is act­ing up' all the time — so that idea of these eosinophils do­ing that, be­ing dis­rup­tive, we want­ed to be fun, but not nec­es­sar­i­ly fun­ny," said Matt Gray, AZ's ex­ec­u­tive di­rec­tor of mar­ket­ing, Fasen­ra.
Al­so do­ing his part to pro­mote the cam­paign is As­traZeneca's spokesper­son on eosinophilic asth­ma, ac­tor Tony Hale. In a hu­mor­ous so­cial video, he talks to a dou­ble of him­self talk­ing as if he were eosinophilic asth­ma in a heart-to-heart chat.
"If you didn't be­have so bad­ly, I wouldn't have to re­ly on him (points to an in­haler on the ta­ble) so much," he says to his asth­ma per­sona. The "Phils" don't fea­ture in­to Hale's spon­sored post, but he does point to the web­site, and a fi­nal screen shows one of them un­der the brought-to-you-by "asth­ma be­hav­ing bad­ly" ti­tle.
Even as the words "eosinophilic" and "eosinophils" are more eas­i­ly rec­og­nized thanks to AZ's work, but al­so com­peti­tors such as Sanofi and Re­gen­eron's Dupix­ent and GSK's Nu­cala al­so ap­proved for eosinophilic con­di­tions, there is still plen­ty of un­met need, Gray said.
Four out of five peo­ple with se­vere, un­con­trolled asth­ma have eosinophilic asth­ma, he said. Eosinophilic asth­ma is an un­com­mon type of asth­ma, af­fect­ing about 1.5 mil­lion of the es­ti­mat­ed 25 mil­lion peo­ple liv­ing with asth­ma in the US. It is in­di­cat­ed by a blood count of more than 150 eosinophils per mi­cro­liter.
One of the rea­sons AZ chose pur­ple for the "Phils" col­or is when eosinophils, a type of white blood cell, are stained against blood cells in lab tests, they show up as pur­ple.
"This is about bring­ing to light some­thing that can be un­der­ly­ing that shouldn't be ter­ri­fy­ing be­cause there is some­thing you can do about it. We want peo­ple to un­der­stand that their lack of con­trol could be be­cause they have a dif­fer­ent kind of asth­ma," Gray said.
As­traZeneca plans to run the cam­paign with new cre­ative and so­cial me­dia rolling out over the next sev­er­al months and then will re-eval­u­ate its ef­fec­tive­ness.