As­traZeneca sells off more as­sets from its is­land of mis­fit drugs in $1.6B Pfiz­er deal
As­traZeneca has com­plet­ed an­oth­er stage in its sys­tem­at­ic re­treat from the an­tibi­otics busi­ness, sell­ing a port­fo­lio of mar­ket­ed and ex­per­i­men­tal small mol­e­cule an­tibi­otics to an ac­quis­i­tive Pfiz­er for $725 mil­lion in cash and an­oth­er $850 mil­lion in mile­stones.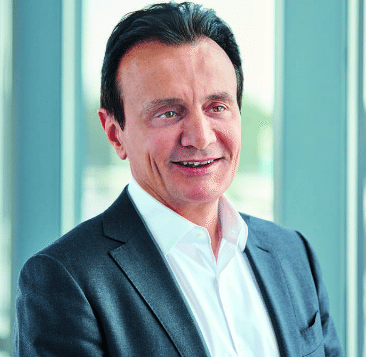 As­traZeneca CEO Pas­cal So­ri­ot
The first stage in the re­treat start­ed in 2014, as it be­gan to wind down its ear­ly-stage an­tibi­otics re­search group in Waltham, MA, which had 175 staffers when Pas­cal So­ri­ot took over as CEO at the phar­ma gi­ant. In­dus­try sources at the time tipped me off to the com­pa­ny's de­ci­sion to see if it could find a buy­er for the group. But when no deal emerged, As­traZeneca de­cid­ed to spin out a small group of sur­vivors in a new ven­ture dubbed En­ta­sis, with a $40 mil­lion round to get it set up.
This new deal gives Pfiz­er Za­v­icef­ta, Zin­foro and Mer­rem, with a pair of ex­per­i­men­tal pro­grams – a Phase III-ready CXL, an in­jectable bac­te­ri­ci­dal β-lac­tam/β-lac­ta­mase in­hibitor com­bi­na­tion of Zin­foro and Avibac­tam (AVI, NXL104) and ATM-AVI, a bac­te­ri­ci­dal, in­jectable com­bi­na­tion of aztre­on­am (ATM) and a β-lac­ta­mase in­hibitor, Avibac­tam (AVI, NXL104). Just a few weeks ago As­traZeneca flagged a suc­cess­ful Phase III ef­fort for Za­v­icef­ta (cef­tazidime-avibac­tam), which fol­lowed close on the heels of an ap­proval in Eu­rope. Al­ler­gan has been part­nered with As­traZeneca on the ef­fort and holds North Amer­i­can rights.
Not in­clud­ed: A fi­nal group of bi­o­log­ics un­der Med­Im­mune's ban­ner in Mary­land as well as its stake in En­ta­sis.
As­traZeneca has been run­ning a brisk busi­ness in sell­ing off as­sets it ei­ther no longer sees as a good fit for So­ri­ot's core drug strat­e­gy or drugs that have lost a con­sid­er­able amount of lus­ter. The sales in­clude a deal to hive off anes­thet­ics to As­pen for up to $770 mil­lion. The re­jects ex­iled to its is­land of mis­fit as­sets in­clude lesin­u­rad and bro­dalum­ab, which pro­duced mixed da­ta in the clin­ic and were then li­censed out. And now there's a ques­tion whether selume­tinib might wind up at the bar­gain base­ment as well af­ter back-to-back late-stage fail­ures.
There has been some in­ter­est in an­tibi­otics among the phar­ma ma­jors, wit­nessed by Mer­ck's ac­qui­si­tion of Cu­bist. But Mer­ck al­so shut­tered ear­ly stage ef­forts there and Big Phar­ma in gen­er­al has been deeply skep­ti­cal of a field that typ­i­cal­ly de­liv­ers on­ly small mar­gins. An­tibi­ot­ic re­sis­tance, mean­while, has on­ly grown worse around the globe.
As­traZeneca has been beef­ing up weak rev­enue with these deals as it con­tin­ues a years-long ef­fort to re­tool in a turn­around aimed at adding bil­lions of dol­lars in new sales. The phar­ma gi­ant sees its can­cer pipeline, in­clud­ing the re­cent­ly ap­proved Tagris­so as well as the late-stage check­point dur­val­um­ab, as its best chance for a come­back. Pfiz­er, on the oth­er hand, has been buy­ing, pur­su­ing an ac­qui­si­tion strat­e­gy high­light­ed by its $14 bil­lion buy­out of Medi­va­tion.