As­traZeneca spells out a ma­jor drop in the risk of death for stage 3 NSCLC pa­tients tak­ing Imfinzi — and why that's im­por­tant
As­traZeneca's top team un­der Pas­cal So­ri­ot $AZN has spent the past 5 years prov­ing that it could do se­ri­ous block­buster de­vel­op­ment work. And few tri­als have been as im­por­tant to forg­ing that rep as PA­CIF­IC, which of­fered clear ev­i­dence that its PD-L1 check­point Imfinzi al­lowed pa­tients with un­re­sectable stage 3 non-small cell lung can­cer to live longer.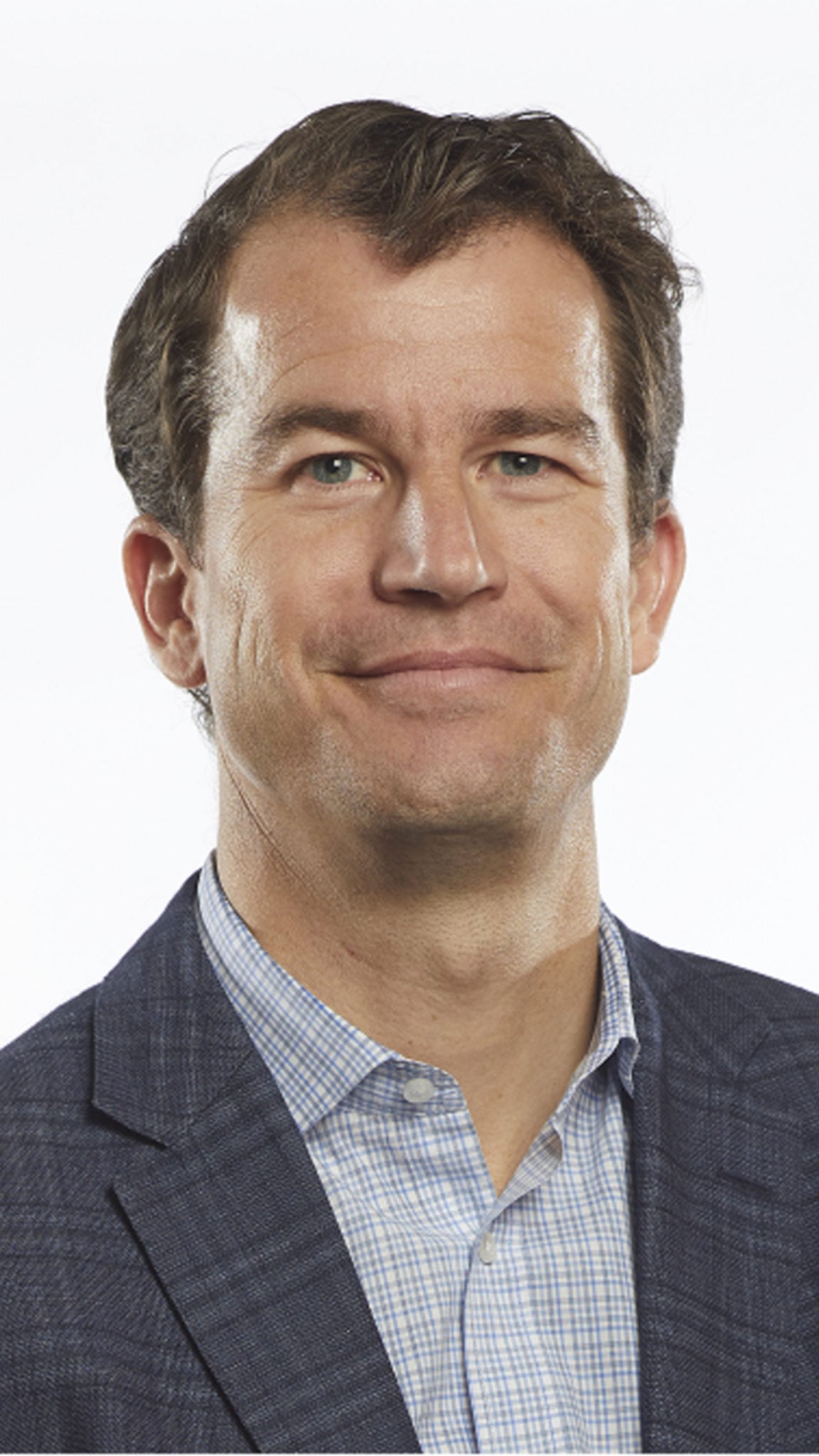 Dave Fredrick­son
This morn­ing, As­traZeneca ex­ecs turned up at the World Con­fer­ence on Lung Can­cer in Toron­to to spell out the promis­ing over­all sur­vival da­ta the phar­ma gi­ant had claimed with a top-line re­port last spring. The study was pub­lished in the New Eng­land Jour­nal of Med­i­cine.
Their pre­sen­ta­tion spot­light­ed a 32% re­duc­tion in the risk of death — HR 0.68 — for these stage 3 pa­tients, while the me­di­an OS rate had yet to be hit.
Why is a one-third drop in the risk of death that im­por­tant?
At stage 3, says Dave Fredrick­son, the head of the On­col­o­gy Busi­ness Unit at As­traZeneca, pa­tients can still hold on to a rea­son­able hope that they can be cured.
"At stage 4," he tells me, "the 5-year sur­vival rate is be­low 10%." Adding this ther­a­py af­ter chemora­dio­ther­a­py of­fers some ex­pec­ta­tion that they're not nec­es­sar­i­ly fac­ing a death sen­tence and "maybe bend­ing 5-year sur­vival times."
Re­searchers have yet to do that. Map­ping out a durable re­sponse takes some time.
Over­all Sur­vival in the In­ten­tion-to-Treat Pop­u­la­tion. Source: NE­JM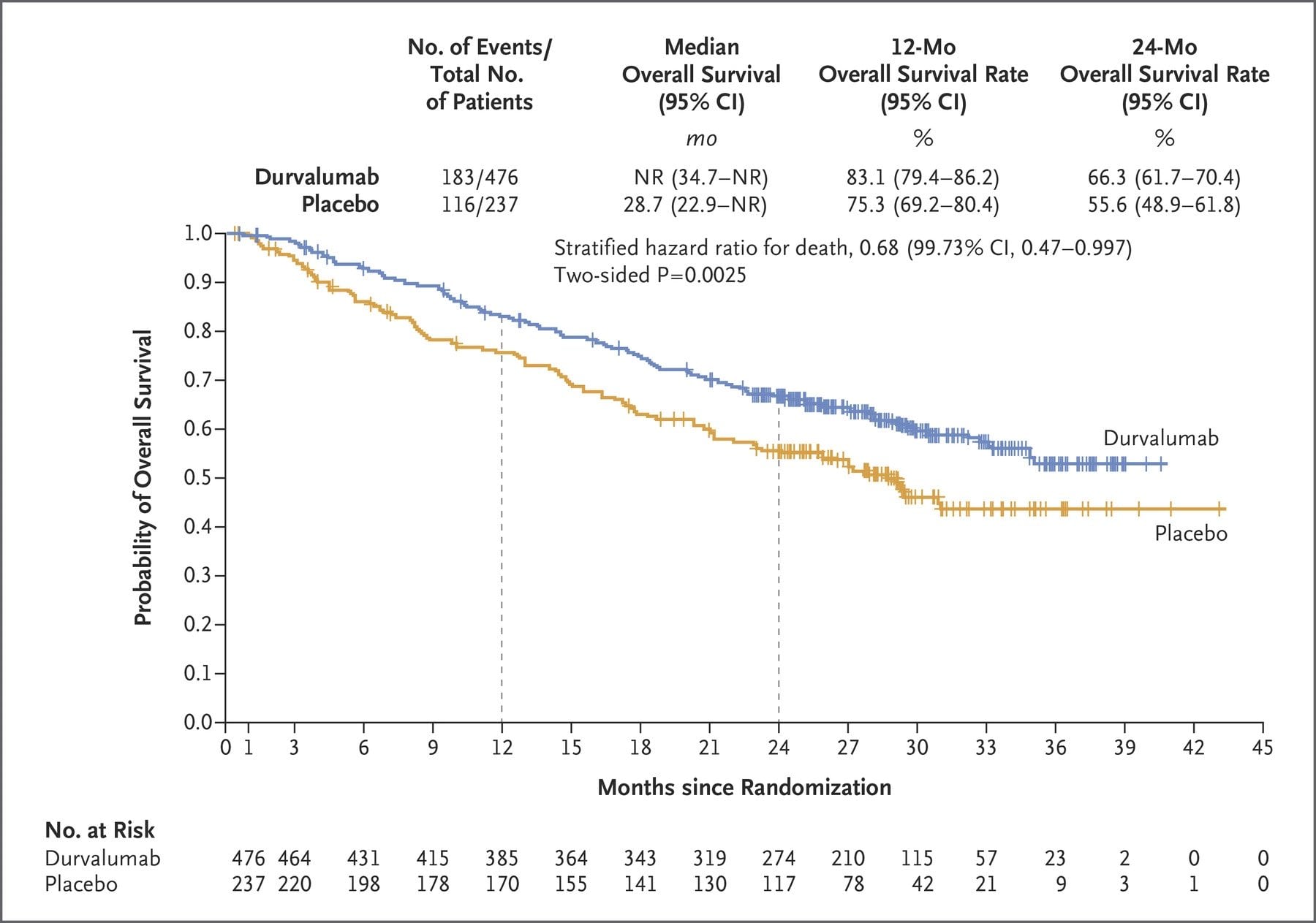 Click on the im­age to see the full-sized ver­sion
In the mean­time, says Fredrick­son, "we have seen quite brisk up­take since we have had ap­proval in the US of the PA­CIF­IC reg­i­men." And that is mak­ing this drug the stan­dard of care in a ma­jor niche mar­ket.
"Half of pa­tients in stage 3 are treat­ed with ra­diochemother­a­py. Half of those pa­tients are be­ing treat­ed with Imfinzi af­ter­wards," he says, a 50% share that's cru­cial for a com­pa­ny an­gling in be­hind Mer­ck and Bris­tol-My­ers Squibb, the two dom­i­nant gi­ants in im­muno-on­col­o­gy.
Fredrick­son adds that As­traZeneca's de­vel­op­ment strat­e­gy gives it an 18- to 24-month win­dow ahead of the ar­rival of any ri­vals. Dur­ing that time, the R&D group is work­ing on more re­search pro­grams to see if they can take the reg­i­men to ear­li­er stages of the dis­ease, with a spe­cial tri­al in Chi­na de­signed to quick­ly break in­to that boom­ing health­care mar­ket.
The pos­i­tive re­sults for As­traZeneca on PA­CIF­IC were es­pe­cial­ly im­por­tant af­ter their PD-L1 drug failed to make the first hur­dle on MYS­TIC. OS da­ta on that study are due some­time be­fore the end of the year. And if it's a fail­ure, as many sus­pect it is, the phar­ma gi­ant will still have PA­CIF­IC and stage 3 NSCLC to boast about.
That's a big deal for As­traZeneca.