As­traZeneca surges on So­ri­ot's up­beat as­sess­ment of its pipeline
Shares of As­traZeneca $AZN shot up 5.5% to­day as CEO Pas­cal So­ri­ot says its pipeline is full to burst­ing with R&D prospects that can dri­ve bil­lions of dol­lars in new rev­enue.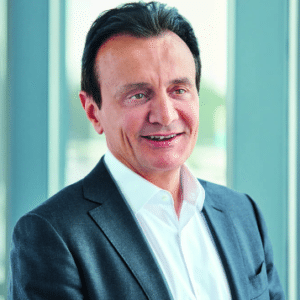 As­traZeneca CEO Pas­cal So­ri­ot
And that is once again help­ing to spur chat­ter about a pos­si­ble megamerg­er deal for the phar­ma gi­ant, two years af­ter it suc­cess­ful­ly fought off Pfiz­er's em­brace by bold­ly pro­ject­ing 2023 sales of $45 bil­lion. To­day, So­ri­ot backed away from that pledge, say­ing that new ex­change rates would like­ly force its pro­jec­tions down to around $40 bil­lion to $41 bil­lion.
Citi an­a­lyst An­drew Baum got the ru­mor mill go­ing ear­li­er in the week, not­ing that As­traZeneca could look good to No­var­tis right about now. No­var­tis CEO Joe Jimenez, though, has made no in­di­ca­tion that he's think­ing much big­ger than the $5 bil­lion-plus range in new ac­qui­si­tions.
So­ri­ot, who ex­pects As­traZeneca's progress on can­cer drugs to be the main fo­cus over the next 18 months, al­lud­ed to the buy­out scut­tle­butt in the call to­day:
"(W)e cer­tain­ly have been very aware over the last few years that as we cre­ate val­ue then at some point our pipeline be­comes at­trac­tive. And so, hope­ful­ly be­comes at­trac­tive to our share­hold­ers. But of course if may be at­trac­tive to any­body. I mean, I can't spec­u­late more…."
It wasn't a bad per­for­mance for a com­pa­ny that is look­ing at the im­mi­nent demise of its Crestor fran­chise, which ac­counts for $5 bil­lion of its $23 bil­lion in 2015 rev­enue.
So­ri­ot has been wheel­ing and deal­ing over the last 4 years. But he told an­a­lysts to­day that that is all over. Any new deals have to be ac­cre­tive (trans­la­tion: new prod­ucts that bring in cash). But he's no longer avid­ly snap­ping up new projects.