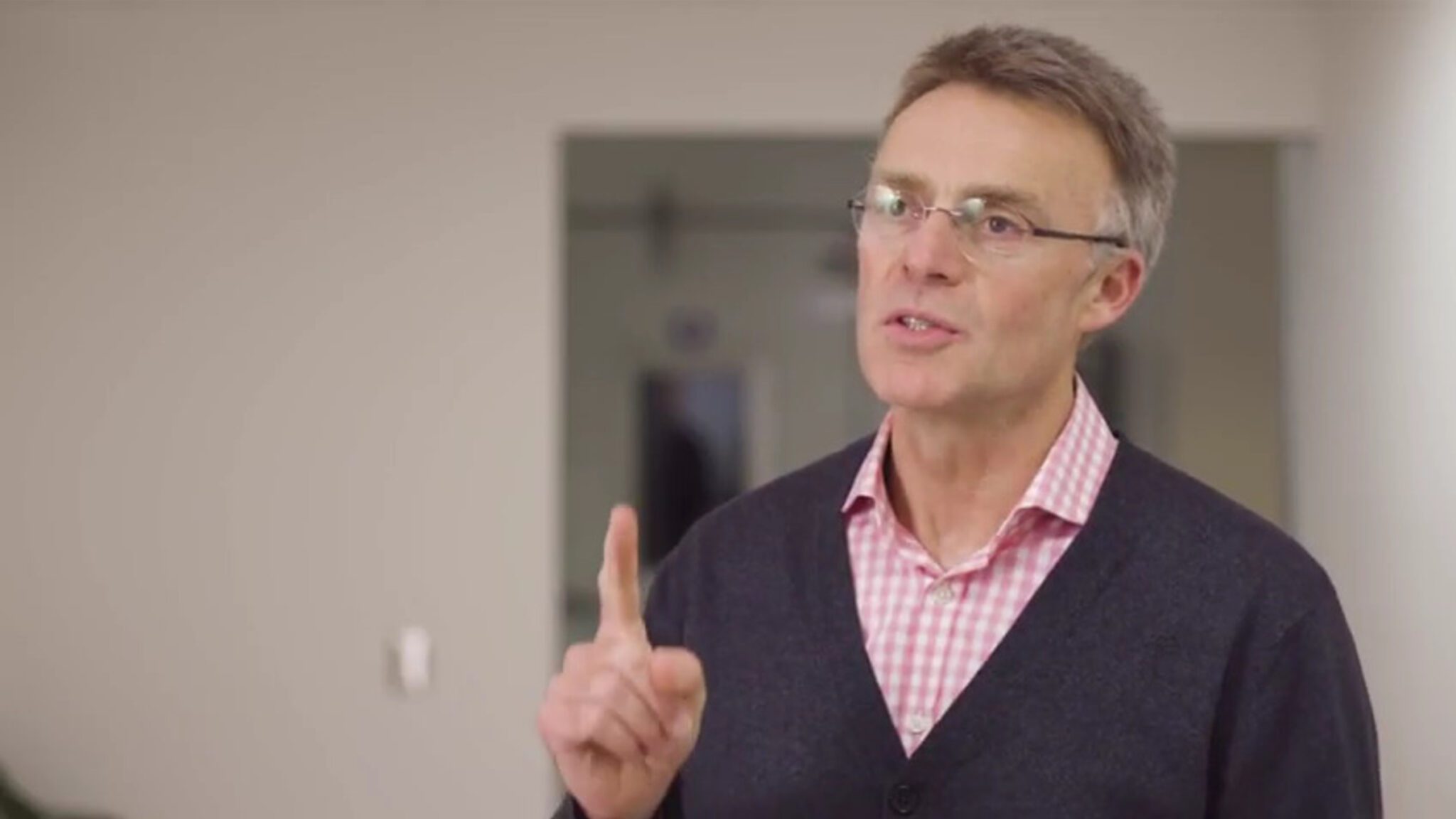 Michael Watson (Moderna via YouTube)
As­traZeneca teams up with Im­pe­r­i­al off­shoot Vax­E­quity on an RNA 3.0 ef­fort
Robin Shat­tock
Last year, Im­pe­r­i­al Col­lege Lon­don pro­fes­sor Robin Shat­tock was giv­en close to $50 mil­lion by the UK gov­ern­ment to make an RNA-based Covid-19 vac­cine. While that fell through, the deal his com­pa­ny Vax­E­quity just signed with Big Phar­ma could be worth al­most four times that amount — with in­creased ex­po­sure to boot.
In­tro­duce As­traZeneca, which just signed a deal worth $195 mil­lion in mile­stones with Shat­tock's com­pa­ny on a plat­form based on Shat­tock's work on a new type of RNA as self-am­pli­fy­ing RNA, or saR­NA. As­traZeneca and Vax­E­quity will col­lab­o­rate on up to 26 drug tar­gets, which re­main undis­closed.
Ex­ec­u­tive chair­man Mike Wat­son told End­points News that one of the goals for the part­ner­ship is to val­i­date the plat­form with As­traZeneca and es­sen­tial­ly get right back in­to the clin­ic. As parts of the plat­form, which he calls "RNA 3.0," have al­ready been test­ed clin­i­cal­ly with Shat­tock's Phase I/II Covid-19 study con­duct­ed last year, it may not be a tra­di­tion­al 5-10 year R&D route, as Wat­son put it.
"We would hope with­in two to three years, we'll have good pre­clin­i­cal da­ta that will con­firm that this is work­ing as well as we think it is," he said.
The main point of saR­NA is that you could es­sen­tial­ly get a stronger ef­fect with a small­er dose, Wat­son said. A com­pa­ny us­ing saR­NA could make RNA-based ther­a­peu­tics and vac­cines us­ing a small­er dosage and still be ef­fec­tive — us­ing a dosage any­where from 1/3 to 1/10th the amount of a dose you might see in an mR­NA treat­ment. This could al­low for both de­creased price and in­creased scal­a­bil­i­ty.
The new deal comes as the in­dus­try broad­ly dives deep­er in­to RNA tech­nol­o­gy fol­low the suc­cess of the mR­NA-based Covid-19 vac­cines by Pfiz­er and BioN­Tech and Mod­er­na over the past year. GSK signed deals worth sev­er­al hun­dred mil­lion dol­lars with mR­NA com­pa­ny Cure­Vac as Cure­Vac and Sanofi com­mit­ted to build­ing out its own mR­NA cen­ter, in part with as­sets from a $2 bil­lion buy­out of Trans­late Bio.
Speak­ing of Mod­er­na, the Cam­bridge biotech tried to fo­cus on mR­NA treat­ments — not just vac­cines — just four years ago, un­til they ran in­to safe­ty prob­lems. They were, at the time, strug­gling to find a bal­ance be­tween not us­ing enough mR­NA to be ef­fec­tive with­out trig­ger­ing side ef­fects in an­i­mals.
Wat­son, who led Mod­er­na's in­fec­tious dis­ease team for four years, said that be­cause their RNA self-am­pli­fies af­ter it en­ters the cell, you should be able to dose less of­ten and at low­er amounts than con­ven­tion­al and ac­com­plish many of the things Mod­er­na — which has kept work on mR­NA treat­ments as a sec­ond pri­or­i­ty — orig­i­nal­ly sketched out.
"If your RNA con­tin­ues to self-am­pli­fy for days and weeks, you can start with a low­er dose. The area un­der the curve is vast­ly larg­er than if you've got a fleet­ing­ly trans­lat­ing mod­i­fied RNA," Wat­son said. "So, that means you can think about a whole range of ther­a­peu­tic tar­gets, whether that be an­ti­bod­ies, whether that be ther­a­peu­tic pro­teins, whether that be gene ther­a­py."
A small firm con­sist­ing of on­ly five em­ploy­ees, Vax­E­quity plans to add 5 more em­ploy­ees with­in the next 2-3 weeks, ef­fec­tive­ly dou­bling their cur­rent em­ploy­ee base, Wat­son said. They plan to ad­vance their own in­ter­nal pipeline, while al­so work­ing on new types of RNA al­to­geth­er.
"Covid has been fan­tas­tic in pro­vid­ing this sort of … im­pe­tus to bring RNA through very, very quick­ly. We're see­ing RNA ver­sion 1.0. This is prob­a­bly ver­sion 3.0. And it's not self am­pli­fy­ing RNA, it's mod­i­fied self am­pli­fy­ing RNA. What about 4.0? What about 5.0? …We'll be look­ing at that as well," Wat­son said.