As­traZeneca teams with Chi­na-owned fund to launch a new bio­phar­ma drug de­vel­op­ment com­pa­ny
As­traZeneca is part­ner­ing up with a gov­ern­ment-owned pri­vate eq­ui­ty group in Chi­na to cre­ate a new joint ven­ture bio­phar­ma that will be charged with de­vel­op­ing new drugs for the boom­ing Asian mar­ket.
For its part, the Lon­don-based gi­ant has of­fered jobs to all staffers at its In­no­va­tion Cen­ter Chi­na in Shang­hai, with pre­vi­ous ICC head Xi­aolin Zhang tak­ing over the new ven­ture — dubbed Dizal Phar­ma­ceu­ti­cal. As of now the JV has 90 staffers, a spokesper­son for As­traZeneca tells me, with the "vast ma­jor­i­ty" of the ICC em­ploy­ees sign­ing up for the new ven­ture.
The Chi­nese Fu­ture In­dus­try In­vest­ment Fund man­aged by the Chi­na State De­vel­op­ment & In­vest­ment Cor­po­ra­tion will fund the joint ven­ture, which starts out with de­vel­op­ment rights to three pre­clin­i­cal pro­grams with plans to add more ex­per­i­men­tal meds to the mix.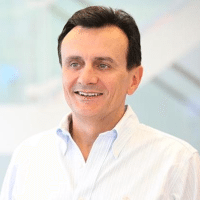 Pas­cal So­ri­ot
That's a small ini­tial pipeline for a com­pa­ny that has been op­er­at­ing in Chi­na since 1993, build­ing an or­ga­ni­za­tion cov­er­ing R&D, man­u­fac­tur­ing and sales with 11,000 staffers. But Dizal has big plans as Chi­na's com­mu­nist gov­ern­ment re­vamps its drug de­vel­op­ment rules with an eye to ramp­ing up in­dus­try ac­tiv­i­ties. Chi­na rep­re­sents one of the big growth mar­kets glob­al­ly for As­traZeneca, and CEO Pas­cal So­ri­ot is gam­bling that a lo­cal­ly backed out­fit can make faster head­way.
Just a few weeks ago So­ri­ot boast­ed about the dou­ble-dig­it sales growth the com­pa­ny has been see­ing in Chi­na, which he ex­pects can be sus­tained for sev­er­al years to come.
The new move al­so re­moves some of the burn rate for As­traZeneca's R&D group at a time the phar­ma gi­ant has been push­ing ahead on sev­er­al fronts, with no­table suc­cess­es on the can­cer side of the busi­ness.
So­ri­ot had this to say in a pre­pared state­ment:
As­traZeneca has a long-stand­ing and strong com­mit­ment to Chi­na, which we are re­in­forc­ing to­day with this ground-break­ing joint ven­ture. By join­ing forces with the FI­IF, we aim to ac­cel­er­ate the lo­cal dis­cov­ery and de­vel­op­ment of in­no­v­a­tive, af­ford­able med­i­cines for pa­tients in Chi­na and around the world.