As­traZeneca throws down the gaunt­let with a PhI­II vic­to­ry in head-to-head PARP war with Tesaro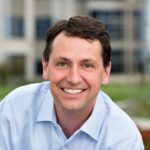 Sean Bo­hen, As­traZeneca
As­traZeneca has post­ed an­oth­er suc­cess in its cam­paign to ex­pand the use of its PARP in­hibitor Lyn­parza (ola­parib).
In what has be­come a head-to-head show­down with Tesaro, which has a ri­val PARP un­der re­view at the FDA, As­traZeneca to­day her­ald­ed a top-line suc­cess for Lyn­parza in a Phase III study of HER2-neg­a­tive metasta­t­ic breast can­cer har­bor­ing germline BR­CA1 or BR­CA2 mu­ta­tions.
Like Tesaro, As­traZeneca's piv­otal study fo­cused on a com­par­i­son with physi­cian's choice of chemother­a­pies, with Lyn­parza com­ing out ahead on pro­gres­sion-free sur­vival.
Lyn­parza got an ear­ly start in the mar­ket, thanks to FDA re­view­ers who were will­ing to look past the rel­a­tive­ly weak da­ta that As­traZeneca $AZN had post­ed for this drug. Richard Paz­dur's team was anx­ious to get a PARP in­to the mar­ket for ovar­i­an can­cer, where Tesaro is lin­ing up its first shot on their fran­chise drug. A few back­ers on the sell side have pro­ject­ed bil­lions in peak sales for Tesaro's drug, but they'll have to get around As­traZeneca to get it.
As we re­port­ed a few days ago, ni­ra­parib sits high on a list of 15 po­ten­tial block­busters ready to hit the mar­ket this year, with 2022 sales rev­enue pro­ject­ed at $1.8 bil­lion for the ovar­i­an can­cer mar­ket. And that has kept the fo­cus on on­go­ing buzz about a po­ten­tial buy­out for Tesaro.
An­a­lysts will have to wait for the ac­tu­al da­ta, though, on an in­di­ca­tion that they say could be worth a block­buster bil­lion dol­lars in an­nu­al rev­enue for Tesaro. Sea­mus Fer­nan­dez called it a clear win for the phar­ma gi­ant:
This is the first Phase 3 read­out for a PARP in­hibitor in breast can­cer and will like­ly have pos­i­tive read-through for sim­i­lar­ly de­signed tri­als of PFE's (MP) ta­la­zoparib (EM­BRA­CA tri­al; da­ta ex­pect­ed in 1H:17) and TSRO's (MP) ni­ra­parib (BRA­VO tri­al; da­ta ex­pect­ed in 2H:17). Im­por­tant­ly, this rep­re­sents a win for AZN, which is build­ing its DNA Dam­age Re­sponse (DDR) port­fo­lio around Lyn­parza, as well as pro­vid­ing the first val­i­da­tion for the PARP in­hibitor class out­side of ovar­i­an can­cer. We con­tin­ue to view AZN as our top pick with a num­ber of high-im­pact cat­a­lysts on the hori­zon. Re­it­er­ate OP.
Shares of As­traZeneca jumped 1.7% on the news.
The suc­cess is a key win for As­traZeneca, which has been work­ing hard to fol­low up on Lyn­parza's ap­proval with sol­id ev­i­dence of its broad­er po­ten­tial. The drug has proven to be one of the few big bright spots for the phar­ma gi­ant as it awaits com­bo da­ta on the check­point in­hibitor dur­val­um­ab and treme­li­mum­ab.
These aren't the on­ly two PARPs in the pipeline. Pfiz­er ac­quired ta­la­zoparib in its $14 bil­lion buy­out of Medi­va­tion while Clo­vis achieved an ap­proval for Rubra­ca last De­cem­ber.
As­traZeneca CMO Sean Bo­hen said:
These re­sults are pos­i­tive news for pa­tients with BR­CA-mu­tat­ed metasta­t­ic breast can­cer, a dis­ease with a high un­met need, and are the first pos­i­tive Phase III da­ta for a PARP in­hibitor be­yond ovar­i­an can­cer. This is high­ly en­cour­ag­ing for the de­vel­op­ment of our broad port­fo­lio which aims to treat mul­ti­ple can­cers by tar­get­ing DNA dam­age re­sponse path­ways.