Dai­ichi Sankyo dous­es a puz­zling re­port about an As­traZeneca buy­out of­fer
Here's an­oth­er head scratch­er to con­sid­er on As­traZeneca.
The Lon­don-based phar­ma gi­ant re­port­ed­ly made a se­ri­ous pass at Japan's Dai­ichi Sankyo last year, look­ing to buy the com­pa­ny and add it to their glob­al op­er­a­tions. But the re­port from Nikkei Busi­ness says that the Japan­ese com­pa­ny turned down the of­fer.
Reuters picked up the sto­ry, but couldn't get any com­ments from the com­pa­nies. But soon af­ter Dai­ichi Sankyo de­cid­ed to squelch any ru­mors that may have been sparked. The com­pa­ny said in a state­ment:
It was to­day re­port­ed by Nikkei Busi­ness that Dai­ichi Sankyo Com­pa­ny Lim­it­ed (here­inafter "Dai­ichi Sankyo") re­ceived the ac­qui­si­tion of­fer from As­traZeneca. How­ev­er, this is not the fact.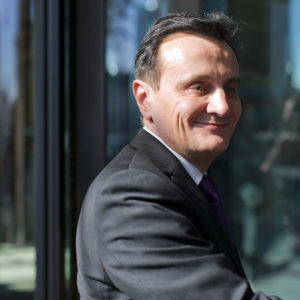 Pas­cal So­ri­ot

AP Im­ages
If there was any truth to the buy­out ru­mor, it wouldn't have been cheap. Dai­ichi Sankyo has a mar­ket val­ue in the pricey neigh­bor­hood of $16 bil­lion. And As­traZeneca has been more of a sell­er over the past year, not a buy­er, mar­ket­ing off rights to a slew of pipeline prod­ucts as the com­pa­ny strug­gles to turn around and start grow­ing rev­enue.
One of those deals came two years ago when Dai­ichi agreed to pay As­traZeneca $200 mil­lion in cash for co-pro­mo­tion rights in the US for the opi­oid-in­duced con­sti­pa­tion drug Movan­tik. The deal al­so in­clud­ed $625 mil­lion in mile­stones.
An­a­lysts con­clud­ed awhile ago that the UK com­pa­ny is cash con­strained, look­ing to fund a broad va­ri­ety of deals struck dur­ing Pas­cal So­ri­ot's 5-year rein — and mak­ing a pos­si­ble buy­out deal like this all the less like­ly.
As­traZeneca has a par­tic­u­lar in­ter­est in be­com­ing a can­cer drug pow­er­house, with some ad­vances and some big dis­ap­point­ments that have piled up in the on­col­o­gy group. And that may have helped in­spire some in­ter­est in Dai­ichi Sankyo, which re­cent­ly won a break­through tag from the FDA for its HER2-tar­get­ing an­ti­body-drug con­ju­gate DS-8201. Its can­cer pipeline has 20 mol­e­cules in it, fo­cused on AD­Cs and acute myeloid leukemia. The Japan­ese com­pa­ny struck a deal with Kite to launch its pi­o­neer­ing CAR-T drug in Japan, which now makes it part­ners with Gilead.
It's prob­a­bly all aca­d­e­m­ic now. But it does raise ques­tions about what So­ri­ot — who re­port­ed­ly thought about tak­ing the job at Te­va — has been think­ing as he looks to de­liv­er on a promise to es­sen­tial­ly dou­ble last year's rev­enue.
He's go­ing to need some ma­jor league help. That all won't come from the pipeline.