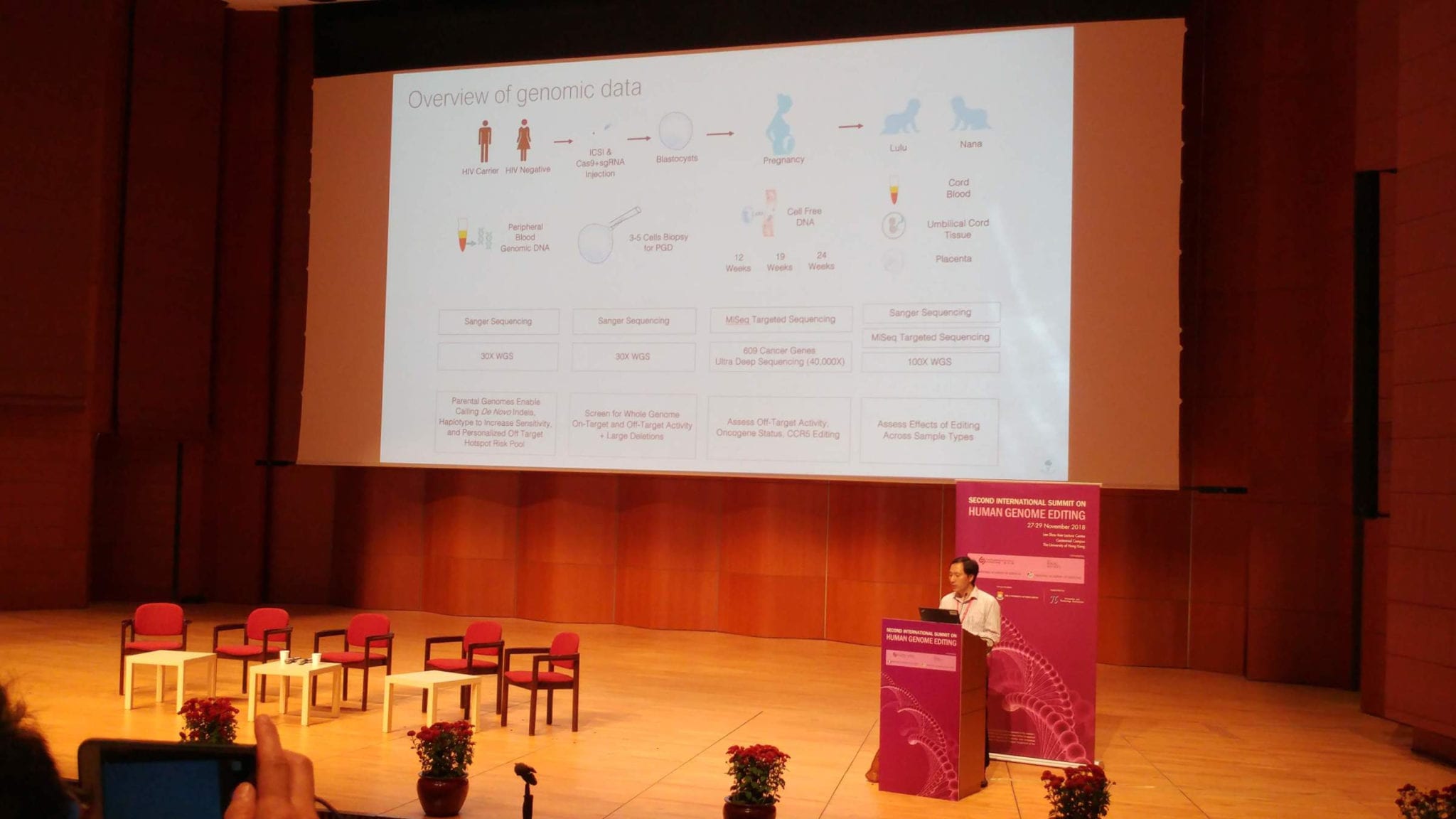 At the cen­ter of a glob­al tem­pest, Jiankui He de­fends edit­ing the genes of 2 new­borns
HONG KONG — Fac­ing a storm of crit­i­cism from some of the med­ical world's best known ex­perts and un­der in­ves­ti­ga­tion by Chi­nese of­fi­cials for pro­duc­ing the world's first gene-edit­ed ba­bies in a self-fund­ed ex­per­i­ment that has spurred head­lines around the world, Jiankui He took to the cen­ter stage of a promi­nent sci­en­tif­ic con­fer­ence in Hong Kong to de­fend his work.
Calm­ly and clear­ly, He out­lined his project us­ing CRISPR to dis­able a key gene in or­der to con­fer im­mu­ni­ty to HIV for the new­borns — who were ex­posed to the threat by an HIV-pos­i­tive par­ent — and of­fered an apol­o­gy as the news that he had al­tered em­bryos "leaked un­ex­pect­ed­ly" be­fore he could present it at a sci­en­tif­ic venue.
But the sci­en­tist al­so in­sist­ed he was proud of what he's done for the fam­i­ly, adding that he's al­so sub­mit­ted the study to a sci­en­tif­ic jour­nal for re­view — which might clear up some of the lin­ger­ing ques­tions that came up af­ter he ap­peared in front of a packed hall Wednes­day.
"The first ques­tion was whether CCR5 is an un­met med­ical need," He told the crowd in the Q&A part of the pre­sen­ta­tion. "I ac­tu­al­ly be­lieve that this is not just for this case, but for mil­lions of chil­dren. They need this pro­tec­tion. HIV vac­cine is not avail­able. I per­son­al­ly ex­pe­ri­ence with some peo­ple in AIDS where 30% of a vil­lage peo­ple are in­fect­ed. They even have to give their chil­dren to rel­a­tives and un­cles to raise just to pre­vent po­ten­tial trans­mis­sion. For this spe­cif­ic case, I feel proud. I feel proud­est, be­cause they had lost hope for life."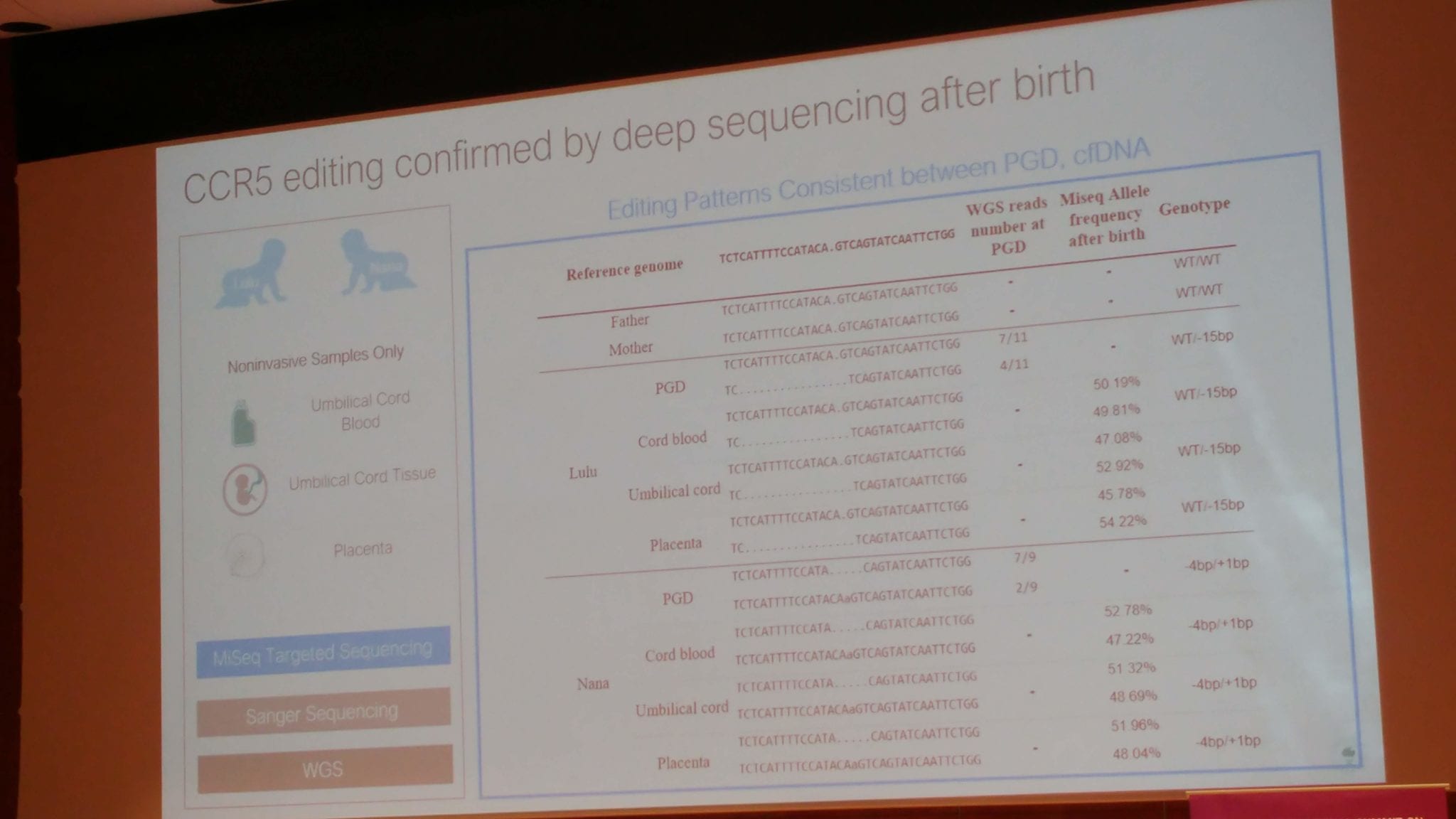 ---
The sci­en­tist not­ed that it would be il­le­gal to re­veal the iden­ti­ties of the fa­ther of Lu­lu and Nana, the twins at the cen­ter of the con­tro­ver­sial tri­al. Born a few weeks ago to an HIV-pos­i­tive fa­ther and HIV-neg­a­tive moth­er, their genomes were al­tered by CRISPR-Cas9 while they were still em­bryos such that the CCR5 gene was dis­abled or short­ened.
Ap­pear­ing at the Sec­ond In­ter­na­tion­al Sum­mit on Hu­man Genome Edit­ing, He de­tailed the var­i­ous rounds of se­quenc­ing, can­cer gene blood test, and pre-im­plan­ta­tion ge­net­ic di­ag­no­sis he con­duct­ed be­fore, dur­ing and af­ter the preg­nan­cy — all paid for by him­self. All 59 of He's pre­sen­ta­tion slides can be found on this Google dri­ve.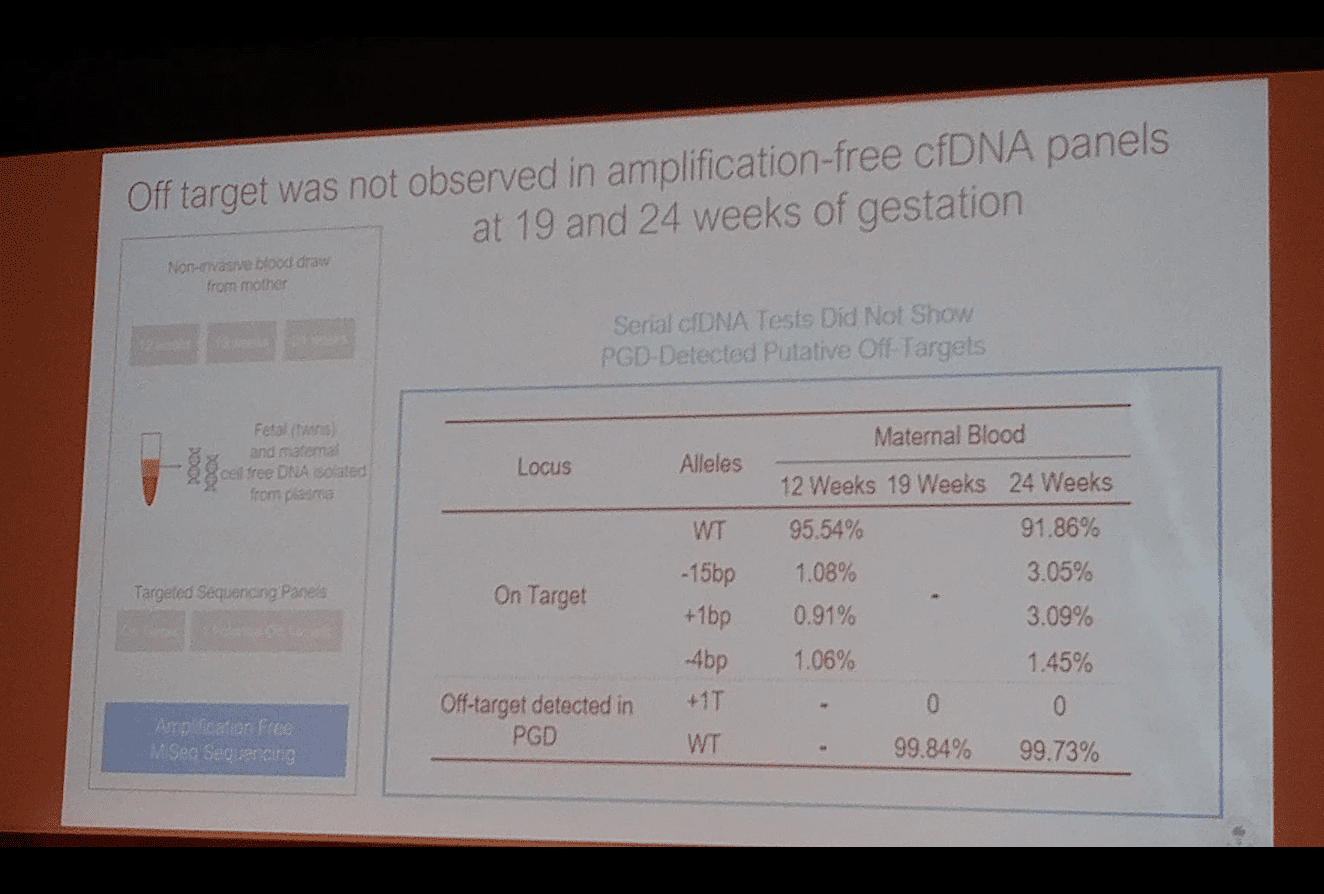 ---
No­tably, one off-tar­get ef­fect was de­tect­ed in "the meg-based in­ter­genic re­gion far from oth­er genes, with no cod­ing RNA and no tran­scrip­tion fac­tor by their sides," he said.
"The vol­un­teers were in­formed of the risk posed by this one ex­ist­ing off-tar­get, and they de­cid­ed to im­plant," he added, re­fer­ring to the par­ents of Lu­lu and Nana whom he de­scribed a cou­ple of times as "very well ed­u­cat­ed." By the 19th week of ges­ta­tion, the off-tar­get was no longer ob­served, ac­cord­ing to He.
He al­so re­vealed that there was one oth­er "po­ten­tial preg­nan­cy," al­though the tri­al — in­volv­ing sev­en cou­ples to­tal — has been halt­ed in light of the cur­rent sit­u­a­tion. When pressed, He said 30 blas­to­cysts were de­vel­oped, 70% of which were edit­ed, but didn't pro­vide fur­ther de­tails on the full scope of the study.
Amid the swath of in­quiries di­rect­ed at He, three lines of ques­tions cap­tured` the most in­tense in­ter­est of the sci­en­tists present: trans­paren­cy, med­ical need and the choice of gene.
The first ques­tion has to do with se­cre­cy and lack of feed­back from fel­low aca­d­e­mics. While He main­tained he en­gaged with both sci­en­tists and ethi­cists about his tri­al (with UC Berke­ley re­searcher Mark De­Witt con­firm­ing to STAT he knew of the plan and ad­vised He against it) on­ly four peo­ple re­viewed the in­formed con­sent form pro­vid­ed to pa­tients.
That would be unimag­in­able in the US, where hun­dreds of re­view­ers would like­ly be in­volved for a tri­al like this, com­ment­ed Stan­ford Med­i­cine pro­fes­sor Matt Por­teus af­ter the event. Por­teus was one of two pan­elists charged with ask­ing He ques­tions on stage be­fore open­ing up to the floor.
"In gen­er­al peo­ple talk about their plans years in ad­vance: Here's what we plan to do, here's why," Por­teus said. "I don't think he's talked or lis­tened to enough peo­ple about this," adding that as a par­tic­i­pant at some of the pre­vi­ous con­fer­ences He spoke at, there was no hint the Chi­nese re­searcher was plan­ning to jus­ti­fy a hu­man clin­i­cal tri­al based on the da­ta pre­sent­ed.
Sec­ond­ly, there were con­cerns over whether the whole ef­fort was worth­while. David Bal­ti­more, chair of the sum­mit, said point blank in his brief re­mark: "I per­son­al­ly don't think it was med­ical­ly nec­es­sary" — a com­ment echoed by CRISPR pi­o­neer David Liu, who point­ed out sperm wash­ing could be suf­fi­cient for gen­er­at­ing un­in­fect­ed em­bryos.
In re­sponse, He said the key here is not just giv­ing birth to un­in­fect­ed ba­bies but en­sur­ing pro­tec­tion against HIV in the fu­ture, giv­en that no HIV vac­cine is cur­rent­ly avail­able.
The third ma­jor ques­tion has to with the un­der­stand­ing of CCR5, as it's been sug­gest­ed that de­fi­cien­cy of the gene may make peo­ple vul­ner­a­ble to oth­er in­fec­tions like West Nile and in­fluen­za virus­es and have ef­fects on the im­mune sys­tem and cog­ni­tion.
He said ear­ly in his talk that CCR5 is "one of the most stud­ied vari­a­tions, and it's one of the most well un­der­stood genes." Vol­un­teers were aware of some of the risks, he added, and more ver­i­fi­ca­tion is need­ed for new­er re­search on the gene.
He's plan is to fol­low up with the twin girls for at least 10 phys­i­cal ex­am­i­na­tions un­til they are 18, at which point it would be up to them whether they would like to con­tin­ue to be mon­i­tored. It is un­clear, how­ev­er, whether he will be able to do so as he's un­der in­ves­ti­ga­tion by the lo­cal health com­mis­sions and be­ing dis­tanced by the in­sti­tu­tions he used to be af­fil­i­at­ed with.
The South­ern Uni­ver­si­ty of Sci­ence and Tech­nol­o­gy, which He said did not know about his plan, re­leased a state­ment say­ing the pro­fes­sor had been sus­pend­ed with­out pay since Feb­ru­ary. The Har­Moni­Care Shen­zhen Women and Chil­dren's Hos­pi­tal — where He sup­pos­ed­ly con­duct­ed the IVF pro­ce­dures — de­nied in­volve­ment and said it has asked the po­lice to in­ves­ti­gate.
His last ques­tion:
"If this was go­ing to be your ba­by, would you have gone ahead with this?
"That's a good ques­tion. If it was my ba­by, with the same sit­u­a­tion, yes I would try first."
---
Top: Jiankui He. Bot­tom left to right: Robin Lovell-Badge, Jiankui He, and Matt Por­teus. AM­BER TONG, END­POINTS NEWS