HONG KONG — Facing a storm of criticism from some of the medical world's best known experts and under investigation by Chinese officials for producing the world's first gene-edited babies in a self-funded experiment that has spurred headlines around the world, Jiankui He took to the center stage of a prominent scientific conference in Hong Kong to defend his work.
Calmly and clearly, He outlined his project using CRISPR to disable a key gene in order to confer immunity to HIV for the newborns — who were exposed to the threat by an HIV-positive parent — and offered an apology as the news that he had altered embryos "leaked unexpectedly" before he could present it at a scientific venue.
But the scientist also insisted he was proud of what he's done for the family, adding that he's also submitted the study to a scientific journal for review — which might clear up some of the lingering questions that came up after he appeared in front of a packed hall Wednesday.
"The first question was whether CCR5 is an unmet medical need," He told the crowd in the Q&A part of the presentation. "I actually believe that this is not just for this case, but for millions of children. They need this protection. HIV vaccine is not available. I personally experience with some people in AIDS where 30% of a village people are infected. They even have to give their children to relatives and uncles to raise just to prevent potential transmission. For this specific case, I feel proud. I feel proudest, because they had lost hope for life."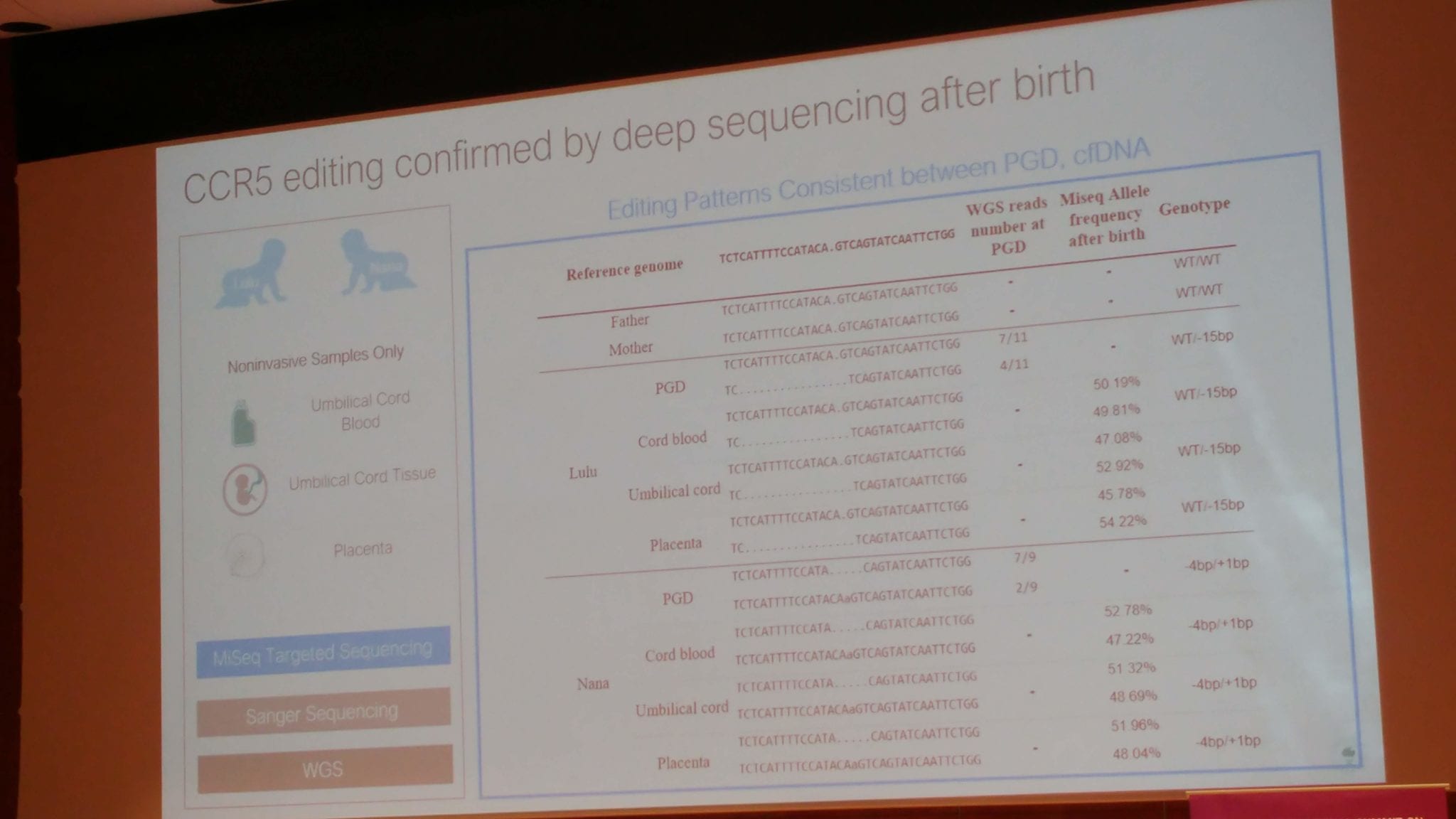 ---
The scientist noted that it would be illegal to reveal the identities of the father of Lulu and Nana, the twins at the center of the controversial trial. Born a few weeks ago to an HIV-positive father and HIV-negative mother, their genomes were altered by CRISPR-Cas9 while they were still embryos such that the CCR5 gene was disabled or shortened.
Appearing at the Second International Summit on Human Genome Editing, He detailed the various rounds of sequencing, cancer gene blood test, and pre-implantation genetic diagnosis he conducted before, during and after the pregnancy — all paid for by himself. All 59 of He's presentation slides can be found on this Google drive.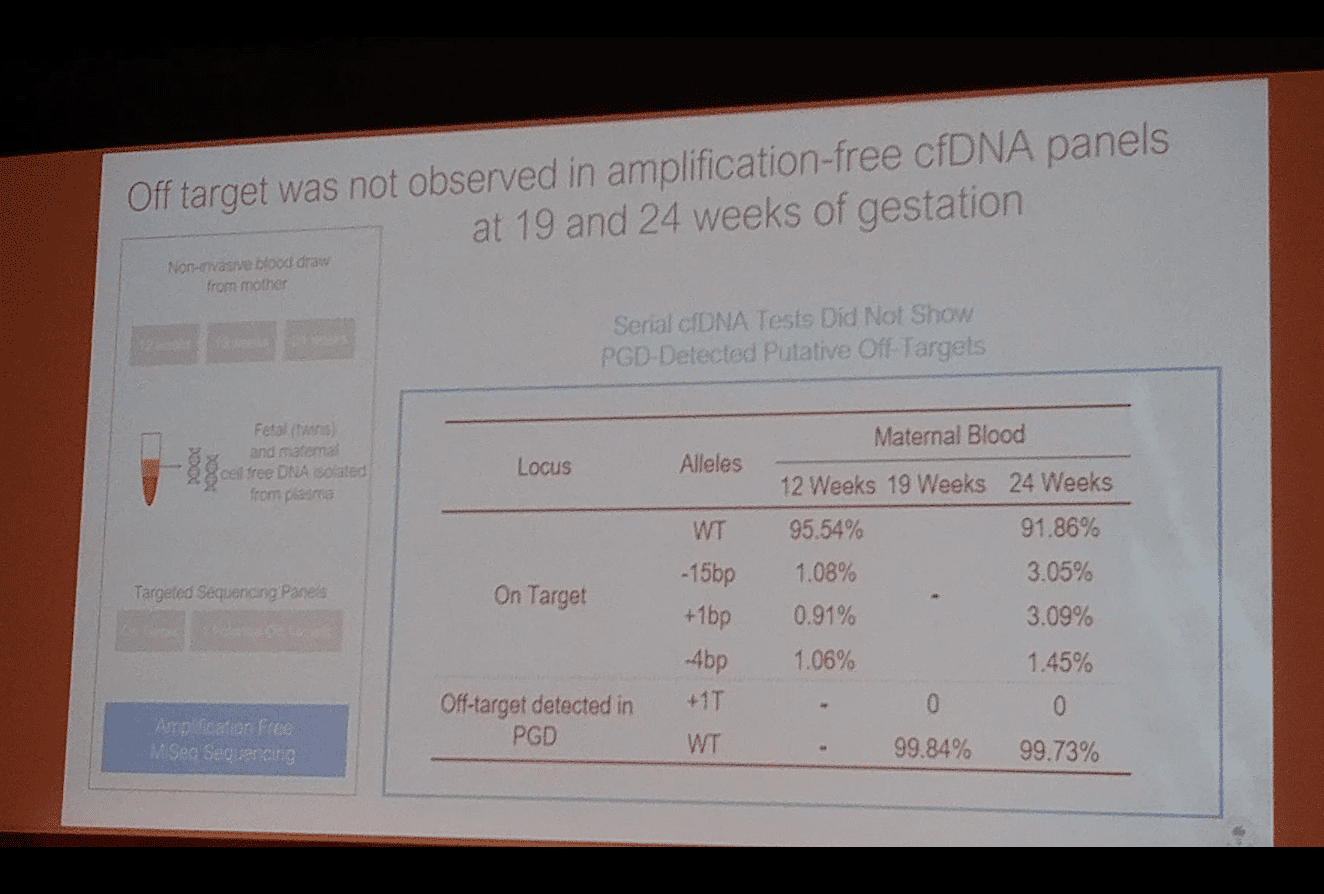 ---
Notably, one off-target effect was detected in "the meg-based intergenic region far from other genes, with no coding RNA and no transcription factor by their sides," he said.
"The volunteers were informed of the risk posed by this one existing off-target, and they decided to implant," he added, referring to the parents of Lulu and Nana whom he described a couple of times as "very well educated." By the 19th week of gestation, the off-target was no longer observed, according to He.
He also revealed that there was one other "potential pregnancy," although the trial — involving seven couples total — has been halted in light of the current situation. When pressed, He said 30 blastocysts were developed, 70% of which were edited, but didn't provide further details on the full scope of the study.
Amid the swath of inquiries directed at He, three lines of questions captured` the most intense interest of the scientists present: transparency, medical need and the choice of gene.
The first question has to do with secrecy and lack of feedback from fellow academics. While He maintained he engaged with both scientists and ethicists about his trial (with UC Berkeley researcher Mark DeWitt confirming to STAT  he knew of the plan and advised He against it) only four people reviewed the informed consent form provided to patients.
That would be unimaginable in the US, where hundreds of reviewers would likely be involved for a trial like this, commented Stanford Medicine professor Matt Porteus after the event. Porteus was one of two panelists charged with asking He questions on stage before opening up to the floor.
"In general people talk about their plans years in advance: Here's what we plan to do, here's why," Porteus said. "I don't think he's talked or listened to enough people about this," adding that as a participant at some of the previous conferences He spoke at, there was no hint the Chinese researcher was planning to justify a human clinical trial based on the data presented.
Secondly, there were concerns over whether the whole effort was worthwhile. David Baltimore, chair of the summit, said point blank in his brief remark: "I personally don't think it was medically necessary" — a comment echoed by CRISPR pioneer David Liu, who pointed out sperm washing could be sufficient for generating uninfected embryos.
In response, He said the key here is not just giving birth to uninfected babies but ensuring protection against HIV in the future, given that no HIV vaccine is currently available.
The third major question has to with the understanding of CCR5, as it's been suggested that deficiency of the gene may make people vulnerable to other infections like West Nile and influenza viruses and have effects on the immune system and cognition.
He said early in his talk that CCR5 is "one of the most studied variations, and it's one of the most well understood genes." Volunteers were aware of some of the risks, he added, and more verification is needed for newer research on the gene.
He's plan is to follow up with the twin girls for at least 10 physical examinations until they are 18, at which point it would be up to them whether they would like to continue to be monitored. It is unclear, however, whether he will be able to do so as he's under investigation by the local health commissions and being distanced by the institutions he used to be affiliated with.
The Southern University of Science and Technology, which He said did not know about his plan, released a statement saying the professor had been suspended without pay since February. The HarMoniCare Shenzhen Women and Children's Hospital — where He supposedly conducted the IVF procedures — denied involvement and said it has asked the police to investigate.
His last question:
"If this was going to be your baby, would you have gone ahead with this?
"That's a good question. If it was my baby, with the same situation, yes I would try first."
---
Top: Jiankui He. Bottom left to right: Robin Lovell-Badge, Jiankui He, and Matt Porteus. AMBER TONG, ENDPOINTS NEWS
---
The best place to read
Endpoints News

? In your inbox.

Comprehensive daily news report for those who discover, develop, and market drugs. Join 47,200+ biopharma pros who read Endpoints News by email every day.

Free Subscription
---
---
---