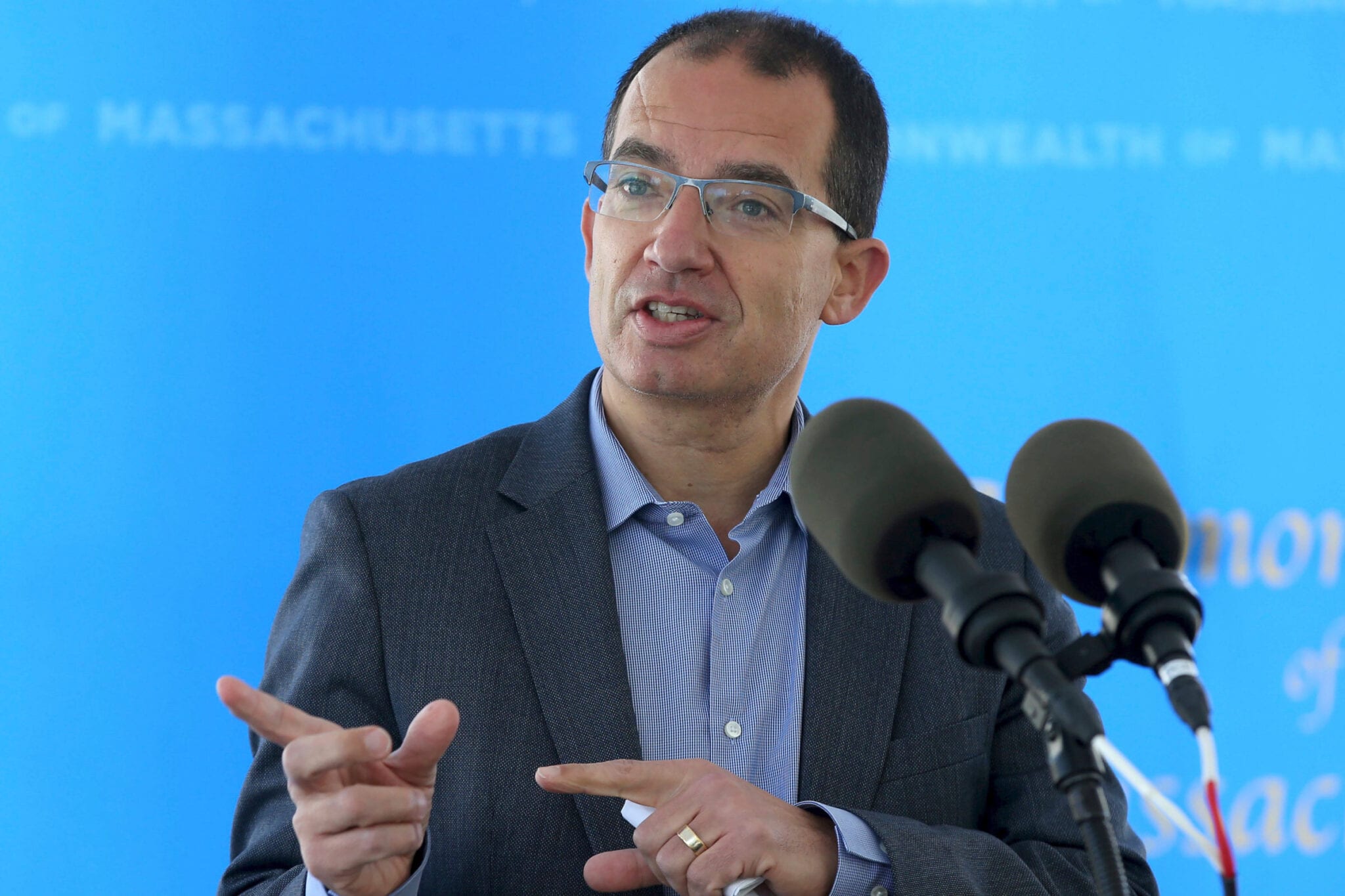 Stéphane Bancel, Moderna CEO (Nancy Lane/The Boston Herald via AP Images, Pool)
At­tempt­ing to ride boost­er ad­comm coat­tails, Mod­er­na says its Covid-19 shot is bet­ter than Pfiz­er/BioN­Tech
As the FDA pre­pares to con­vene an ad­comm to dis­cuss Pfiz­er/BioN­Tech's Covid-19 vac­cine boost­ers lat­er this week, the oth­er ma­jor mR­NA play­er is stick­ing its thumb out and try­ing to hitch a ride on the cor­po­rate me­dia blitz.
Mod­er­na put out a press re­lease Wednes­day af­ter­noon point­ing to two re­cent­ly un­veiled stud­ies that, the biotech as­serts, so­lid­i­fy the need for Covid-19 boost­ers, leap­ing in­to the on­go­ing de­bate for the shots. The re­lease comes mere­ly hours af­ter brief­ing doc­u­ments for the Pfiz­er/BioN­Tech ad­comm went pub­lic, with Mod­er­na putting forth an ar­gu­ment for why its vac­cines are bet­ter suit­ed to com­bat the Delta vari­ant than Pfiz­er and BioN­Tech's jab.
In par­tic­u­lar, Mod­er­na high­light­ed an in­ter­im CDC es­ti­mate re­leased last week look­ing at vac­cine ef­fec­tive­ness be­tween June and Au­gust, when Delta was the pre­dom­i­nant virus strain in the US. This analy­sis con­clud­ed that Mod­er­na vac­cine re­cip­i­ents were less like­ly to be hos­pi­tal­ized than those who re­ceived ei­ther the Pfiz­er/BioN­Tech or J&J shot.
"Across all ages, [vac­cine ef­fec­tive­ness] was sig­nif­i­cant­ly high­er among Mod­er­na vac­cine re­cip­i­ents (95%) than among Pfiz­er-BioN­Tech (80%) or Janssen (60%) vac­cine re­cip­i­ents," the analy­sis said.
The biotech al­so drew at­ten­tion to a preprint of a re­al-world study look­ing at more than 350,000 peo­ple who had re­ceived two Mod­er­na dos­es through the end of June. Com­pared to the same num­ber of un­vac­ci­nat­ed in­di­vid­u­als, Mod­er­na saw a vac­cine ef­fi­ca­cy of 87% against Covid-19 di­ag­no­sis and 96% against hos­pi­tal­iza­tion.
Though these da­ta had been pub­lic for at least a week — the CDC da­ta came out on Sept. 10 and the preprint is dat­ed Sept. 2 — Wednes­day marked the first time Mod­er­na stressed the im­por­tance of the analy­ses. The biotech pub­lished the re­lease less than two weeks af­ter hold­ing a press brief­ing in which it laid out some yet-to-be peer-re­viewed da­ta like­ly to be in­clud­ed in boost­er shot sub­mis­sions.
The ear­li­er meet­ing large­ly out­lined Mod­er­na's plan for boost­er shots in im­muno­com­pro­mised in­di­vid­u­als, such as those re­ceiv­ing dial­y­sis. Wednes­day's re­lease, how­ev­er, dealt more with vac­cine ef­fec­tive­ness in the gen­er­al pop­u­la­tion.
In ad­di­tion to the two out­side stud­ies, Mod­er­na tacked on a new analy­sis com­ing from the open-la­bel ex­ten­sion of its orig­i­nal Phase III vac­cine study. This analy­sis looked at break­through in­fec­tions in study par­tic­i­pants be­tween Ju­ly 1 and Aug. 27, with Mod­er­na eval­u­at­ing both vac­cine re­cip­i­ents and those who ini­tial­ly re­ceived the place­bo but were ad­min­is­tered the shot af­ter the biotech re­ceived an EUA.
At 13 months of fol­low-up in the ac­tive tri­al arm, re­searchers ob­served 162 break­through Covid-19 cas­es, com­pared to 88 af­ter eight months in the crossover group. With a 36% re­duc­tion in in­ci­dence rates be­tween the groups, the biotech con­clud­ed that in­di­vid­u­als vac­ci­nat­ed more re­cent­ly were less like­ly to con­tract Covid-19.
"The in­creased risk of break­through in­fec­tions in COVE study par­tic­i­pants who were vac­ci­nat­ed last year com­pared to more re­cent­ly il­lus­trates the im­pact of wan­ing im­mu­ni­ty and sup­ports the need for a boost­er to main­tain high lev­els of pro­tec­tion," Mod­er­na CEO Stéphane Ban­cel said in a state­ment. "We hope these find­ings are help­ful as health au­thor­i­ties and reg­u­la­tors con­tin­ue to as­sess strate­gies for end­ing this pan­dem­ic."
Mod­er­na pub­lished a preprint of the break­through study on Wednes­day af­ter­noon at the same time as the press re­lease.
The boost­er de­bate has tak­en over the bio­phar­ma world in re­cent weeks as the Delta vari­ant con­tin­ues to surge in the US. Pres­i­dent Joe Biden's ad­min­is­tra­tion had aimed to be­gin de­liv­er­ing boost­ers to the gen­er­al pub­lic as ear­ly as next week, though the tim­ing of the shots has re­port­ed­ly changed from eight months post-sec­ond dose to six months.
That an­nounce­ment, how­ev­er, sparked con­cerns over po­lit­i­cal med­dling in FDA af­fairs. In re­sponse to the White House leapfrog­ging the agency on a boost­er an­nounce­ment, two se­nior vac­cine of­fi­cials sub­mit­ted their res­ig­na­tion in protest at the end of Au­gust. Ear­li­er this week, the of­fi­cials — Mar­i­on Gru­ber and Phil Krause — co-au­thored a pa­per with the WHO in the Lancet ar­gu­ing boost­er shots are un­nec­es­sary.
Pfiz­er and the FDA will make their cas­es at the boost­er shot ad­comm on Fri­day. Mod­er­na sub­mit­ted its ini­tial boost­er plan to reg­u­la­tors ear­li­er this month, rough­ly a week af­ter wrap­ping its BLA for full ap­proval of the orig­i­nal two-dose reg­i­men. Pfiz­er and BioN­Tech re­ceived full ap­proval for their Covid-19 vac­cine on Aug. 23.