Allergan's best-selling dry eye drug Restasis was developed after the immunosuppressant was originally shown to enhance tear production in dogs. Similarly, Canada's Aurinia Pharma $AUPH found its experimental treatment was doing well in canine studies, prompting their evaluation of the drug — voclosporin opthalmic solution (VOS) — in humans. And now in a Phase II study comparing VOS to Restasis, VOS failed the primary endpoint of beating the blockbuster drug's tolerability score, but did demonstrate a statistically significant improvement on secondary endpoints evaluating efficacy.
Restasis is a prescription eye drop that contains cyclosporine, which targets a ubiquitous enzyme called calcineurin found in cell cytoplasm. It takes about 3-6 months for the drug to work, and about 17% of patients discontinue using the drug due to bothersome side-effects such as burning and itching. Still, largely due to a persistent marketing effort the drug has generated billions of dollars in revenue for Allergan since its 2003 approval. The company has used a creative solution to enhance the patent life of its second-biggest seller, by transferring the drug's patents to a Native American tribe to stave off competition, but that strategy has run into legal and PR trouble. Allergan and their Mohawk allies are now taking the case to the Supreme Court — provided the justices agree to hear it.
Aurinia's VOS has a long way to go before it can win approval. But if it does, it will compete with cheap Restasis generics — raising the bar substantially on any market showdown.
VOS is a "next-gen" cyclosporine inhibitor suspended in a nanomicellar solution, designed to be four times as potent as cyclosporine.
"VOS is a derivative of cyclosporin…it binds differently, and is more potent, therefore we actually need less drug. In this case, we decided to use more of the drug," Aurinia CEO Richard Glickman explained in an interview preceding the results. "When you treat patients with an eye drop, they blink. When they blink they actually wipe off a great deal of that drug — so basically we are delivering more drug, so even if they blink and wipe it off — the idea is that more drug penetrates the eye."
VOS was tested against Restasis in a 100-patient 28-day study. The main goal of the study, to improve tolerability as measured by "drop discomfort" one minute following drug administration, was not met, with both arms reporting similar rates.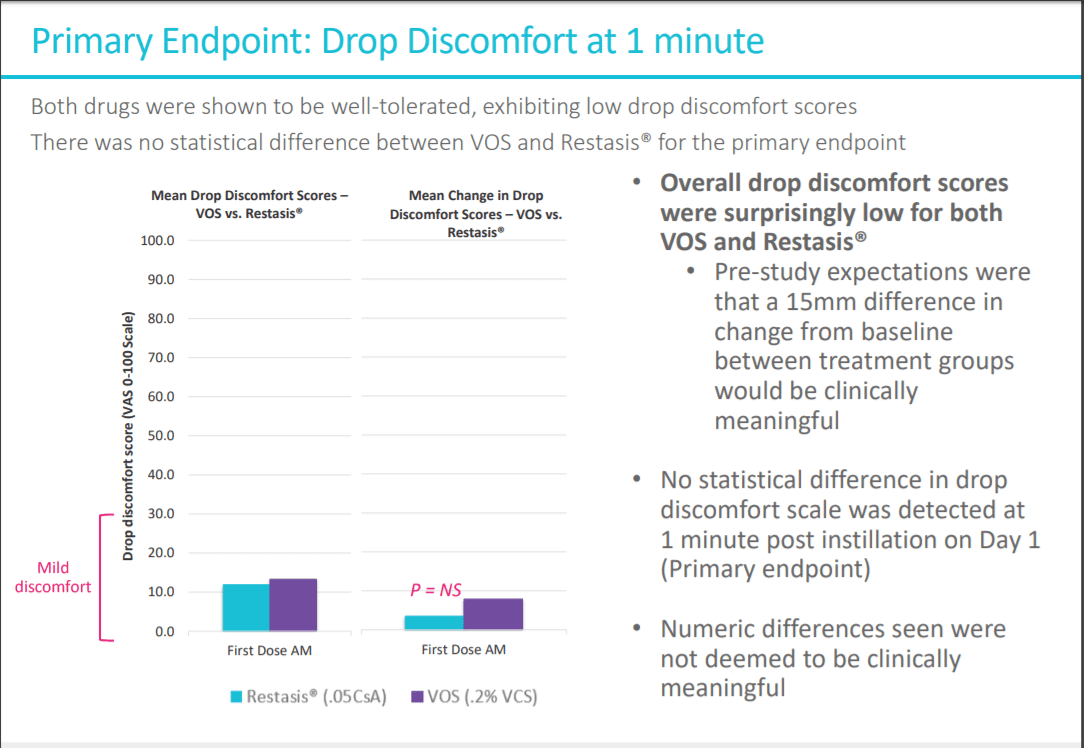 ---
"We didn't see a significant difference cause there was very little discomfort at all on the administration of drops…and we can't really be sure why," Aurinia chief medical officer Neil Solomons told Endpoints News. The company's shares were down about 5% in morning trading.
Allergan originally sought US approval for Restasis in 1999, but that application failed on the basis of inconsistent data from two late-stage trials, following which the drugmaker reanalyzed its data and amended its application four times. The FDA ultimately sanctioned the drug's approval in 2003, based on a surrogate sign — the Schirmer response — a test used to measure tear production. Since then other drugs for dry eye have been approved by the FDA, including Sun Pharma's Cequa and Shire's Xiidra, which both take up to 12 weeks to take effect.
Dry eye, which typically occurs with age, is characterized by the diminished quantity and/or quality of tears, which fail to keep the surface of the eye adequately lubricated. It is estimated to impact more than 16 million in the United States.
In Aurinia's head-to-head trial, VOS eclipsed Restasis on two measures of efficacy: The Schirmer test (STT) and Fluorescein Corneal Staining/FCS (a test used measure structural damage to the cornea). At week four, VOS showed rapid and statistically significant improvements (STT: p=.0051; FCS: p=.0003) over Restasis. Data showed that VOS began to confer a statistically significant reduction in FCS versus Restasis by week 2, the company added.
"The efficacy endpoints clearly signal that VOS has the potential to have a more rapid onset than Restasis," Cantor Fitzgerald's Elemer Piros wrote in a note.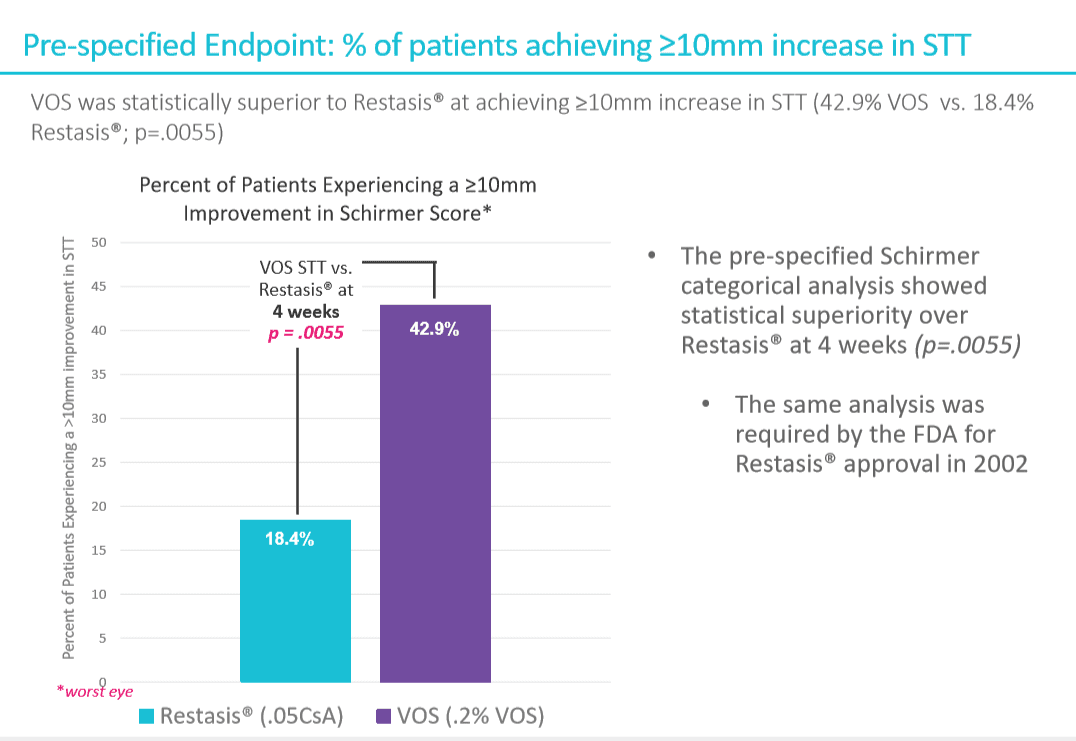 ---
"If you actually look at the data across the board, it's quite consistent and remarkable — we didn't need to slice and dice the data, or create a subset of patients — we just picked the wrong primary endpoint," Glickman said. "We're actually a lot surprised by the magnitude of the response actually, because when we powered the study we thought it would be easier to pick the low hanging fruit, which was…drop discomfort. Drop discomfort turns out to be tougher than we thought in the sense that both drugs in our study actually didn't bother patients a whole lot."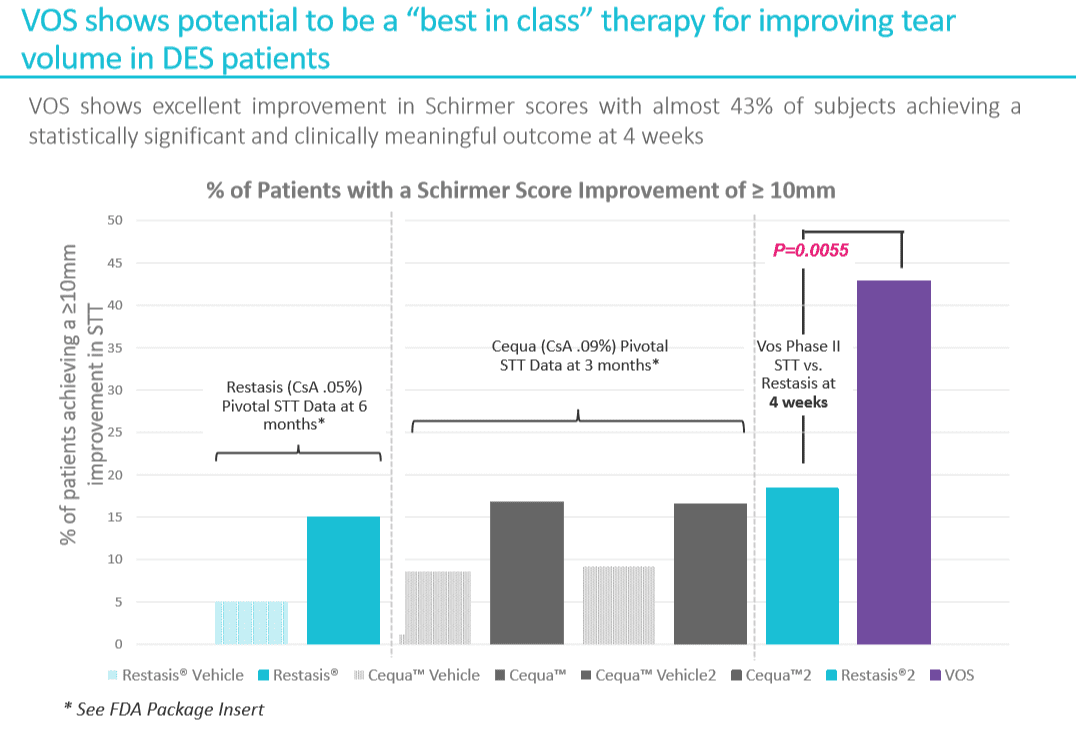 ---
Leerink's Joseph Schwartz suggested that the surprising efficacy data overshadowed the miss on tolerability.
"We think the on par tolerability of VOS despite a ~16x higher concentration of drug delivered illustrates that there could be room for improvement via evaluating lower doses in future trials, a concept management disclosed as a potential strategy in their next study. Surprisingly, given the study's powering assumptions, treatment with VOS significantly improved key efficacy outcomes, which we think are more relevant for registrational studies and market uptake," Schwartz wrote in a note.
Aurinia is convinced the dataset is compelling enough to plan a larger Phase II/III trial.
If all goes well going forward, the British Columbia-based company is hoping a drugmaker with deeper pockets comes along to help out on the commercial side. Meanwhile, the company's main focus is its lupus program, for which late-stage data are expected by the end of 2019.
---
The best place to read
Endpoints News

? In your inbox.

Comprehensive daily news report for those who discover, develop, and market drugs. Join 47,300+ biopharma pros who read Endpoints News by email every day.

Free Subscription
---
---
---