BAR­DA looks to get the jump on next pan­dem­ic with VC arm tar­get­ing 'trans­for­ma­tive' tech
Five years af­ter Con­gress first called for it — and a year and a half af­ter a pan­dem­ic broke out — BAR­DA, the US's top pan­dem­ic pre­pared­ness agency, is launch­ing its own VC fund.
The new fund will in­vest in tech­nolo­gies that could be de­ployed against fu­ture out­breaks or oth­er pub­lic health emer­gen­cies. It fol­lows a sim­i­lar mod­el to oth­er pub­lic health VCs, such as the Gates Foun­da­tion's fund, giv­ing cap­i­tal to ear­ly-stage com­pa­nies with promis­ing plat­form tech­nolo­gies in ex­change for as­sur­ances they use it part­ly for in­fec­tious dis­eases that might not have a sig­nif­i­cant mar­ket.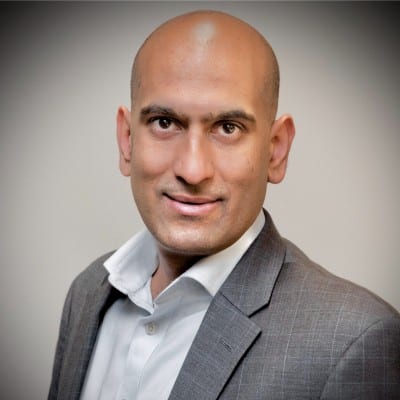 Sandeep Pa­tel
Sandeep Pa­tel, di­rec­tor of BAR­DA's di­vi­sion of Re­search, In­no­va­tion and Ven­tures, name-checked mR­NA vac­cines, a tech­nol­o­gy that was be­ing de­vel­oped in large part for can­cer be­fore Covid-19, but which an­oth­er branch of the gov­ern­ment — DARPA — in­vest­ed in as a pan­dem­ic pre­pared­ness tool.
It's "look­ing at what's po­ten­tial­ly trans­for­ma­tive," he told End­points News. "mR­NA rep­re­sent­ed a kind of new class of vac­cines. What's the equiv­a­lent of that we can in­vest in for the fu­ture, ei­ther in vac­cines, treat­ments or di­ag­nos­tics? Or even things that cut across those ar­eas."
Fit­ting­ly for a long-over­looked gov­ern­ment agency de­pen­dent on Con­gress for cash, the fund is for now mod­est. BAR­DA has com­mit­ted on­ly $10 mil­lion this year and $50 mil­lion over the next five years to the VC, al­though Pa­tel said that they hope to raise that up to $500 mil­lion over the next decade. He not­ed that Pres­i­dent Joe Biden's new bud­get in­cludes $50 mil­lion for year one of the ef­fort, should it be passed.
They al­so plan to match their own in­vest­ments with pri­vate cap­i­tal. Con­gress au­tho­rized the VC fund in 2016 as part of the 21st Cen­tu­ry Cures Act, but Pa­tel said they need­ed time to fig­ure out its mod­el. Af­ter so­lic­it­ing bids in the fall, the agency an­nounced it will team with GHIC, a Gates-fund­ed non-prof­it that will look to mar­shal more con­ven­tion­al VCs to bur­nish BAR­DA's ef­forts.
De­spite its pre-pan­dem­ic his­to­ry, the new fund fits in­to a broad­er push to de­vel­op tech­nolo­gies, in­fra­struc­ture and oth­er ca­pa­bil­i­ties to pre­vent the next pan­dem­ic, join­ing gov­ern­ment and aca­d­e­m­ic ef­forts to de­vel­op pan-vi­ral vac­cines and in­dus­try ef­forts to reimag­ine bi­o­log­ics man­u­fac­tur­ing, so any fu­ture pan­dem­ic vac­cine or treat­ment could be rapid­ly scaled.
It's a de­par­ture from where BAR­DA has spent much of the funds in the past, when it di­rect­ed tens of mil­lions of dol­lars to get in­di­vid­ual prod­ucts — of­ten an­tibi­otics with­out an im­me­di­ate com­mer­cial mar­ket — through late-stage stud­ies.
Pa­tel said they'll in­vest in com­pa­nies — around five to nine per year — that have clear­er com­mer­cial ap­pli­ca­tions out­side of pub­lic health emer­gen­cies, so it will be sus­tain­able with­out heavy pub­lic fund­ing and ready if a cri­sis strikes. As with oth­er non-prof­it ven­ture ef­forts, any re­turns from those in­vest­ments would be fun­neled back in­to the fund to be re-in­vest­ed. He com­pared it to In-Q-Tel, the CIA's VC arm.
What could those tech­nolo­gies or com­pa­nies be? Pa­tel wouldn't dive in­to too many specifics, but he threw out nee­dle-free vac­cines, which BAR­DA has al­ready mod­est­ly in­vest­ed in, and new meth­ods for rapid­ly scal­ing man­u­fac­tur­ing — any­thing that could turned around faster for Covid-28, or what­ev­er strikes next.
"There's a lot, there's a long list here, we're in the process of set­ting pri­or­i­ties," Pa­tel said. "Clear­ly Covid-19 has showed us some lessons"
So­cial im­age: Rick Bright (Pho­to by Greg Nash / POOL / AFP) (Pho­to by GREG NASH/POOL/AFP via Get­ty Im­ages)