Ben­itec's aban­doned one-dose hep C "cure" ac­tu­al­ly had two big prob­lems
Back in Feb­ru­ary ex­ecs at the Syd­ney-based mi­cro­cap biotech Ben­itec Bio­phar­ma $BNTC told their in­vestors that they were go­ing to drop their he­pati­tis C ther­a­py be­cause they felt that the mar­ket op­por­tu­ni­ties had dried up af­ter a se­ries of game-chang­ing ther­a­pies were in­tro­duced. Now they're al­so con­ced­ing an­oth­er lit­tle prob­lem with the treat­ment: It didn't ac­tu­al­ly work.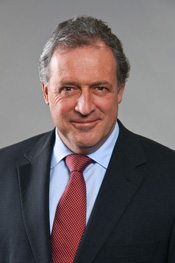 Ben­itec CEO Greg West
The main goal for their Phase I/IIa study, the lead ef­fort in its pipeline, was de­ter­min­ing the safe­ty of the ther­a­py, which they say in­ves­ti­ga­tors clear­ly hit. How­ev­er, it al­so didn't have any kind of ap­pre­cia­ble ef­fect on vi­ral load.
Last spring, the com­pa­ny — pur­su­ing its own twist on RNAi gene si­lenc­ing in search of a one-dose "cure" — said that it had de­cid­ed to drop its plans to pur­sue a hep C ther­a­py be­cause of all the as­tound­ing new com­bos around that were at­tract­ing a con­sid­er­able amount of at­ten­tion. The fo­cus had shift­ed so hard to Gilead and its ri­vals that they were hav­ing a dif­fi­cult time re­cruit­ing pa­tients for their small study. And Big Phar­ma had be­come so un­in­ter­est­ed in hep C deals now, the best way for­ward was to shift to he­pati­tis B, where they felt the ex­per­i­men­tal hep C drug, TT-034, had helped show them the way.
"Sim­ply put," said CEO Greg West in a call with an­a­lysts, "the TT-034 pro­gram has not at­tract­ed mean­ing­ful in­ter­est from Big Phar­ma in spite of many meet­ings and ne­go­ti­a­tions."
Those po­ten­tial part­ners would have been even less in­ter­est­ed in TT-034 if they had known the ear­ly-stage study would fail at re­duc­ing the vi­ral bur­den of pa­tients.
David Suhy, CSO of Ben­titec
Dr. David Suhy, chief sci­en­tif­ic of­fi­cer for Ben­itec, said:
"We are ob­vi­ous­ly dis­ap­point­ed that we did not see a re­duc­tion in vi­ral bur­den as a re­sult of TT-034 ad­min­is­tra­tion. Al­though we will com­plete a more de­tailed as­sess­ment of the da­ta, it is like­ly that TT-034 pro­duced in­suf­fi­cient lev­els of the an­ti-HCV shRNA. Sev­er­al years ago, we pub­lished a pa­per in which we made ge­net­ic changes in­to the TT-034 con­struct to down-reg­u­late ex­pres­sion lev­els of shRNA in or­der to avoid tox­i­c­i­ty at ex­cep­tion­al­ly high dos­es in an­i­mal mod­els. While it is pos­si­ble that the re­duc­tion in shRNA lev­els was fur­ther ex­ac­er­bat­ed when TT-034 was ad­min­is­tered to hu­man sub­jects, it is im­por­tant to note that we have al­ready used these learn­ings from this clin­i­cal study to make de­sign mod­i­fi­ca­tions to oth­er pro­grams. In par­tic­u­lar we have made a se­ries of changes to gen­er­ate more po­tent trig­gers of RNAi as well as mod­i­fy the con­structs to sig­nif­i­cant­ly en­hance shRNA ex­pres­sion lev­els. As one ex­am­ple, the de­sign of BB-103 for the HBV pro­gram, used sev­er­al new ap­proach­es to sig­nif­i­cant­ly en­hance the lev­el of shRNA ex­pres­sion while still main­tain­ing a safe pro­file."
Ben­itec's mar­ket cap sits at $10.7 mil­lion.