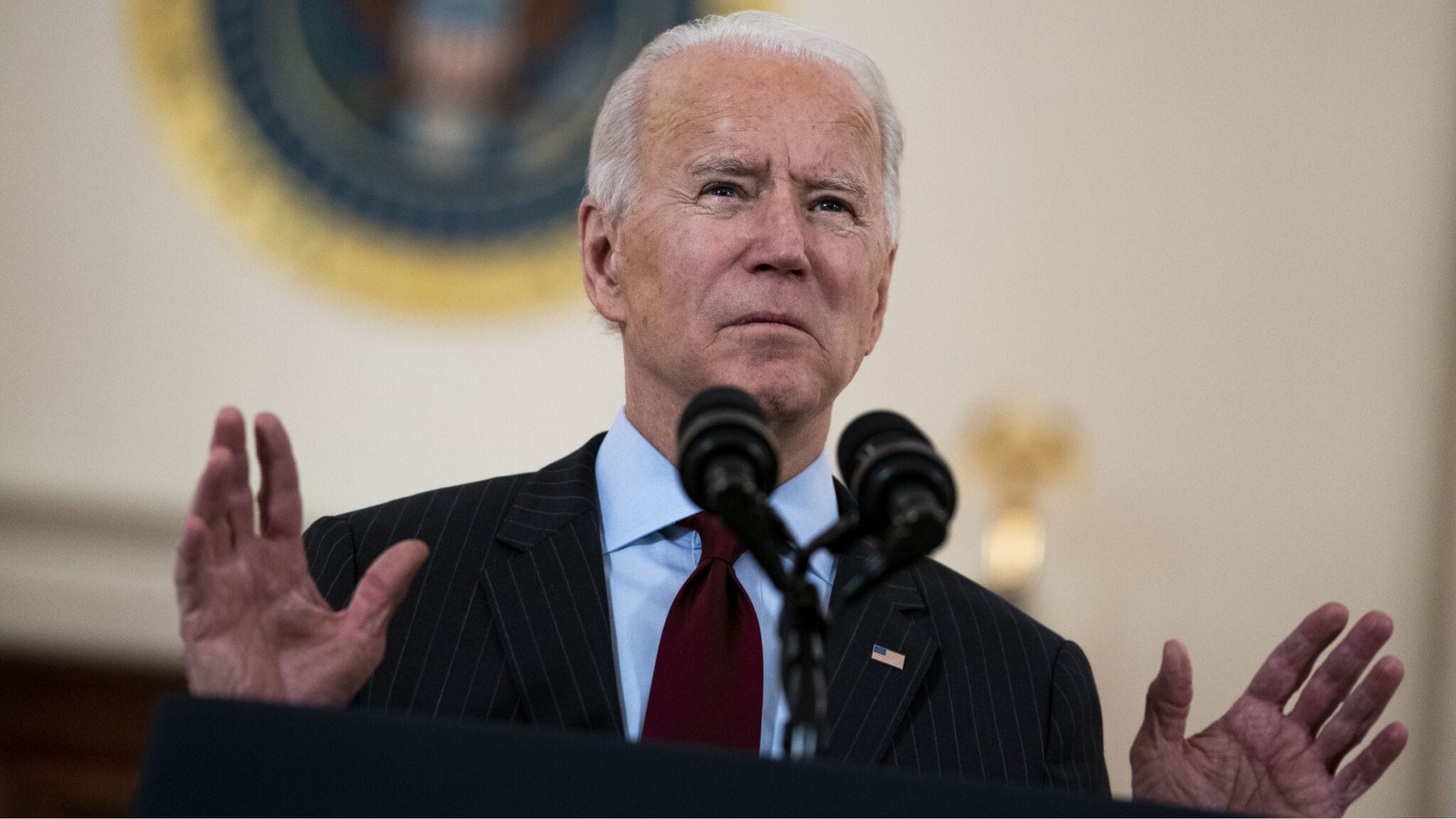 Joe Biden (Credit: Doug Mills/The New York Times/Bloomberg via Getty Images)
Biden's bud­get wish list: Re­store the CDC, build a new NIH re­search cen­ter, pump in bil­lions to end the opi­oid and HIV epi­demics
Pres­i­dent Joe Biden's first bud­get re­quest (Con­gress is the ul­ti­mate de­cider on bud­gets) for FY 2022 in­cludes a mas­sive in­flux of funds to the CDC, plans to launch a new $6.5 bil­lion re­search cen­ter with­in the NIH, as well as al­most $11 bil­lion to end the opi­oid epi­dem­ic and an­oth­er $670 mil­lion to ag­gres­sive­ly re­duce new HIV cas­es.
But de­tails on what ex­act­ly this new $6.5 bil­lion, DARPA-like, NIH-based cen­ter, to be known as Ad­vanced Re­search Pro­jects Agency for Health (ARPA-H), will re­search re­main to be seen. Biden's bud­get re­quest on­ly said the cen­ter will ini­tial­ly fo­cus on a wide range of dis­eases that oth­er NIH cen­ters typ­i­cal­ly work on.
"With an ini­tial fo­cus on can­cer and oth­er dis­eases such as di­a­betes and Alzheimer's, this ma­jor in­vest­ment in Fed­er­al re­search and de­vel­op­ment would dri­ve trans­for­ma­tion­al in­no­va­tion in health re­search and speed ap­pli­ca­tion and im­ple­men­ta­tion of health break­throughs," the re­quest says.
At $6.5 bil­lion, the cen­ter will have about as much an­nu­al fund­ing as the Na­tion­al Can­cer In­sti­tute re­ceived in FY 2021. The funds are part of a $9 bil­lion re­quest­ed in­crease for NIH over­all.
Fol­low­ing the Trump ad­min­is­tra­tion's sidelin­ing of the CDC, Biden's dis­cre­tionary re­quest al­so in­cludes $8.7 bil­lion for the agency — a jump of $1.6 bil­lion over the 2021 en­act­ed lev­el, the largest bud­get au­thor­i­ty in­crease in near­ly two decades — to "re­store ca­pac­i­ty at the world's pre­em­i­nent pub­lic health agency." The new funds will help to mod­ern­ize pub­lic health da­ta col­lec­tion, train new epi­demi­ol­o­gists and oth­er pub­lic health ex­perts, and build in­ter­na­tion­al ca­pac­i­ty to de­tect, pre­pare for, and re­spond to glob­al pub­lic health threats.
In ad­di­tion, Biden al­so seeks an in­vest­ment of $10.7 bil­lion, an in­crease of $3.9 bil­lion over the 2021 en­act­ed lev­el, to sup­port re­search, pre­ven­tion, treat­ment, and re­cov­ery sup­port ser­vices re­lat­ed to the opi­oid epi­dem­ic. The ad­min­is­tra­tion said those funds will in­clude tar­get­ed in­vest­ments to sup­port those with unique needs, in­clud­ing Na­tive Amer­i­cans, old­er Amer­i­cans, and rur­al com­mu­ni­ties.
An­oth­er $670 mil­lion in the pro­pos­al for HHS will aim to help ac­cel­er­ate and strength­en ef­forts to end the HIV/AIDS epi­dem­ic in the US by in­creas­ing ac­cess to treat­ment, ex­pand­ing the use of pre-ex­po­sure pro­phy­lax­is, and im­prov­ing eq­ui­table ac­cess to ser­vices and sup­port.
Over­all, the pres­i­dent's 2022 dis­cre­tionary re­quest in­cludes $131.7 bil­lion for HHS, which is a $25 bil­lion or 24% in­crease from 2021.
No­tably ab­sent in the bud­get re­quest is any de­tail re­lat­ed to the FDA's bud­get. The re­quest mere­ly says the ad­min­is­tra­tion "would make in­vest­ments to en­hance FDA's or­ga­ni­za­tion­al ca­pac­i­ty." The FDA por­tion of the pres­i­dent's full re­quest will like­ly in­clude more de­tail.