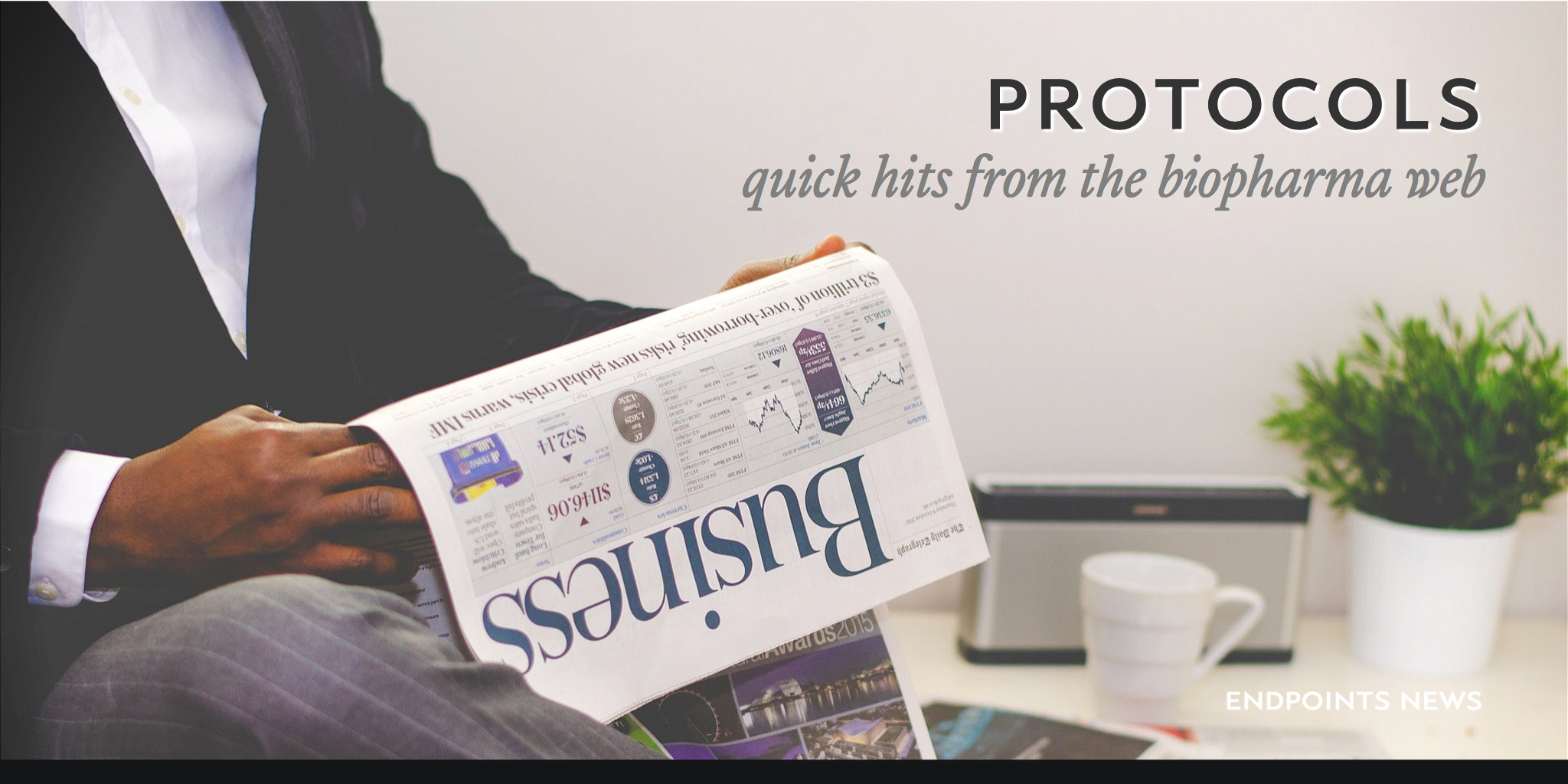 Big Phar­ma joins £200M UK Biobank se­quenc­ing project; Monopar sets terms for $40M IPO
→ The UK Biobank is kick­ing off an am­bi­tious £200 mil­lion project to un­der­take whole-genome se­quenc­ing of 450,000 par­tic­i­pants, prob­ing the role that ge­net­ics plays in a range of com­mon and chron­ic ail­ments in­clud­ing de­men­tia, men­tal ill­ness, can­cer and heart dis­ease. Am­gen, As­traZeneca, Glax­o­SmithK­line and J&J pooled £100 mil­lion to­tal in ex­change for 9 months of ex­clu­sive ac­cess, while The Well­come Trust char­i­ty and the UK gov­ern­ment each pro­vid­ed £50 mil­lion.
The Well­come Sanger In­sti­tute in Cam­bridge and de­CODE ge­net­ics in Ice­land — a sub­sidiary of Am­gen — have been com­mis­sioned to con­duct the se­quenc­ing.
→ Gilead is hand­ing out a $10 mil­lion mile­stone pay­ment for the HIV deal they struck with Durect in Ju­ly. At the time, Gilead spent a mod­est $25 mil­lion in cash for the rights to jump on the plat­form at Durect, which has been us­ing its tech­nol­o­gy to come up with an ex­tend­ed-re­lease ver­sion of bupi­va­caine. The lat­est cash comes out of the $75 mil­lion promised for de­vel­op­ment and reg­u­la­to­ry mile­stones. On top of that, Gilead has re­served $70 mil­lion in sales goal cash and $150 mil­lion for each new de­vel­op­ment pro­gram it adds to its pipeline out of the pact.
→ Monopar Ther­a­peu­tics has an­nounced the terms for its IPO. The Wil­mette, Illi­nois-based com­pa­ny plans to of­fer 4.4 mil­lion shares at a price range of $8 to $10 to raise $40 mil­lion, it said in a fil­ing on Tues­day. At the mid­point of the pro­posed range, Monopar would com­mand a ful­ly di­lut­ed mar­ket val­ue of $130 mil­lion.
Co-found­ed by Christo­pher Starr af­ter he stepped down as Rap­tor CEO, the biotech's pipeline in­cludes va­lidive — ob­tained from France's Onx­eo in 2017 — for se­vere oral mu­cosi­tis in­duced by chemora­dio­ther­a­py in head and neck can­cer pa­tients and cam­siru­bicin, a can­cer drug aimed at soft tis­sue sar­co­ma. Jon­esTrad­ing is the sole bookrun­ner on the deal. The com­pa­ny plans to list un­der the sym­bol $MN­PR.
→ On­co­Cell MDx — a pan dis­ease im­munogenomics plat­form com­pa­ny fo­cused on non­in­va­sive blood-based tests — has raised $22.2 mil­lion in Se­ries B fi­nanc­ing. The round was led by Sav­itr Cap­i­tal along with ex­ist­ing in­vestors. Found­ed on tech­nolo­gies cre­at­ed by Amin Kas­sis at Har­vard med­ical school, On­co­Cell has raised more than $30 mil­lion to date to de­tect and oth­er dis­eases us­ing a sin­gle blood sam­ple. It plans to launch a blood test for the de­tec­tion and grad­ing of ag­gres­sive prostate can­cer next year.
→ The decades of fail­ure to de­vel­op a drug to fight Alzheimer's dis­ease has con­vinced The Na­tion­al In­sti­tute on Ag­ing to con­fer a five-year fed­er­al grant of up to $53.4 mil­lion to Brown Uni­ver­si­ty and Boston-based Har­vard Med­ical af­fil­i­ate, He­brew Se­nior­Life, to sup­port tri­als aimed at im­prov­ing care for peo­ple with de­men­tia.