Amgen CEO Bob Bradway has never been reluctant to bring out the ax and chop staff.
Late in 2014, the company announced their original restructuring plans to reduce payroll was too modest, upping its goal on job cuts to 4,000. And the pharma giant followed up in the spring of 2015 by axing about 300 staffers after Bradway decided to shutter the Onyx campus obtained with its acquisition of Kyprolis.
On Tuesday, though, Bradway became a job creator.
"We'll be adding 1600 jobs at Amgen this year," he told President Donald Trump, minutes after the president had finished a harangue about the new American jobs he expected in exchange for reduced regulations.
But "adding" may not be entirely accurate.
"This includes both workers who will bring new skills to Amgen, as well as those required to address attrition and other needs," spokesperson Kristen Davis told the Los Angeles Times. "We look forward to working collaboratively with the new administration."
Several Big Pharma chiefs joined Bradway for the session with Trump. And in most cases, they represent global companies that have been bending over backwards to rein in R&D costs and hold the line on spending, particularly in the US. In a couple of cases, you'll find some heavy job losses globally, with major cuts directed at US workforces.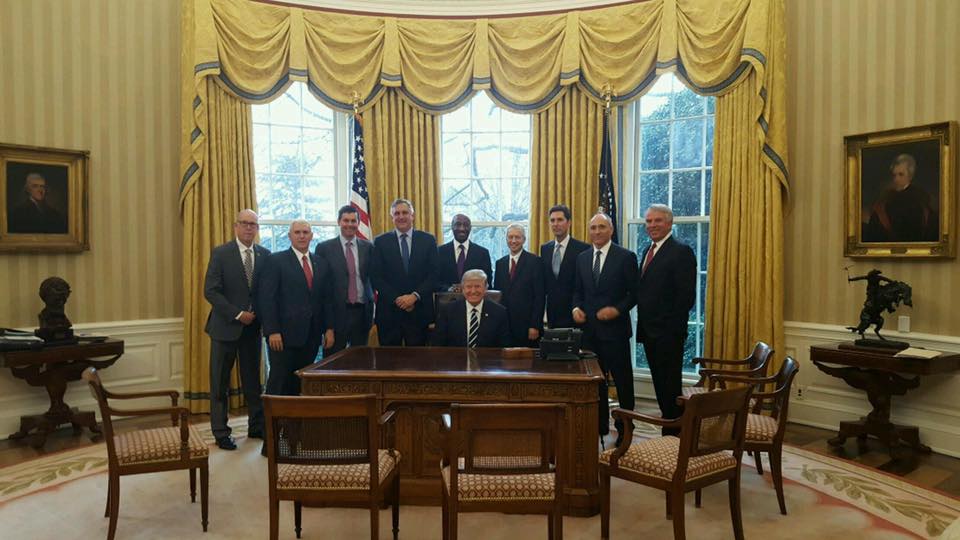 Bradway's company employed 17,900 staff members at the end of 2015. Five years earlier the total was 17,400. And that slight gain is a big improvement over his peers, if you judge them on their ability to add employees.
Ken Frazier, CEO of Merck was also enthusiastic about hiring in his sit-down with Trump, something that hasn't been the case for the past five years, as the company restructured and axed thousands of staffers, including job cuts for a top-to-bottom R&D overhaul.
"We're bringing manufacturing back for our cancer drug," he told Trump. "We're bringing those jobs here."
At the end of 2015, Merck employed 68,000 employees worldwide, with approximately 26,200 employed in the United States.
At the end of 2010, the company reported that it had approximately 94,000 employees worldwide, with approximately 37,600 employed in the United States. To be fair to Merck, the comparison caught the company as it was still shedding staffers from the big Schering-Plough buyout. That restructuring was slated to wrap up at the end of 2012, when Merck had 83,000 employees worldwide, with approximately 32,500 employed in the United States.
Bottom line: Merck shed 15,000 more jobs after the Schering-Plough reorg was scheduled to end, US employment dropped by 6,300.
"We're looking at ways to expand," Joe Jimenez, CEO of Novartis, told Trump. "One of the things that can help us is a lower tax rate."
Novartis is well known as a global player that doesn't leave a stone unturned when it comes to finding new efficiencies. That cost-cutting spirit drove an R&D overhaul last year, and new programs aimed at doing everything the Swiss company can do to hold the line on costs. That approach has had a big impact on employment.
Novartis counts FTEs. At the end of 2016 they employed 118,393, 23,037 in the US and 55,205 in Europe. Five years earlier, the score was 123,686 total and 27,242 in the US. The cuts were clearly aimed at its US staff.
"We're hiring manufacturing jobs as I speak," said Eli Lilly CEO Dave Ricks. "Some of the policies you've suggested — tax, deregulation — those are things that could really allow us to expand operations."
At the end of 2015, Eli Lilly employed 41,275 people, including approximately 23,425 employees outside the US. That is up slightly from 2010, but only after some serious attrition in the US. Five years earlier  Lilly employed 40,360 people, including approximately 20,300 employees outside the United States.
Trump's response to Ricks: "Yep, we'll get it."
None of this is new. The basic trend over the past decade in Big Pharma has been to shrink the base or guard against any big run-up in employment. CEOs like Bradway and Frazier enjoyed a positive reaction on Wall Street as they cut costs. Now, the new political season calls for talking about creating jobs and pushing Congress for tax cuts — which they want badly — and deregulation, which has not been a major issue at all.
None of the CEOs who turned up for Tuesday's powwow with the president, though, was of any mind to remind the commander in chief of any market realities.
---
The best place to read
Endpoints News

? In your inbox.

Comprehensive daily news report for those who discover, develop, and market drugs. Join 51,200+ biopharma pros who read Endpoints News by email every day.

Free Subscription
---
---
---