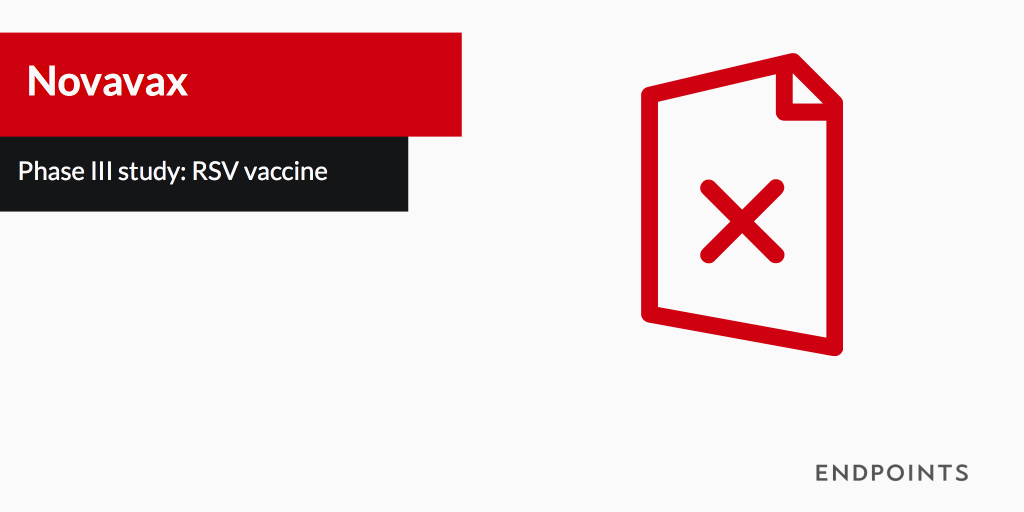 ---
Novavax $NVAX says that its big Phase III study of its RSV vaccine failed badly among older subjects, flopping on the primary as well as secondary outcomes and leaving the biotech struggling to explain how it fell short here.
The company recruited 11,856 people over the age of 60 for this study, looking for clear evidence to support a claim that the vaccine could significantly prevent RSV-associated lower respiratory tract disease – the primary goal – or at least incidents of all symptomatic respiratory disease due to RSV. It didn't work.
Shares of Novavax were crushed by the news, plunging 83% and wiping out the bulk of its $2.2 billion market cap.
Company execs speculated that the failure may have been related to a particularly mild RSV season. They also stressed that they don't have any plans to drop the RSV vaccine at this stage.
R&D chief Gregory Glenn said:
"Historically, annual seasonal RSV ARD attack rates between 3% and 7% have been observed in older adults. In our Phase 2 trial, we observed an RSV ARD attack rate of 4.9% and an RSV msLRTD attack rate of 1.8%. In contrast, we observed an RSV ARD attack rate of 2.0% and an msLRTD attack rate of 0.4% in our Phase 3 trial."
Glenn, though, was singing a completely different tune on May 4, when he said that the RSV season was playing out as expected. RSV generally tracks the flu season, beginning in the fall and winding up by the time he had this to say on the Q1 call with analysts:
With respect to this year's attack rate, we will continue to closely monitor several different RSV surveillance systems for the 2015-2016 seasons. Unlike influenza, the intensity of the annual national RSV season can be relatively consistent year-in and year-out. And today, this RSV season has remained consistent with previous years. Based on data provide RSVAlert and CDC's National Respiratory and Enteric Virus Surveillance System, the percent of RSV positive tests is generally consistent with the 2014-2015 season and the prior five years. This gives us additional confidence that we will have [ph] enough events to evaluate the efficacy of our vaccine in this population over this season.
Gaithersburg, MD-based Novavax was on a roll last year with this program, picking up an $89 million grant from the Gates Foundation and launching a separate Phase III at the end of the year to see if the vaccine would work among infants through a maternal vaccination. The biotech reported positive Phase II data in that group a year ago, along with the big grant for its nanoparticle tech.
RSV research goes back 60 years, but attempts to develop an effective vaccine have been ineffective so far, leaving a big unmet medical need and, as yet, nothing to stop it.
.@adamfeuerstein @megtirrell Guess what $NVAX R&D chief had to say about the RSV attack rate 4 months ago? pic.twitter.com/iksq9JqGPz

— Jacob Plieth (@JacobPlieth) September 16, 2016
---
The best place to read
Endpoints News

? In your inbox.

Comprehensive daily news report for those who discover, develop, and market drugs. Join 50,900+ biopharma pros who read Endpoints News by email every day.

Free Subscription
---
---
---