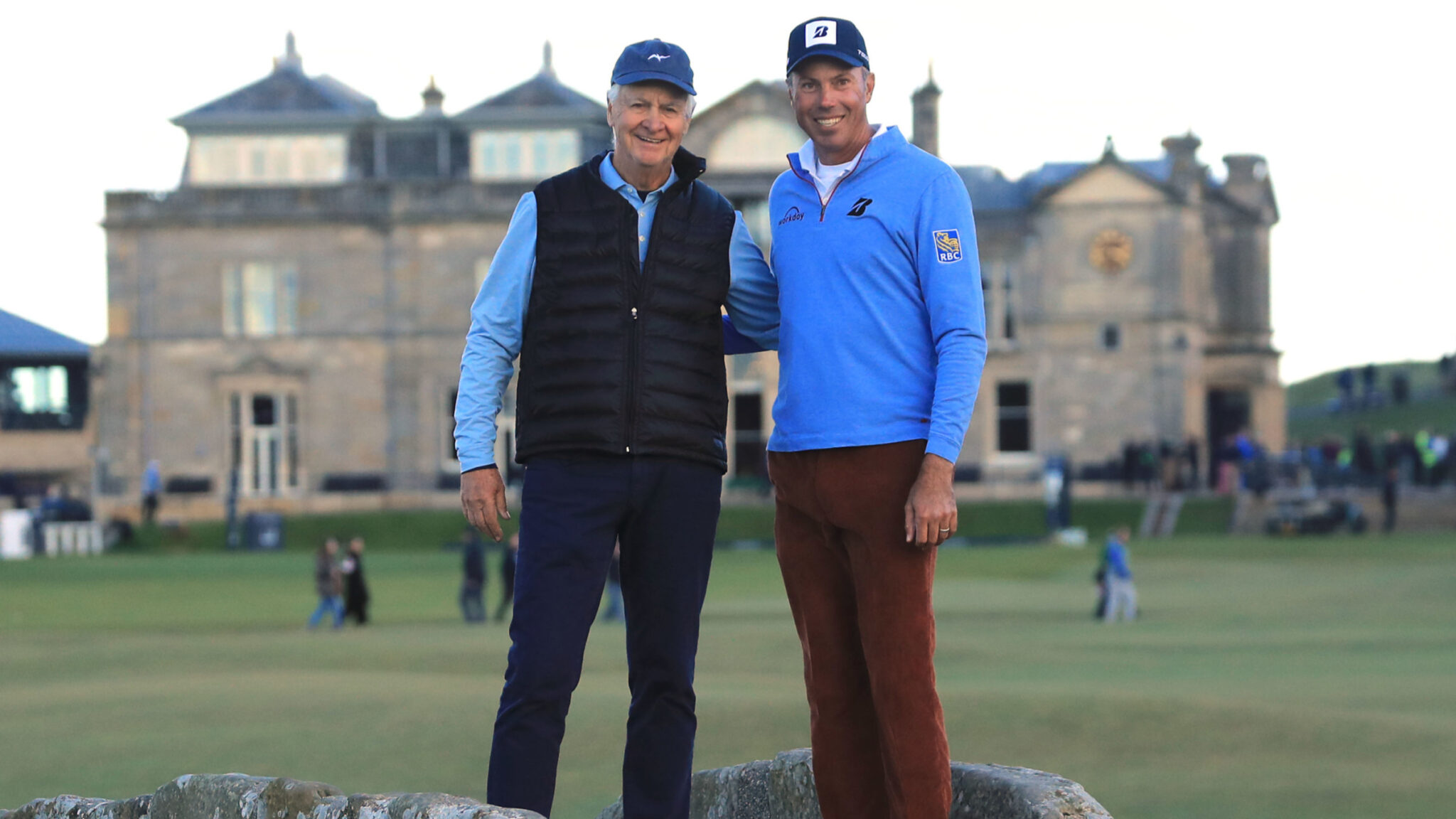 Ric Kayne (L) and PGA Tour player Matt Kuchar on the Swilcan Bridge at St. Andrews in Scotland, competing in the Alfred Dunhill Links Championship in 2018 (David Cannon/Getty Images)
Bil­lion­aire Athi­ra backer Ric Kayne sus­pends ac­tivist cam­paign — but share­hold­ers can still vote for him
Fol­low­ing the ouster of Leen Kawas at the Alzheimer's-fo­cused biotech Athi­ra, a mi­nor­i­ty stake­hold­er with ties to the for­mer founder launched an ac­tivist at­tack to re­place her suc­ces­sor. But on Mon­day, the bil­lion­aire in­vestor de­cid­ed to change course.
Richard "Ric" Kayne sus­pend­ed his cam­paign to elect him­self and an­oth­er con­tender to the com­pa­ny's board of di­rec­tors ahead of this week's an­nu­al share­hold­er meet­ing, Kayne an­nounced in a let­ter Mon­day morn­ing. Though Kayne will no longer be em­pha­siz­ing the need for change, Athi­ra share­hold­ers are still al­lowed to vote for his slate of nom­i­na­tions.
Kayne wrote in his let­ter that he de­cid­ed to stop the cam­paign be­cause the vote would be close and, with­out an over­whelm­ing man­date, felt the ac­tivist at­tack would prove more of a dis­trac­tion than any­thing else.
"I fear the fu­ture with me on the Board would be very con­tentious and un­pro­duc­tive, an out­come that I don't be­lieve would be in the in­ter­ests of the Com­pa­ny or its share­hold­ers," Kayne wrote, in part. "I have there­fore de­cid­ed to sus­pend my cam­paign."
Kawas had been placed on leave in June 2021 as an in­ter­nal in­ves­ti­ga­tion got un­der­way look­ing in­to al­le­ga­tions of da­ta ma­nip­u­la­tion re­lat­ed to her doc­tor­al re­search at Wash­ing­ton State Uni­ver­si­ty. Lat­er that year, in Oc­to­ber, Kawas stepped down af­ter the probe con­clud­ed she had in­deed ma­nip­u­lat­ed im­ages in her the­sis.
At the time, her re­place­ment, Mark Lit­ton, told End­points News that Athi­ra re­mained on sol­id sci­en­tif­ic foot­ing de­spite us­ing Kawas' re­search as its foun­da­tion. Kawas has not pub­licly com­ment­ed on the in­ves­ti­ga­tion.
Kayne, mean­while, whose net worth is about $1.6 bil­lion ac­cord­ing to Forbes, launched the at­tack in March, ac­cus­ing Lit­ton of fal­si­fy­ing his own aca­d­e­m­ic cre­den­tials and fail­ing to dis­close how he was fired from his post at Alpine. He al­so ques­tioned the mo­ti­va­tions for the probe, say­ing the board and Lit­ton were not qual­i­fied to con­tin­ue Kawas' re­search.
Around the same time, Kawas and Kayne had teamed up to launch a new in­vest­ment firm called Pro­pel Bio. The two had plans to raise $150 mil­lion, ac­cord­ing to an SEC fil­ing in March, but did not dis­close how much of that had come in.
Lit­ton hit back at Kayne in April, de­rid­ing his ac­tivist at­tack as some­thing "stuck in the past." The new CEO ar­gued that Kayne and his oth­er nom­i­nee, George Bick­er­staff, would not bring any­thing to the board it didn't al­ready have. Ad­di­tion­al­ly, he ques­tioned Kayne's mo­ti­va­tions giv­en the launch of Pro­pel Bio just weeks be­fore, say­ing he pushed the com­pa­ny to re-hire Kawas.
Athi­ra share­hold­ers will sub­mit their votes ahead of this week's meet­ing, with re­sults to be tal­lied Thurs­day. Kayne owns ap­prox­i­mate­ly 4.8% of Athi­ra's shares.