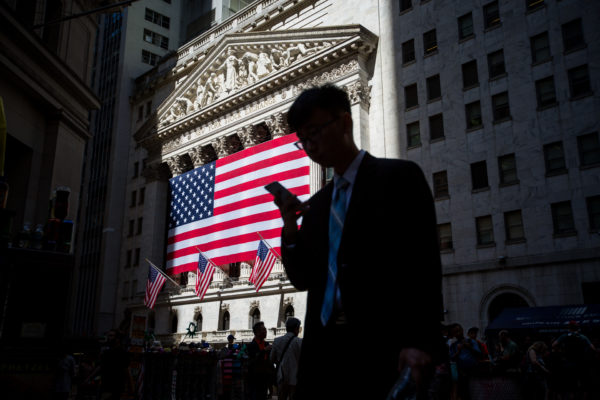 Unidentified pedestrian views mobile device while walking past the New York Stock Exchange on July 3, 2017 Bloomberg via Getty
---
Long before the biotech IPO boom of 2013 and 2014, BIO had been an outspoken critic of short sellers. And now that the trade group's rank-and-file has been swelled with public players, the group wants lawmakers to add a few new rules to bring the short crowd out into the light.
Speaking to a House subcommittee on capital markets on behalf of BIO, aTyr finance chief John Blake asserted that public biotech companies are particularly vulnerable to "abusive short selling strategies." And the industry trade group wants to rein it in, big time, while also lifting Sarbanes-Oxley rules during a key stretch for small biotechs.
Short sellers generally tend to inspire a bipolar response, depending on who you are talking to. From the company perspective, they're tied to a rough-and-tumble set of tactics that call for malicious rumor mongering and a willingness to basically say anything to bring a share price down. Shorts would tell you that they're an essential player in a fair market looking to balance over-hyped or simply over-valued stocks.
As for Blake's company, aTyr went public $LIFE in 2015 at $14 a share and watched it sink to a little more than $3 — with a meager $80 million market cap.
From BIO's perspective, shorts are a threat to the very existence of many of its small members. Says Blake:
The high stakes nature of their research (both the uncertainty associated with scientific advancement and their limited portfolio of product candidates), combined with thinly traded stocks and strict FDA rules about disclosing the status of ongoing clinical trials, can be exploited by short sellers who prioritize short-term profits over the long-term health of patients. Abusive short trading strategies harm growing companies and disincentivize long-term investment in innovation.
BIO's solution? Transparency. Make shorts reveal their positions, like the longs. But go a step further in shining a spotlight on the shorts. Here's Blake:
BIO supports a short disclosure regime that is complementary, rather than identical, to the existing long disclosure requirements. The long disclosure trigger in Regulation 13D (5% of a class of an equity security) is unlikely to capture short manipulation for the simple reason that few short sellers take a large enough short position to cross the 5% threshold – yet still find it easy to manipulate a company's stock even if they are short far less than 5%. BIO would support either a lower disclosure trigger or a standard based on a different metric than outstanding shares (for example, trading volume could be a more appropriate measure given that the depressive effect of short sales on a stock price is largely a function of the volume and frequency of short transactions relative to the overall securities transaction volume).
This short vs. long debate has been going on for years, and there's no end in sight yet. On Twitter this morning the subject drew a blaze of fire from all sides. But BIO is a patient organization, willing to stick with an issue for years as it works to build a coalition in Washington that will support their agenda.
Shorts beware. Or be warned.
---
The best place to read
Endpoints News

? In your inbox.

Comprehensive daily news report for those who discover, develop, and market drugs. Join 51,200+ biopharma pros who read Endpoints News by email every day.

Free Subscription
---
---
---