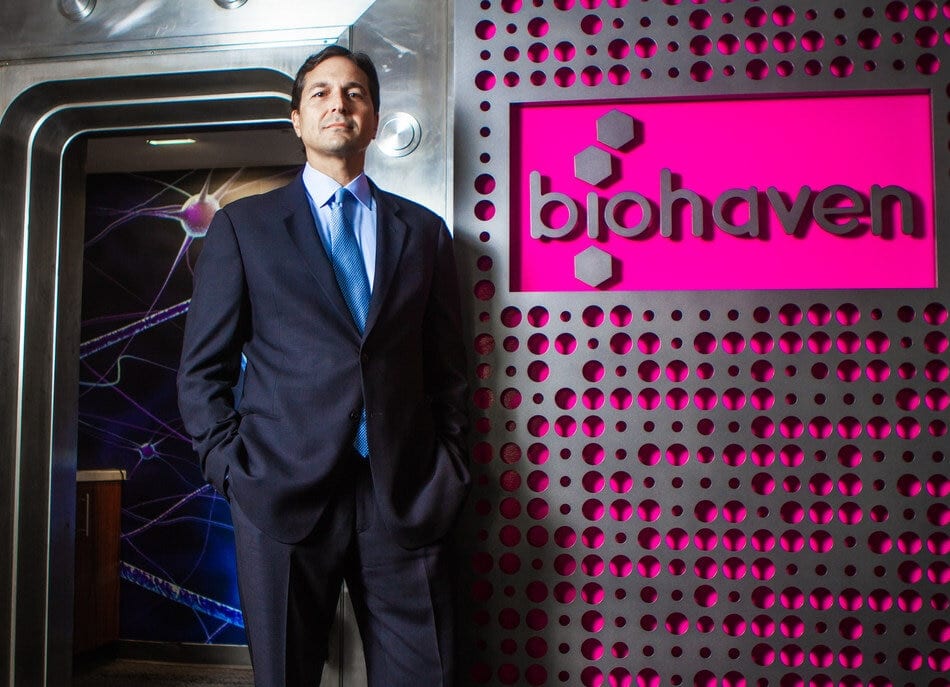 Vlad Coric (Photo Credit: Andrew Venditti)
Bio­haven scores CGRP OK for acute mi­graine — can the com­mer­cial team catch up with Al­ler­gan on its de­but?
Sev­en years af­ter spin­ning out of Yale, Bio­haven has en­tered the ranks of com­mer­cial-stage biotechs.
The FDA hand­ed down an OK for its CGRP drug, rimegepant, as an acute treat­ment. Dubbed Nurtec, the oral­ly dis­solv­ing pill will join Al­ler­gan's (soon to be Ab­b­Vie's) Ubrelvy and Lil­ly's Reyvow on the mar­ket amid a new wave of mi­graine ther­a­pies re­shap­ing the dis­ease space.
In a piv­otal Phase III tri­al, Nurtec hit the co-pri­ma­ry end­points on pain free­dom and free­dom from most both­er­some symp­toms at two hours post dose, prov­ing su­pe­ri­or to place­bo.
On top of the new en­trants, Nurtec will al­so be com­pet­ing with en­trenched gener­ic med­i­cines such as trip­tans — avail­able at low cost but with a tran­sient ef­fect. CEO Vlad Coric said the com­pa­ny would be able to com­pete, cit­ing con­cerns around trip­tans' ef­fi­ca­cy and the large num­ber of Amer­i­cans – 40 mil­lion – with mi­graines.
"A large por­tion of that num­ber are not sat­is­fied with trip­tans, are not re­spond­ing to trip­tans or can't take trip­tans," Coric told End­points News. "So very im­por­tant drug for pa­tients first and a very im­por­tant drug for the com­pa­ny giv­en the large mar­ket size."
He al­so said pa­tients will pre­fer Nurtec pills to in­jec­tions, the de­liv­ery route for most of the new mi­graine drugs, al­though that still leaves Lil­ly's Reyvow as an oral com­peti­tor.
Bio­haven has yet to an­nounce the list price. Ubrelvy, a CGRP drug that's tak­en once or twice a day, has a stick­er price of $4,896 per year — a price that drug-pric­ing watch­dog ICER has now con­clud­ed is cost-ef­fec­tive. Mean­while Reyvow, which binds to 5-HT1F re­cep­tors, is $640 for an eight-pill pack.
"The mar­ket­ing strat­e­gy for the prod­uct fo­cus­es on three lev­els of dif­fer­en­ti­a­tion: (a) fast on­set at ~60 min, (b) durable ef­fect of up to 48 hours post dose, and (c) eas­i­ly ad­min­is­tered ODT for­mu­la­tion," SVB Leerink an­a­lyst Marc Good­man not­ed, based on dis­cus­sion with ex­ecs.
He added that the com­pa­ny has a full sales force ready, at a num­ber "sig­nif­i­cant­ly above 200 reps but not 1,000 reps."
The roll­out ex­e­cu­tion would be cru­cial for Nurtec to reach the $1.03 bil­lion in sales that an­a­lysts at Cortel­lis have en­vi­sioned.
The drug is al­so be­ing test­ed for the pre­ven­tion of mi­graines with topline da­ta ex­pect­ed lat­er this quar­ter, al­though Bio­haven will face even tougher com­pe­ti­tion there with four of­fer­ings al­ready in place. Then there's vazegepant, its in­tranasal take on CGRP, which al­so scored promis­ing Phase II/III re­sults.
---
With ad­di­tion­al re­port­ing by Ja­son Mast