Biohaven CEO Vlad Coric (Photo Credit_ Andrew Venditti)
Bio­haven shakes up lead­er­ship team as it feels the heat from mi­graine com­peti­tors
As Bio­haven Phar­ma comes off a roller­coast­er pipeline year, its CEO will take on more re­spon­si­bil­i­ty in a full C-suite makeover.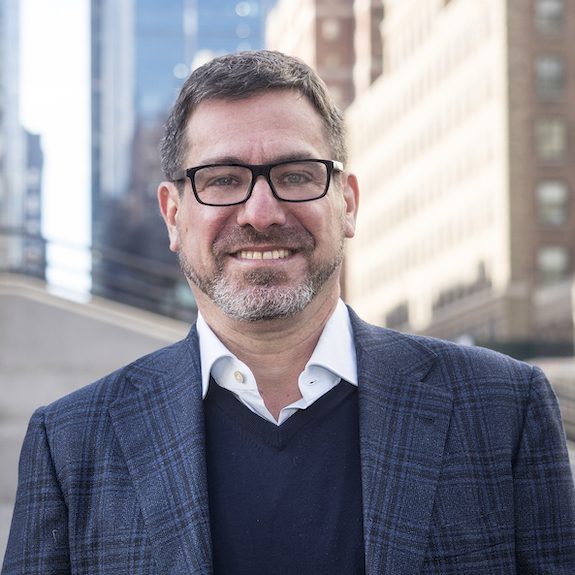 Matthew Buten
Vlad Coric was unan­i­mous­ly elect­ed to the role of chair­man of the board of di­rec­tors, af­ter De­clan Doogan's re­tire­ment. Matthew Buten will take over the role of CFO af­ter James En­gel­hart's re­tire­ment, and di­rec­tor Michael Hef­fer­nan has been ap­point­ed lead in­de­pen­dent di­rec­tor. All of the ap­point­ments are ef­fec­tive im­me­di­ate­ly, a com­pa­ny press re­lease said.
"The re­tire­ments de­scribed in this an­nounce­ment were not re­lat­ed to any dis­agree­ment with the com­pa­ny on any mat­ter re­lat­ing to the com­pa­ny's op­er­a­tions, poli­cies or prac­tices," per the re­lease.
The news comes on the same day that Bio­haven an­nounced that it will sub­mit a new drug ap­pli­ca­tion for in­tranasal za­veg­epant, a pain re­lief drug to treat mi­graines. That an­nounce­ment fol­lows the pos­i­tive re­sults from the sec­ond Phase III clin­i­cal tri­al, re­liev­ing par­tic­i­pants of the most both­er­some pain at the two-hour mark.
Pa­tients saw re­lief re­turn them to nor­mal func­tion as soon as 30 min­utes af­ter tak­ing za­veg­epant, Bio­haven not­ed at the time, and the pain-sus­pen­sion fac­tors last­ed be­tween two and 24 hours. If ap­proved, za­veg­epant will be the first in­tranasal cal­ci­tonin gene-re­lat­ed pep­tide avail­able to treat mi­graines in adults.
"The tri­al re­sults clear­ly show that the per­for­mance of this for­mu­la­tion ex­ceed­ed ex­pec­ta­tions by demon­strat­ing su­pe­ri­or­i­ty over place­bo on pain re­lief at 15 min­utes and re­turn to nor­mal func­tion by 30 min­utes," Coric said in a state­ment. "The im­pres­sive ef­fi­ca­cy, safe­ty and tol­er­a­bil­i­ty pro­file shown in this tri­al high­lights the po­ten­tial of za­veg­epant to ush­er in a new era of non-oral CGRP tar­get­ing mi­graine ther­a­pies."
Za­veg­epant beat place­bo in the end­point of pain free­dom 24% to 15%, and free­dom from the most both­er­some sys­tem by 40% vs 31%. Ab­nor­mal taste was the most com­mon side ef­fect, with 21% of tri­al par­tic­i­pants ex­pe­ri­enc­ing this, com­pared with 5% of those who were giv­en the place­bo.
Bio­haven is look­ing to re­bound af­ter turn­ing out a dud in its at­tempt to tar­get mul­ti­ple sys­tem at­ro­phy (MSA), a rare and fa­tal neu­rode­gen­er­a­tive dis­or­der. Its drug, verdiper­stat, failed to out­per­form the place­bo and whiffed on the pri­ma­ry ef­fi­ca­cy end­point, mark­ing the lat­est step in a tough year for the com­pa­ny af­ter it watched its Alzheimer's study for glu­ta­mate mod­u­la­tor tro­r­ilu­zole crum­ble.
Last Jan­u­ary, it rolled out da­ta for tro­r­ilu­zole, a drug be­ing de­vel­oped for neu­rode­gen­er­a­tive dis­or­ders, that showed the can­di­date did not "sta­tis­ti­cal­ly dif­fer­en­ti­ate" it­self from a place­bo on the Alzheimer's Dis­ease As­sess­ment Scale-Cog­ni­tive Sub­scale 11 (ADAS-cog) and the Clin­i­cal De­men­tia Rat­ing Scale Sum of Box­es (CDR-SB).
Even if Bio­haven gets za­veg­epant across the fin­ish line, it will face some com­pe­ti­tion. In May, Ab­b­Vie's CGRP drug Ubrelvy got the go-ahead for acute treat­ment of mi­graine ahead of Bio­haven. Then in Sep­tem­ber, Ab­b­Vie's oth­er oral CGRP re­cep­tor an­tag­o­nist Qulip­ta gained ap­proval.
As for Buten, he brings 20 years of ex­pe­ri­ence in health­care in­vest­ing to the team. He was pre­vi­ous­ly a port­fo­lio man­ag­er at Cat­a­pult/Mil­len­ni­um Part­ners and co-found­ed Sap­phire Cap­i­tal and Ar­gus Part­ners be­fore that.