Bio­Marin gets its shot at an­oth­er block­buster as FDA OKs rare dis­ease drug peg­valiase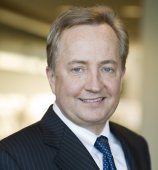 Jean-Jacques Bi­en­aime
Bio­Marin $BM­RN has picked up their lat­est OK for their rare dis­ease drug port­fo­lio, with the FDA com­ing through with an ap­proval on peg­valiase, which com­pa­ny ex­ecs have pegged as a block­buster in the mak­ing.
In a call with an­a­lysts Thurs­day evening, Bio­Marin ex­ecs not­ed that they will price the drug at $488 whole­sale a unit, with pa­tients need­ing 1 to 2 units a day. The math sets the av­er­age price for 1.5 units at $267,180 as year, with prices rang­ing up to $356,240, un­der­scor­ing their com­mit­ment to earn­ing more than $1 bil­lion a year from the ther­a­py. The av­er­age net in­clud­ing manda­to­ry gov­ern­ment pric­ing, say com­pa­ny reps, should re­duce that av­er­age to about $192,000.
Bio­Marin's shares jumped 5% on the news.
The news was both en­cour­ag­ing and com­plete­ly ex­pect­ed by an­a­lysts, who tend to have a more tem­pered per­spec­tive on the drug's com­mer­cial po­ten­tial. Leerink's Joseph Schwartz not­ed:
Giv­en the black box warn­ing (for ana­phy­lax­is) and com­pli­ca­tions as­so­ci­at­ed with the ini­tial in­duc­tion/tira­tion phase, Pa­lynz­iq sales are like­ly to be in­cre­men­tal con­trib­u­tors to Bio­Marin's top line in the ear­ly yrs. And where­as Bio­Marin's long-term goal of >$1B Pa­lynz­iq sales may be pos­si­ble, this will re­quire sub­stan­tial up­take and com­pli­ance.
"Bio­Marin is thrilled to be able to of­fer this im­por­tant new ther­a­py to adults with PKU who are un­able to con­trol their Phe lev­els with ex­ist­ing op­tions. The ap­proval of Pa­lynz­iq is the cul­mi­na­tion of more than a decade of per­se­ver­ance by Bio­Marin em­ploy­ees ded­i­cat­ed to bring­ing treat­ments to PKU adult pa­tients," said Jean-Jacques Bi­en­aimé, chair­man and chief ex­ec­u­tive of­fi­cer of Bio­Marin.
Peg­valiase is a new drug aimed at phenylke­tonuria, or PKU. The drug is de­signed to low­er blood pheny­lala­nine (Phe), the key bio­mark­er in play. And that's just what re­searchers proved in a Phase III that read out in the spring of 2016.
Ac­cord­ing to Bio­Marin, their drug main­tained mean blood Phe lev­els at 527.2 umol/L against a base­line set at 503.9 umol/L. The place­bo arm re­port­ed an in­crease over eight weeks from 536 umol/L to 1385.7. That's good enough for Bio­Marin's ex­ec­u­tive crew to con­fi­dent­ly pre­dict block­buster sales at $1 bil­lion, but a num­ber of an­a­lysts have been hedg­ing their bets, low­er­ing their peaks to around $500 mil­lion.
The drug al­so failed to demon­strate a sig­nif­i­cant im­prove­ment in cog­ni­tion among pa­tients.
Phe is typ­i­cal­ly man­aged by a strict di­et, with pa­tients on Bio­Marin's Ku­van of­ten able to sub­stan­tial­ly rein it in. This new in­jectable is in­tend­ed to elim­i­nate the di­etary el­e­ment, pos­si­bly aim­ing at the most se­vere cas­es.