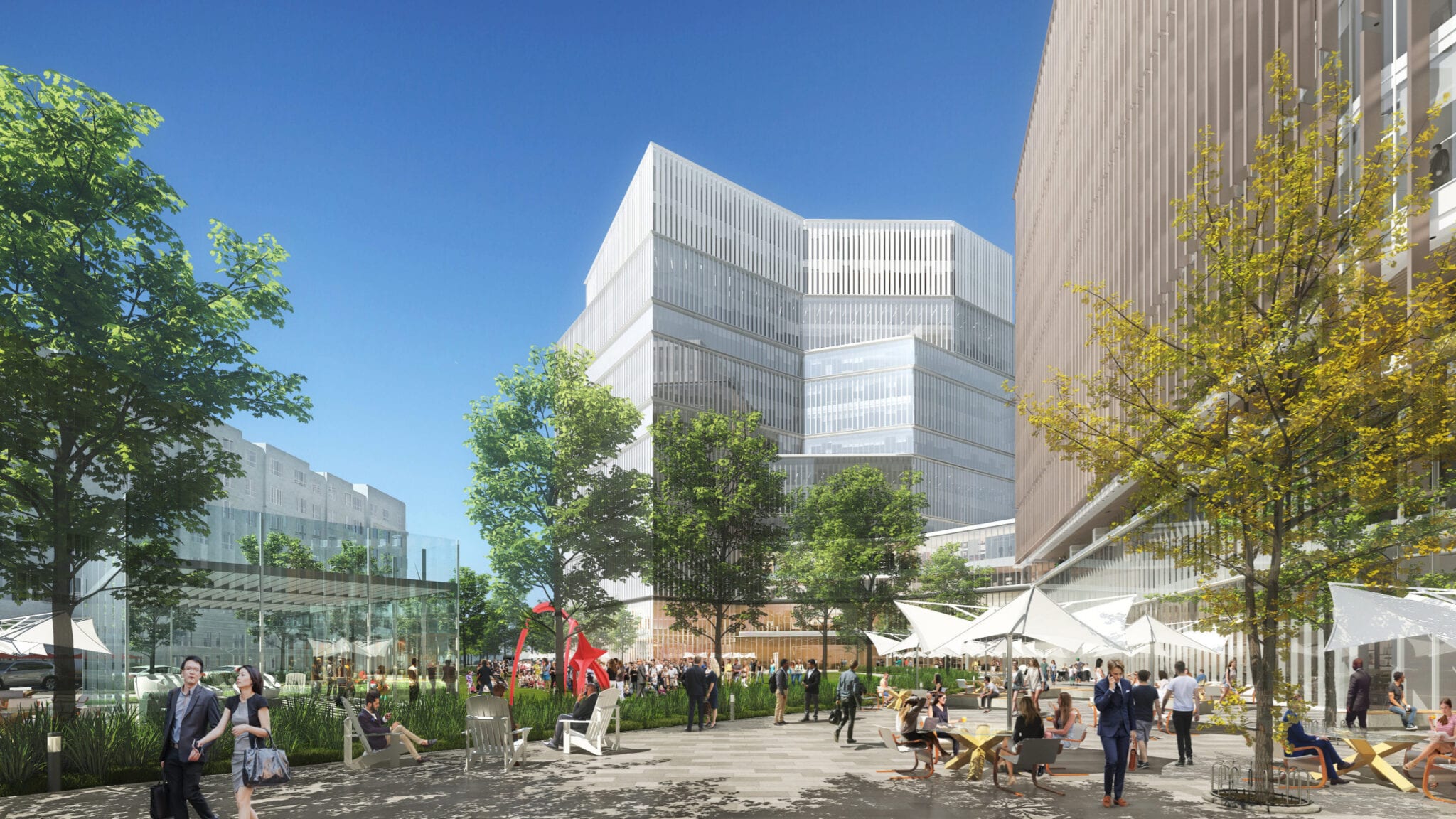 Artist rendering of the Assembly Square site in Somerville, MA (BioMed Realty)
Bio­Med Re­al­ty snaps up in­no­va­tion cam­pus site with­in earshot of pricey and bustling Boston biotech hub
On the short list of the pre­mier biotech hubs in the world, the Boston area has trans­formed in­to a home for in­no­va­tion — and ridicu­lous­ly high rent. Now, a re­al es­tate firm is seek­ing ten­ants for a ma­jor site in neigh­bor­ing Somerville with more than enough el­bow room.
Snapped up by Bio­Med Re­al­ty, the land — which con­sists of an ex­ist­ing 162,000 square-foot of­fice build­ing and a 7.5 acre site — will serve as an "in­no­va­tion space" for a va­ri­ety of re­search, tech­nol­o­gy and life sci­ence ten­ants, the re­al es­tate com­pa­ny said in a press re­lease. Fi­nan­cial terms weren't dis­closed.
"Our vi­sion for the As­sem­bly Square lo­ca­tion is to cre­ate a pre­mier in­no­va­tion cam­pus where sci­ence and tech­nol­o­gy in­ter­sects," Bio­Med Re­al­ty vice pres­i­dent Sal Zin­no said in a state­ment. "With close prox­im­i­ty to down­town Boston, the air­port, a ma­jor in­ter­state high­way, pub­lic tran­sit and ad­ja­cent ameni­ties … it's an ide­al lo­ca­tion and size for a large life sci­ence com­pa­ny to es­tab­lish a promi­nent head­quar­ters."
The Somerville fa­cil­i­ty will join ex­ist­ing Bio­Med Re­al­ty-owned lab and of­fice space in Cam­bridge and Boston. The com­pa­ny said in a press re­lease that the lo­ca­tion was strate­gi­cal­ly cho­sen due to its prox­im­i­ty to renowned re­search in­sti­tu­tions such as the Mass­a­chu­setts In­sti­tute of Tech­nol­o­gy and Har­vard.
De­sign has al­ready be­gun on the be­gin­ning phas­es of the sprawl­ing Somerville cam­pus, which when com­plet­ed will in­clude R&D, in­no­va­tion and re­tail spaces, plus a roof deck and open pub­lic recre­ation and ameni­ty ar­eas, Bio­Med Re­al­ty said.
The ac­qui­si­tion of the Somerville land adds to an ex­ist­ing 11.4 mil­lion square feet of land al­ready owned by Bio­Med Re­al­ty, which is spread across the US and the UK, in­clud­ing the Boston and Cam­bridge space, San Fran­cis­co, San Diego, Seat­tle and Cam­bridge, UK.
The new space is sure to add even more com­pe­ti­tion to Boston's al­ready-bustling bio­phar­ma hub. In ear­ly 2020, End­points News re­port­ed that on­ly 0.8% of lab space was va­cant and still avail­able for rent in the area, while near­by East Cam­bridge (home to Kendall Square) was en­tire­ly oc­cu­pied — even with the high rent av­er­age of near $110 per square foot.
In Au­gust, Bris­tol My­ers Squibb inked a deal for a 360,000 square-foot lease at Cam­bridge Cross­ing, part of a 43-acre life sci­ences hub be­ing built on the city line be­tween Cam­bridge and Somerville.
Biotech en­tre­pre­neur Arie Bellde­grun and his son Dan, who op­er­ates Break­through Prop­er­ties, have been work­ing with Tish­man Spey­er on new projects of their own in Cam­bridge. Those in­clude a new Sea­port fa­cil­i­ty and the de­vel­op­ment of the ini­tial phase of Har­vard's new En­ter­prise Re­search Cam­pus in All­ston.