By Neel Patel and Sachin Purwar
In the decade since our first annual Dealmakers' Intentions Study in 2009, there has been a persistent trend of buyers steadily sharpening their therapeutic areas of focus to gain competitive advantage while becoming more selective about who they engage with in the process. At the same time, companies have been driven to keep pace with technological advances — e.g., the explosion in T-cell immunotherapy, genomics, companion diagnostics — or risk irrelevance. The law of supply and demand is always at work, however, and according to our 2018 Dealmakers' Intentions Study has the potential for significant impact on dealmaking in the oncology space and other therapeutic areas compared to previous years.
To gain more insight into 2018 dealmaking trends and influences, Syneos HealthTM  surveyed dealmakers across the industry to assess their intentions for the next 12 months and put these findings into context for the year ahead. This year, we surveyed 66 members of the biopharmaceutical community who participate on either or both sides of deals and who are predominantly executive-level influencers on decision-making. The 2018 Dealmakers' Intentions Study, the 10th in our series, captures their expectations for deal activity, supply and demand for specific assets at different development stages, and various factors affecting dealmaking. In this second article in a two-part series, we take a close look at the supply and demand picture for 2018, by both development stage and therapeutic area.
Supply and Demand by Development Stage
Following the trend in previous years, buyers are continuing to show a strong interest in late-stage assets relative to sellers (Fig. 8). However, it seems that sellers are more invested in seeing pre-clinical assets through to Phase I and II before looking to make a deal. There is a relative shift from 2017 to 2018 in seller supply to buyer demand from pre-clinical (+35 percent) assets into Phase I (-15 percent) and Phase II (-24 percent) assets. This could partially be a function of the readily available financing capital that is allowing them to invest more in development and seek a stronger return on capital. It could also be that there is a stronger interest among buyers in obtaining pre-clinical assets that they can develop themselves to beef up their pipelines at relatively favorable prices.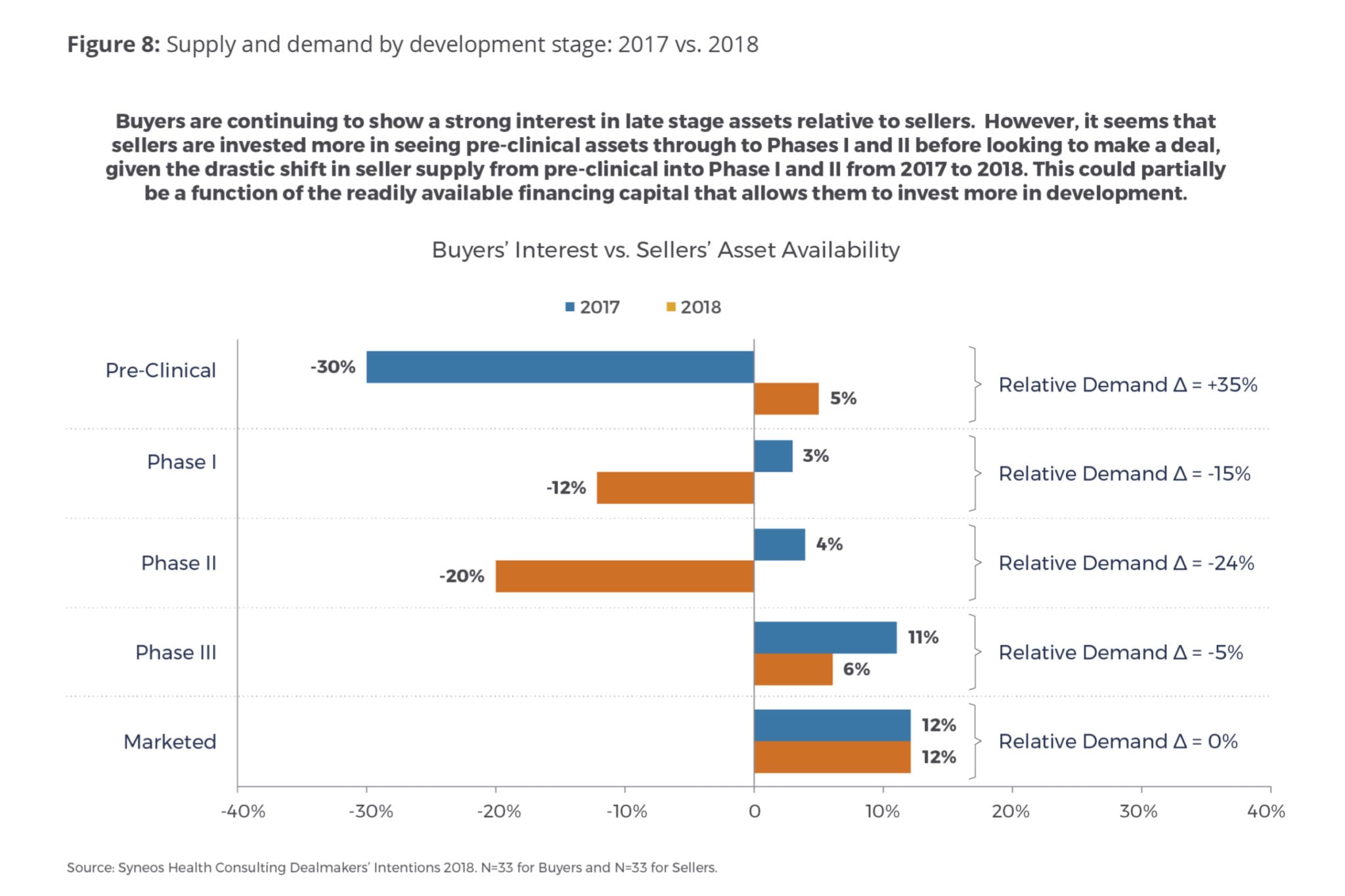 ---
Supply and Demand by Therapeutic Area
As anticipated, oncology remains the top therapeutic area of interest for buyers and sellers. However, it has become a much more attractive, opportunistic market for buyers due to the spread between anticipated supply and demand increasing from 2 percent in 2017 to a fairly significant 15 percent in 2018. Twenty-one percent of buyers surveyed expressed interest in oncology assets, while 36 percent of sellers reported oncology asset supply (Fig. 9). This suggests that premiums in the oncology space could start seeing a potential decline in the coming year for products that are not highly differentiated. Other areas where we are seeing a supply surplus include infectious disease (both antiviral and antibiotic) as well as in the CNS/psychiatry space. For sellers this means they have to be very mindful not only about differentiating their asset but also making sure the core mechanics of commercial success are being considered – things like patient population targeting, evidence generation that builds the value story, and the like.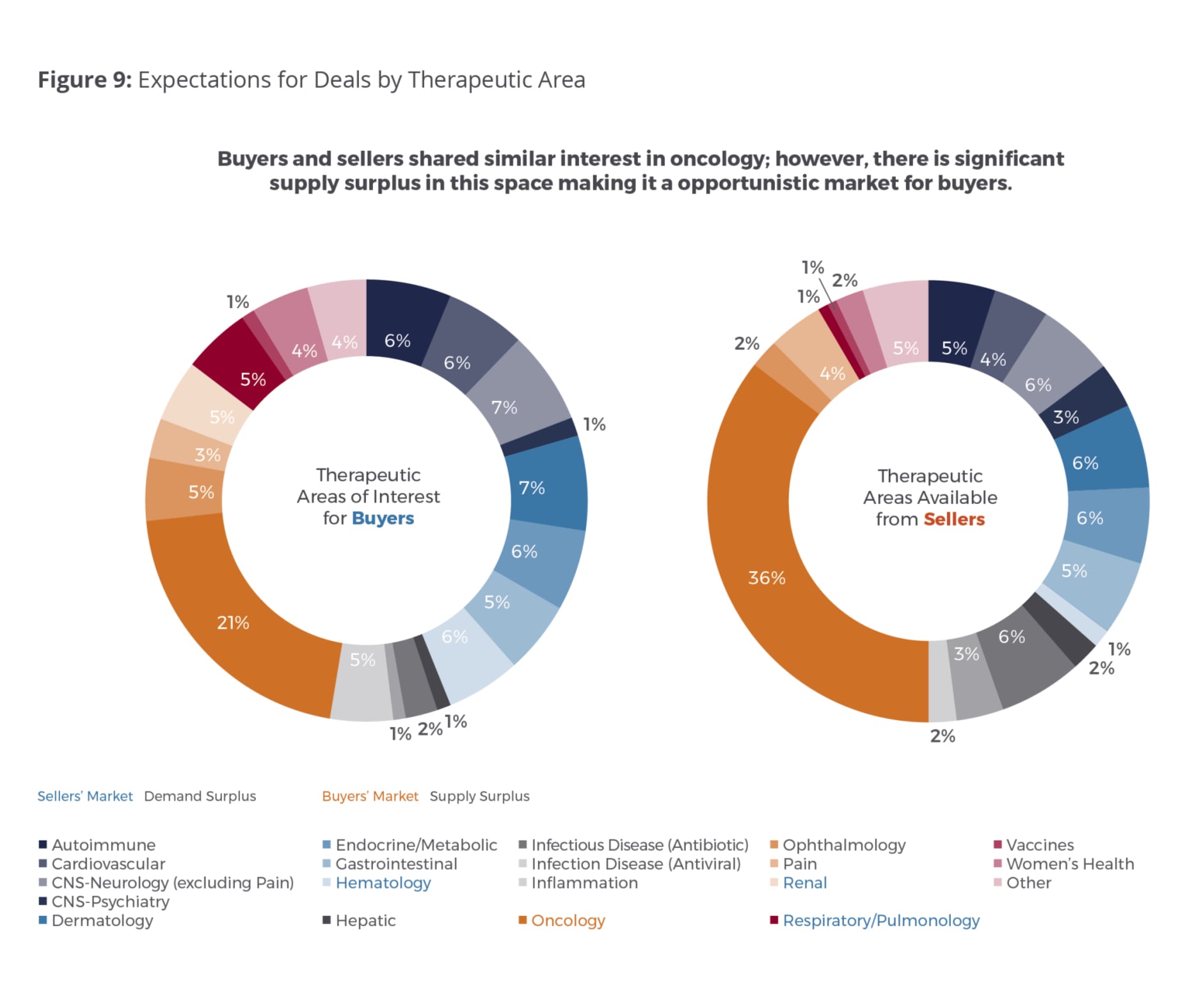 ---
Therapeutic areas showing a demand surplus include hematology, respiratory/pulmonology and renal. When we broke out the demand index by trial phase (Fig. 11), no clear preference emerged this year among buyers and sellers about the stage at which they prefer to make deals. This suggests that they are currently more focused on identifying the best strategic fit and opportunity for their companies.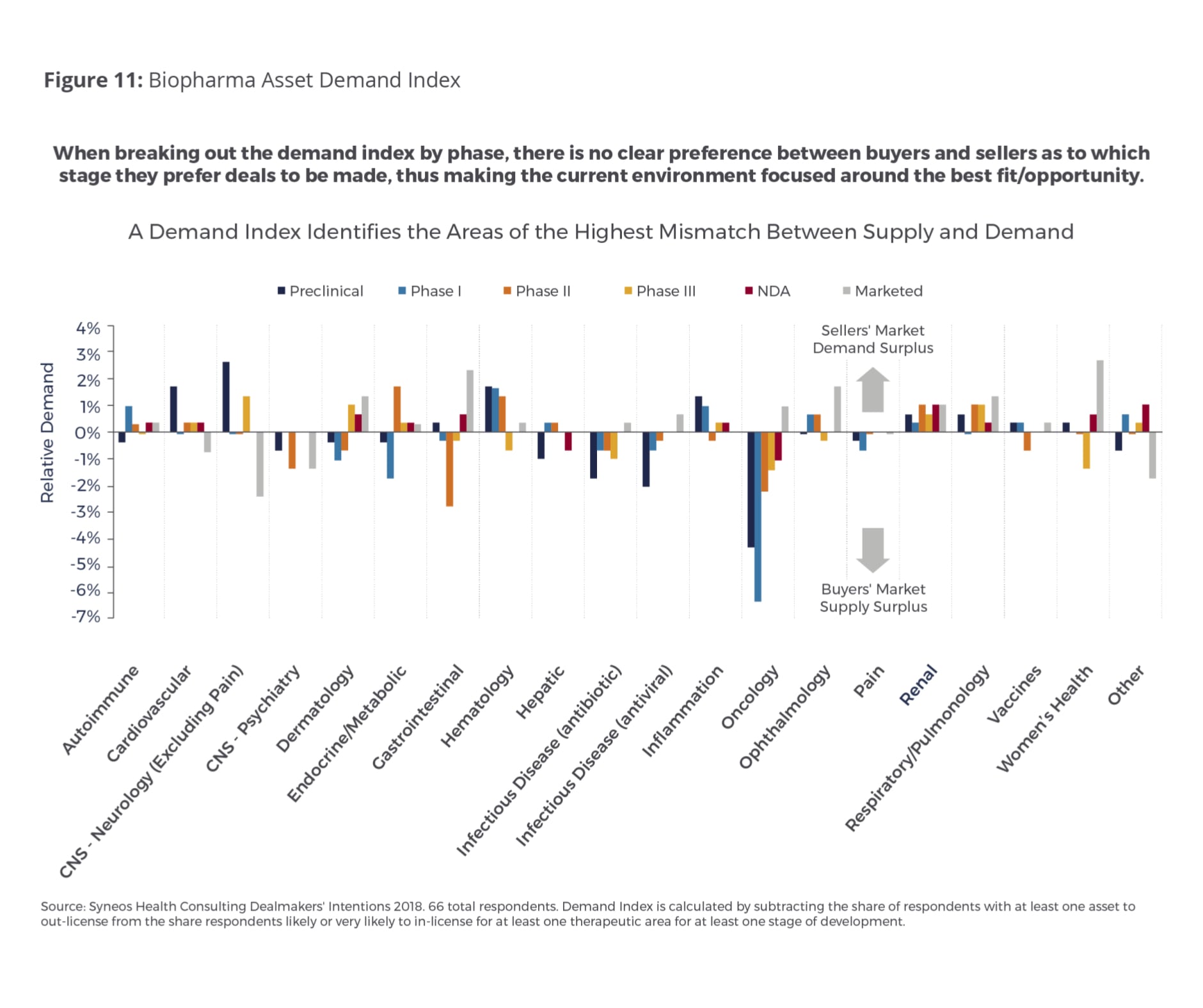 ---
The specific combinations of therapeutic areas and states of development anticipated to have the highest supply and demand imbalances this year are summarized in Table 1.
Table 1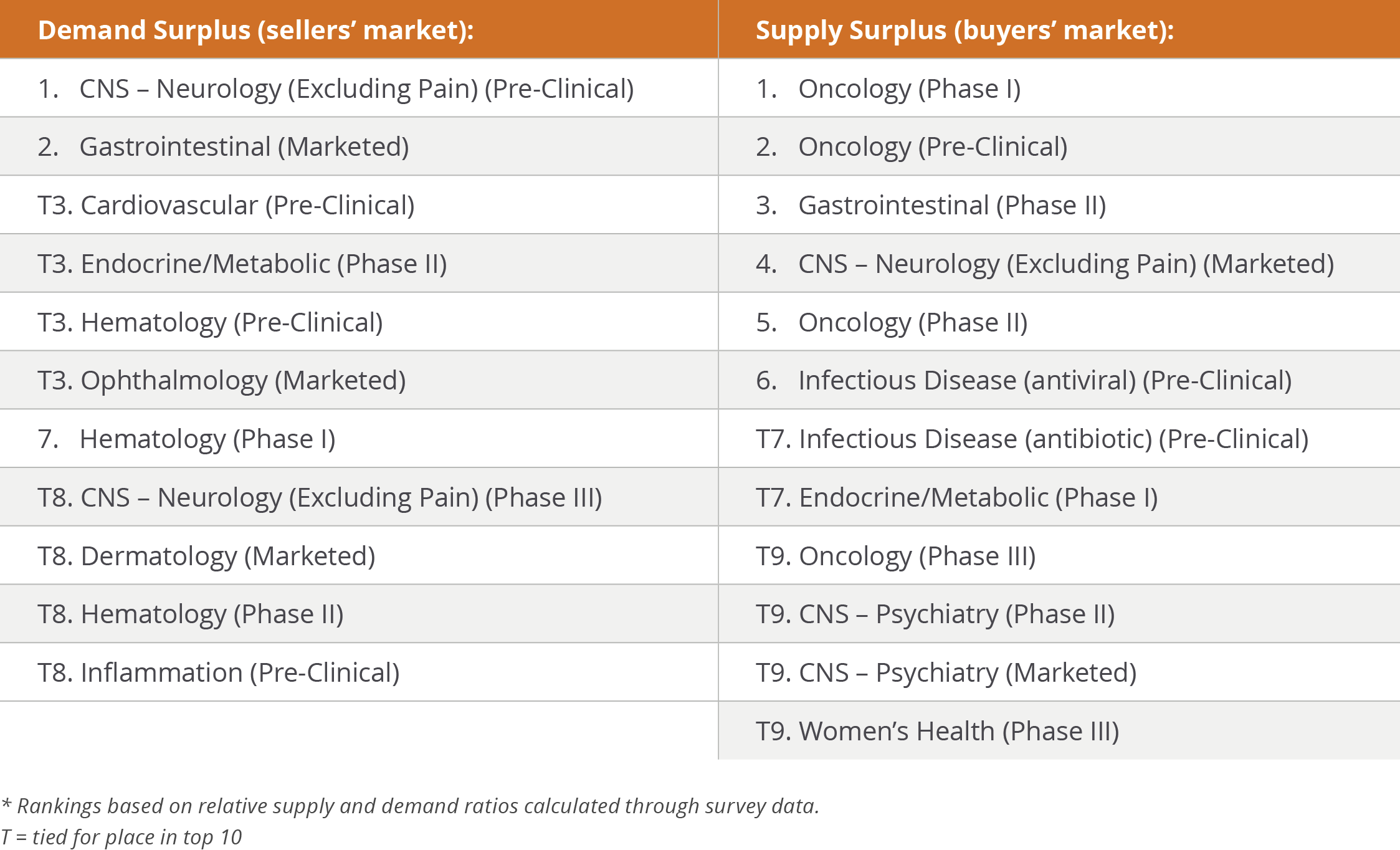 ---
Hottest Areas for Licensing
CAR-T cell therapy and CRISPR/Cas9 continue to be among the hottest areas for licensing in 2018, but interest in immuno-oncology and microbiomes has increased considerably since 2017. The top 10 areas of interest in 2018 (in order) are:
Immuno-oncology
CAR-T cell therapy
CRISPR/Cas9
Microbiome
Cancer vaccines
Ultra-rare
Other genome editing
Antibody-drug conjugates
Personalized medicine/ companion diagnostics
Epigenetics
While large-cap consolidations may still be in our foreseeable future, the overarching trend of the last decade — i.e., the growth in emerging companies and the new financing options available to them — means that smaller companies have many dealmaking opportunities available to them. But as the 2018 Dealmakers' Intentions Study demonstrates, these companies will need to focus on clearly demonstrating product differentiation and value to appeal to increasingly discriminating buyers while avoiding common pitfalls in the dealmaking process.
This is the second post in a series related to the 2018 Dealmakers' Study. Our first post reported on high-level dealmaking trends, expectations by deal type, and factors indicating buyers are becoming a bit more selective about the assets they are pursuing and more risk averse. Follow us on our LinkedIn pages (Neel and Sachin) and check back on Endpoints to find additional insights on factors impacting biopharmaceutical dealmaking.
---
Authors: Neel Patel is Managing Director, Commercial Strategy and Planning for Syneos Health Consulting, and Sachin Purwar is Director, Commercial Strategy and Planning for Syneos Health Consulting. Syneos Health Consulting is an industry-leading consulting firm specializing in the biopharmaceutical industry and part of Syneos Health, the only fully integrated biopharmaceutical solutions organization. We provide services across a comprehensive range of key areas, including commercial strategy and planning, medical affairs, risk and program management and pricing and market access. Recognized by Forbes magazine as one of America's Best Management Consulting Firms for three years running, our industry focus and depth of functional expertise, combined with strong scientific and market knowledge, uniquely position us to tackle highly complex business and market challenges to develop actionable strategies for our clients. For more information, please visit syneoshealth.com/solutions/consulting.