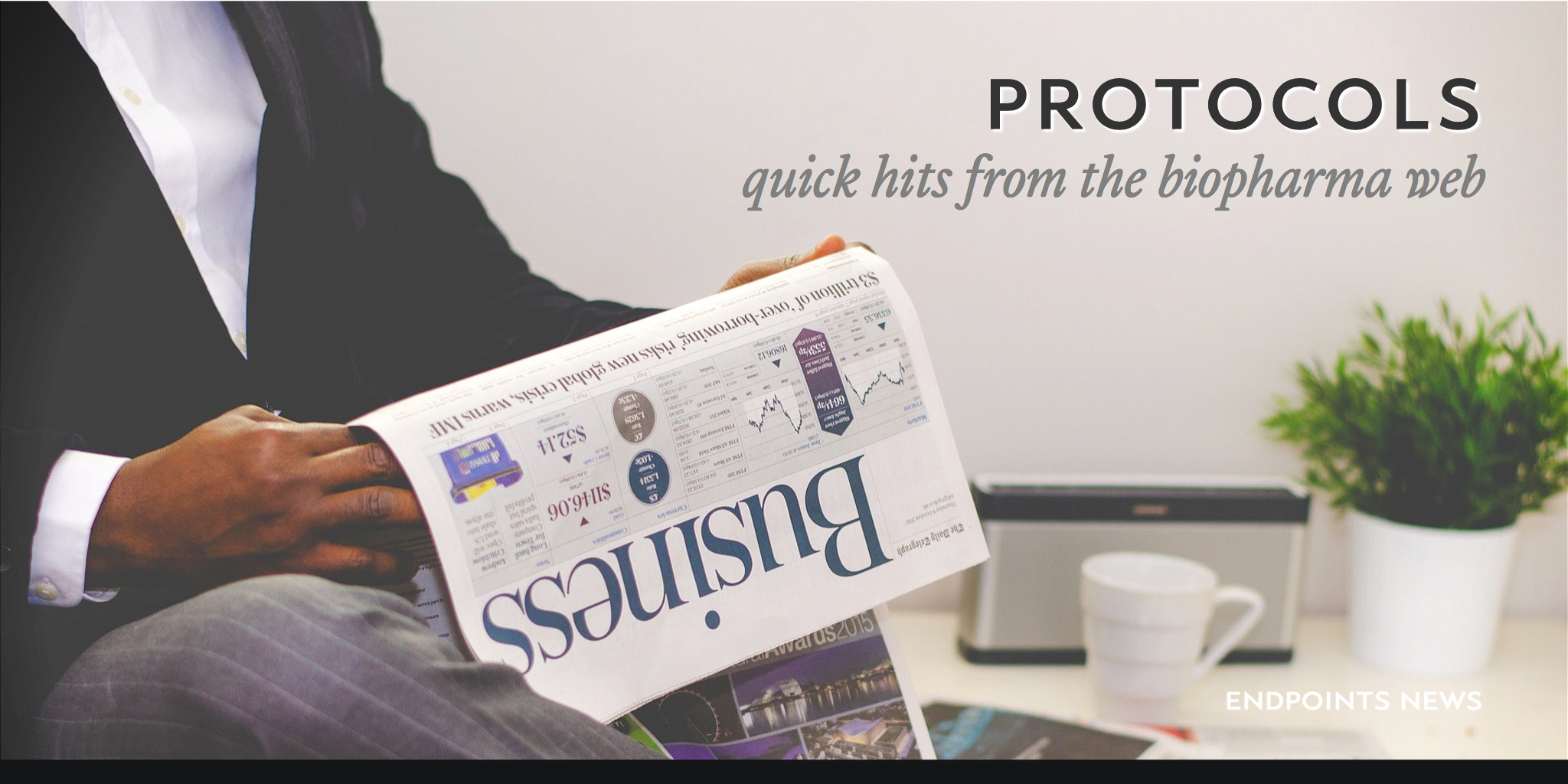 Biotech in­vestapalooza con­tin­ues with more ven­ture rounds for star­tups; Ova­Science cuts half of its work­force (again)
Ed­i­tor's note: We here at End­points News pride our­selves on pro­vid­ing some com­pre­hen­sive ac­counts of all the ven­ture cash flow­ing in­to biotech com­pa­nies, but this week that's be­come more than a chal­lenge. In just a mat­ter of three days we've field­ed news on well over $700 mil­lion in ven­ture in­vest­ments in new and ex­ist­ing life sci com­pa­nies. And we can't do a sto­ry on each one. So be­low take a snap­shot look at the rest of the com­pa­nies an­nounc­ing new rais­es in the days ahead of JP­Mor­gan. — John Car­roll
---
→ Bris­tol-My­ers part­ner En­terome has banked a $38.5 mil­lion round to back work on two key mi­cro bio­me pro­grams for Crohn's and glioblas­toma. In ad­di­tion to the Se­ries D, there's al­so a $48 mil­lion loan com­ing from the Eu­ro­pean In­vest­ment Bank. Bris­tol-My­ers sup­port­ed the round along with new ven­ture in­vestor Prin­cip­ia SGR and Sev­en­ture, Health for Life Cap­i­tal, Lund­beck­Fonden Ven­tures, Omnes Cap­i­tal and Nestlé Health Sci­ence.
→ Boston-based Neu­ro­gas­trx has put to­geth­er a $45 mil­lion A round from 5AM Ven­tures, Or­biMed Ad­vi­sors and ven­Bio Part­ners. The biotech is on the look­out for proof-of-con­cept da­ta on a lead as­set — NG-101 — in treat­ing gas­tro­pare­sis. Jim O'Mara has been ap­point­ed CEO and Klaus Veitinger, a part­ner at Or­biMed Ad­vi­sors, will be­come chair­man. The biotech plans to pull up stakes and move to the big Boston hub with this round.
→ Vi­en­na-based Themis has raised a 10 mil­lion eu­ro C round to back their work on new vac­cines. The in­vestor group was led by the Glob­al Health In­vest­ment Fund and in­clud­ed aws Gru­en­der­fonds, Omnes Cap­i­tal, Ven­tech and Welling­ton Part­ners Life Sci­ences.
→ In oth­er mR­NA news this morn­ing, Cure­Vac and Arc­turus $ARCT are team­ing up their tech­nolo­gies on a slate of new de­vel­op­ment pro­grams. They'll be us­ing Arc­turus' de­liv­ery tech to de­vel­op 4 en­zyme re­place­ment and an­ti­body gen­er­a­tion projects.
→ An­oth­er round of cor­po­rate re­struc­tur­ing that in­volves slash­ing its staff count by half has come to Ova­Science $OVAS. The Waltham, MA-based fer­til­i­ty com­pa­ny ex­pects to com­plete the lay­offs by March, spend­ing $1-1.5 mil­lion along the way. The ex­act amount of cost sav­ings sup­posed to turn up in Q2 2018 is not dis­cussed in the state­ment. "In its ear­ly years, Ova­Science grew rapid­ly to ac­com­mo­date the glob­al com­mer­cial­iza­tion of the AUG­MENT treat­ment," said CEO Christo­pher Kroeger (that strat­e­gy is now de­funct). "Fol­low­ing the strate­gic de­ci­sion to fo­cus our re­sources on the ad­vance­ment of OvaPrime and Ova­Ture, how­ev­er, we are now op­er­at­ing with a tighter re­search and de­vel­op­ment fo­cus." Kroeger start­ed at the helm back in June, 2017 when — if you're hav­ing de­ja vu, this is why — Ova­Science let go of 50% of its em­ploy­ees. Join­ing him in the C-suite this month will be new CSO James Lil­lie, who will lead pre­clin­i­cal ef­forts.
→ Pfiz­er has giv­en the boot to EOS200271, the IDO1 in­hibitor it li­censed from Bel­gium-based iTeos Ther­a­peu­tics back in 2014. Pfiz­er paid €24 mil­lion ($29 mil­lion) up­front to se­cure the rights to de­vel­op the drug as a sin­gle agent in pa­tients with brain can­cer. Af­ter fail­ing to find signs of ef­fi­ca­cy in a Phase I brain can­cer tri­al, the phar­ma gi­ant re­turned the rights to de­vel­op the drug back to iTeos. Still, iTeos is op­ti­mistic about the drug: "IDO1 in­hibitors are one of the most promis­ing im­muno-on­col­o­gy drug class­es cur­rent­ly in de­vel­op­ment," said iTeos CEO Michel De­theux in a state­ment. "This as­set is one of four IDO1 in­hibitors in clin­i­cal de­vel­op­ment world­wide and EOS200271 is the on­ly IDO1 in­hibitor with ex­cel­lent brain pen­e­tra­tion. We be­lieve that the re­turn of this unique as­set gives iTeos the ex­cit­ing op­por­tu­ni­ty to con­tin­ue to eval­u­ate EOS200271's po­ten­tial in dif­fer­ent in­di­ca­tions and com­bi­na­tions."
→ Shire has picked up the FDA's Break­through Ther­a­py Des­ig­na­tion for marib­avir (SHP620), a Phase III ther­a­py for cy­tomegalovirus in­fec­tion.
---
With ad­di­tion­al re­port­ing by Brit­tany Meil­ing and Am­ber Tong.