CHICAGO — Right now at Celgene $CELG and bluebird $BLUE, it's all about the KarMMa — and they're looking to burnish theirs at ASCO.
In a peek at the first batch of highly promising data to hit at ASCO, investigators are amplifying evidence of positive objective response rates for the drug, with an encouraging progression-free survival rate of close to a year to illustrate its potential durability for patients with far advanced cases of multiple myeloma — particularly in the high-dose group. And it all looks tailor made for priority handling at the FDA.
Expectations for this drug, though, have been pumped sky high — which might explain why bluebird's stock slid deeper in pre-market trading Monday, down about 7%. Stalling myeloma by about a year may well be embraced by the FDA, but without curing cases a significant group of observers came away early on disappointed by the drug's prospects. Several analysts, including Brian Skorney, came back with a solid score on the data, and by Monday afternoon the stock price had bounced back into the green.
The update keeps Celgene's ongoing pivotal study of the BCMA-targeting bb2121 — KarMMa — squarely in the CAR-T spotlight as one of the next big programs to watch. Equipped with both breakthrough and PRIME designations in the US and Europe, regulators will likely be ready to whisk it through to the market with positive data. And researchers are making the case that their leading BCMA effort has the legs to be a first-in-class contender for the initial wave of BCMA CAR-Ts.
Doing that requires evidence of durability, a reliable dose response and a clear safety profile that won't stall or kill their therapy during the last stretch of this race.
"The danger with some early presentations of the data is, are they going to be reflective when you get more patients and more time," says CEO Nick Leschly.  And you can add more drug.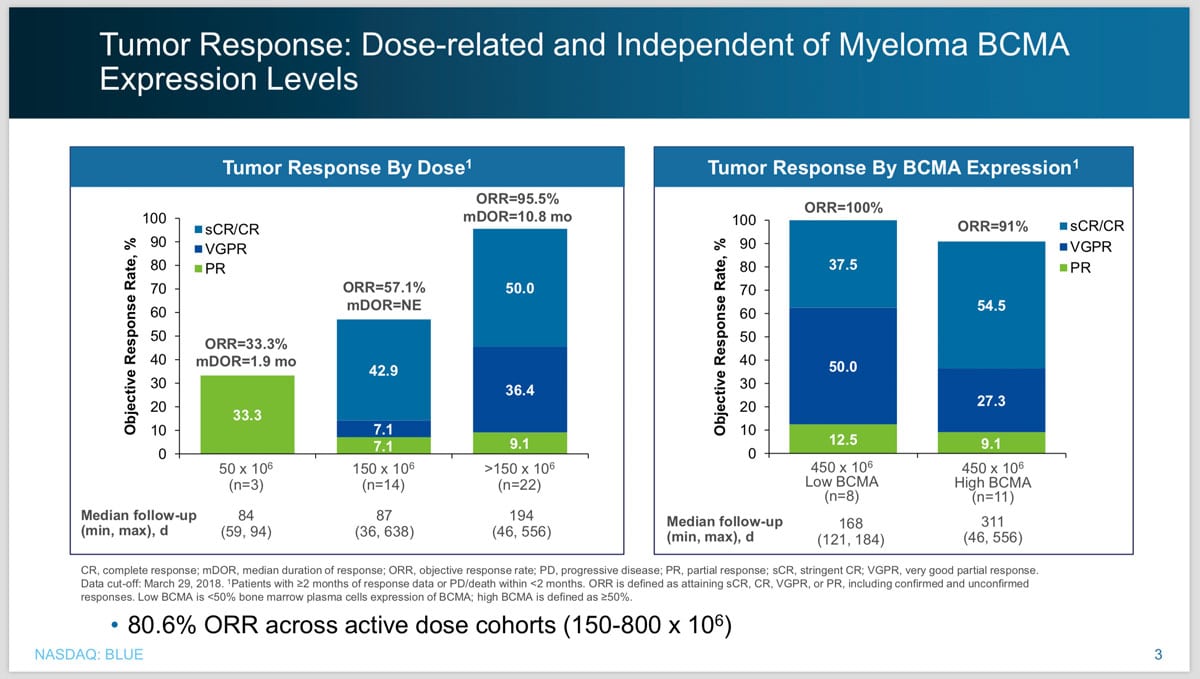 ---
For 11 patients with high BCMA expression getting the 450 million cell dose, the stringent complete response/complete response rate was 54.5%, with very good partial responses of 27.3% and 9% in the partial response group — a 91% ORR. Among low expressers, that fell to 37.5% for CRs while the VGPRs swelled to 50% and partial responses hit 12.5% — for a 100% ORR. Among 22 patients getting a 150 million-plus dose, the CR rate was 50% with 36.4% VGPRs and 9.1% PRs — a 95.5% ORR.
The overall objective response rate in the study at this point was 80.6%.
Highlighting durability, the researchers are posting a median progress-free survival rate of 11.8 months among 18 patients who received an active dose of 150 million CAR-T cells-plus. That compares well with the 2.7 months registered for patients on the ineffective dose used in the study, setting a baseline to underscore the efficacy. In 16 patients who were MRD (minimal residual disease) — negative, or a deeper level of complete remission, the mPFS was 17.7 months.
Geoffrey Porges hailed the results, but noted that investors could be left wanting more on the upside. He noted:
We previously suggested that median PFS would be reached at 12 months in this updated dataset and therefore see the result as mostly confirmatory, although some investors may be disappointed that PFS was not closer to ~15 months.
Late last year at ASH bluebird posted a 94% overall response rate for bb2121, with a jaw-dropping 56% complete response rate among a small group of 18 patients in heavily pretreated active dose cohorts. Three of those 10 CRs, though, were unconfirmed at the time of the presentation in Atlanta.
"What we're seeing here that there is a clear dose response," says bluebird R&D chief David Davidson. "To see a median PFS of 11.8 months in this heavily pretreated patient population is very encouraging."
And now they plan to bake everything they've learned into KarMMa.
To be sure, there continued to be plenty of evidence of toxicity, with a high rate of cytokine release syndrome — more than 80% in the higher dose ranges — to raise concerns. One in three patients experienced troubling cases of neurotoxicity. But the key point for the investigators here is that there have been no treatment-related deaths; CRS cases are being handled without the grade 5 events that can halt or even kill a CAR-T program like this, as Juno found out to their own regret.
As far as Leschly is concerned, there's also every reason to believe that the bb2121 team can now stay well ahead of its rivals at J&J and Legend. J&J has just nailed an FDA OK for its own Phase I/II study for BCMA CAR-T LCAR-B38M (JNJ-68284528), and they will look to jump on the fast track to an accelerated OK.
That drug is "not influencing us in any shape or form," says Leschly, adding that "we've treated very different patient populations." Bluebird's patients have been through as many as 7 or 8 lines of therapy, and they're too far ahead now for any new arrivals to catch up.
 Says Leschly: "We're off to the races." And they don't expect to get passed by any newcomers.
"As you said, the results are encouraging based on what's currently available to patients in 4th line and beyond," says Leschly. "As long as we can continue to deliver these results in KarMMa, we have a path to get to these patients in 4th line."
Image: Nick Leschly (YouTube)
---
The best place to read
Endpoints News

? In your inbox.

Comprehensive daily news report for those who discover, develop, and market drugs. Join 51,100+ biopharma pros who read Endpoints News by email every day.

Free Subscription
---
---
---