Blue­bird, Cel­gene add a promis­ing chap­ter to their suc­cess sto­ry with BC­MA-tar­get­ing CAR-T — and turn it around with in­vestors
CHICA­GO — Right now at Cel­gene $CELG and blue­bird $BLUE, it's all about the Kar­M­Ma — and they're look­ing to bur­nish theirs at AS­CO.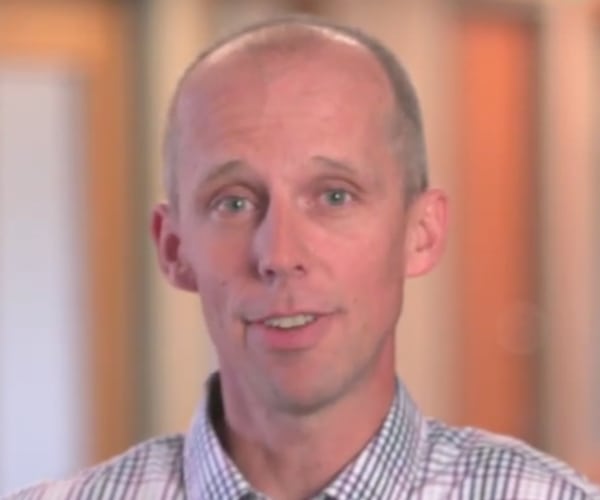 Nick Leschly
In a peek at the first batch of high­ly promis­ing da­ta to hit at AS­CO, in­ves­ti­ga­tors are am­pli­fy­ing ev­i­dence of pos­i­tive ob­jec­tive re­sponse rates for the drug, with an en­cour­ag­ing pro­gres­sion-free sur­vival rate of close to a year to il­lus­trate its po­ten­tial dura­bil­i­ty for pa­tients with far ad­vanced cas­es of mul­ti­ple myelo­ma — par­tic­u­lar­ly in the high-dose group. And it all looks tai­lor made for pri­or­i­ty han­dling at the FDA.
Ex­pec­ta­tions for this drug, though, have been pumped sky high — which might ex­plain why blue­bird's stock slid deep­er in pre-mar­ket trad­ing Mon­day, down about 7%. Stalling myelo­ma by about a year may well be em­braced by the FDA, but with­out cur­ing cas­es a sig­nif­i­cant group of ob­servers came away ear­ly on dis­ap­point­ed by the drug's prospects. Sev­er­al an­a­lysts, in­clud­ing Bri­an Sko­r­ney, came back with a sol­id score on the da­ta, and by Mon­day af­ter­noon the stock price had bounced back in­to the green.
The up­date keeps Cel­gene's on­go­ing piv­otal study of the BC­MA-tar­get­ing bb2121 — Kar­M­Ma — square­ly in the CAR-T spot­light as one of the next big pro­grams to watch. Equipped with both break­through and PRIME des­ig­na­tions in the US and Eu­rope, reg­u­la­tors will like­ly be ready to whisk it through to the mar­ket with pos­i­tive da­ta. And re­searchers are mak­ing the case that their lead­ing BC­MA ef­fort has the legs to be a first-in-class con­tender for the ini­tial wave of BC­MA CAR-Ts.
Do­ing that re­quires ev­i­dence of dura­bil­i­ty, a re­li­able dose re­sponse and a clear safe­ty pro­file that won't stall or kill their ther­a­py dur­ing the last stretch of this race.
"The dan­ger with some ear­ly pre­sen­ta­tions of the da­ta is, are they go­ing to be re­flec­tive when you get more pa­tients and more time," says CEO Nick Leschly. And you can add more drug.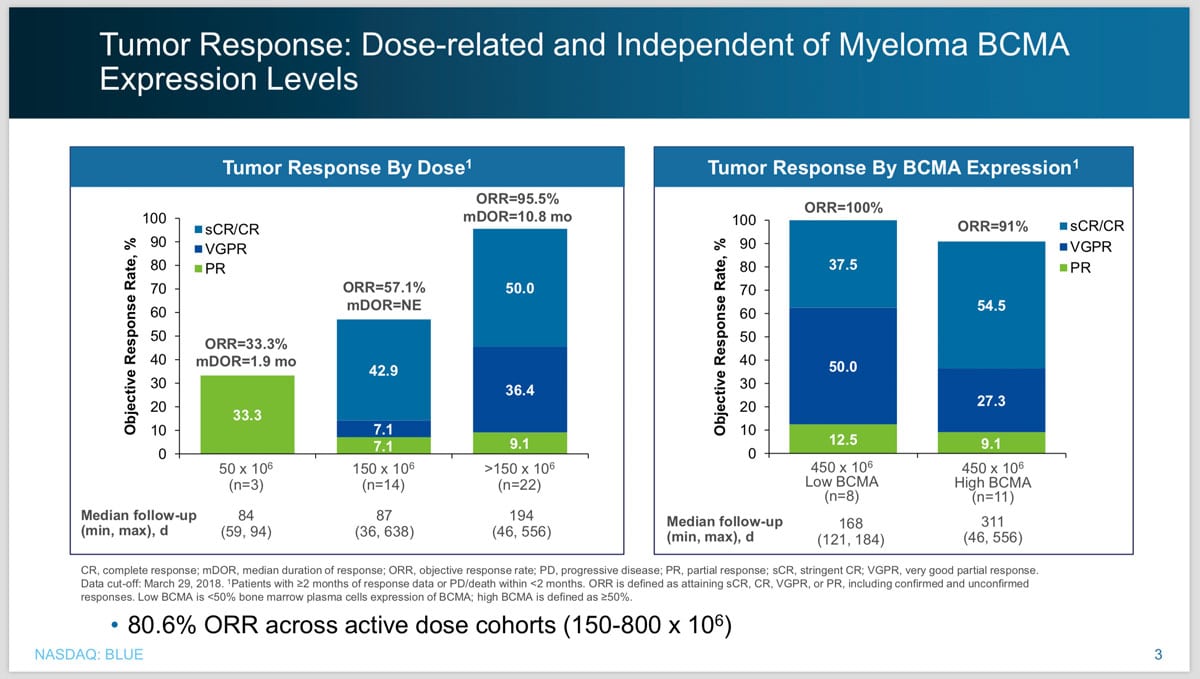 ---
For 11 pa­tients with high BC­MA ex­pres­sion get­ting the 450 mil­lion cell dose, the strin­gent com­plete re­sponse/com­plete re­sponse rate was 54.5%, with very good par­tial re­spons­es of 27.3% and 9% in the par­tial re­sponse group — a 91% ORR. Among low ex­pressers, that fell to 37.5% for CRs while the VG­PRs swelled to 50% and par­tial re­spons­es hit 12.5% — for a 100% ORR. Among 22 pa­tients get­ting a 150 mil­lion-plus dose, the CR rate was 50% with 36.4% VG­PRs and 9.1% PRs — a 95.5% ORR.
The over­all ob­jec­tive re­sponse rate in the study at this point was 80.6%.
High­light­ing dura­bil­i­ty, the re­searchers are post­ing a me­di­an progress-free sur­vival rate of 11.8 months among 18 pa­tients who re­ceived an ac­tive dose of 150 mil­lion CAR-T cells-plus. That com­pares well with the 2.7 months reg­is­tered for pa­tients on the in­ef­fec­tive dose used in the study, set­ting a base­line to un­der­score the ef­fi­ca­cy. In 16 pa­tients who were MRD (min­i­mal resid­ual dis­ease) — neg­a­tive, or a deep­er lev­el of com­plete re­mis­sion, the mPFS was 17.7 months.
Ge­of­frey Porges hailed the re­sults, but not­ed that in­vestors could be left want­i­ng more on the up­side. He not­ed:
We pre­vi­ous­ly sug­gest­ed that me­di­an PFS would be reached at 12 months in this up­dat­ed dataset and there­fore see the re­sult as most­ly con­fir­ma­to­ry, al­though some in­vestors may be dis­ap­point­ed that PFS was not clos­er to ~15 months.
Late last year at ASH blue­bird post­ed a 94% over­all re­sponse rate for bb2121, with a jaw-drop­ping 56% com­plete re­sponse rate among a small group of 18 pa­tients in heav­i­ly pre­treat­ed ac­tive dose co­horts. Three of those 10 CRs, though, were un­con­firmed at the time of the pre­sen­ta­tion in At­lanta.
"What we're see­ing here that there is a clear dose re­sponse," says blue­bird R&D chief David David­son. "To see a me­di­an PFS of 11.8 months in this heav­i­ly pre­treat­ed pa­tient pop­u­la­tion is very en­cour­ag­ing."
And now they plan to bake every­thing they've learned in­to Kar­M­Ma.
To be sure, there con­tin­ued to be plen­ty of ev­i­dence of tox­i­c­i­ty, with a high rate of cy­tokine re­lease syn­drome — more than 80% in the high­er dose ranges — to raise con­cerns. One in three pa­tients ex­pe­ri­enced trou­bling cas­es of neu­ro­tox­i­c­i­ty. But the key point for the in­ves­ti­ga­tors here is that there have been no treat­ment-re­lat­ed deaths; CRS cas­es are be­ing han­dled with­out the grade 5 events that can halt or even kill a CAR-T pro­gram like this, as Juno found out to their own re­gret.
As far as Leschly is con­cerned, there's al­so every rea­son to be­lieve that the bb2121 team can now stay well ahead of its ri­vals at J&J and Leg­end. J&J has just nailed an FDA OK for its own Phase I/II study for BC­MA CAR-T LCAR-B38M (JNJ-68284528), and they will look to jump on the fast track to an ac­cel­er­at­ed OK.
That drug is "not in­flu­enc­ing us in any shape or form," says Leschly, adding that "we've treat­ed very dif­fer­ent pa­tient pop­u­la­tions." Blue­bird's pa­tients have been through as many as 7 or 8 lines of ther­a­py, and they're too far ahead now for any new ar­rivals to catch up.
Says Leschly: "We're off to the races." And they don't ex­pect to get passed by any new­com­ers.
"As you said, the re­sults are en­cour­ag­ing based on what's cur­rent­ly avail­able to pa­tients in 4th line and be­yond," says Leschly. "As long as we can con­tin­ue to de­liv­er these re­sults in Kar­M­Ma, we have a path to get to these pa­tients in 4th line."
Im­age: Nick Leschly (YouTube)