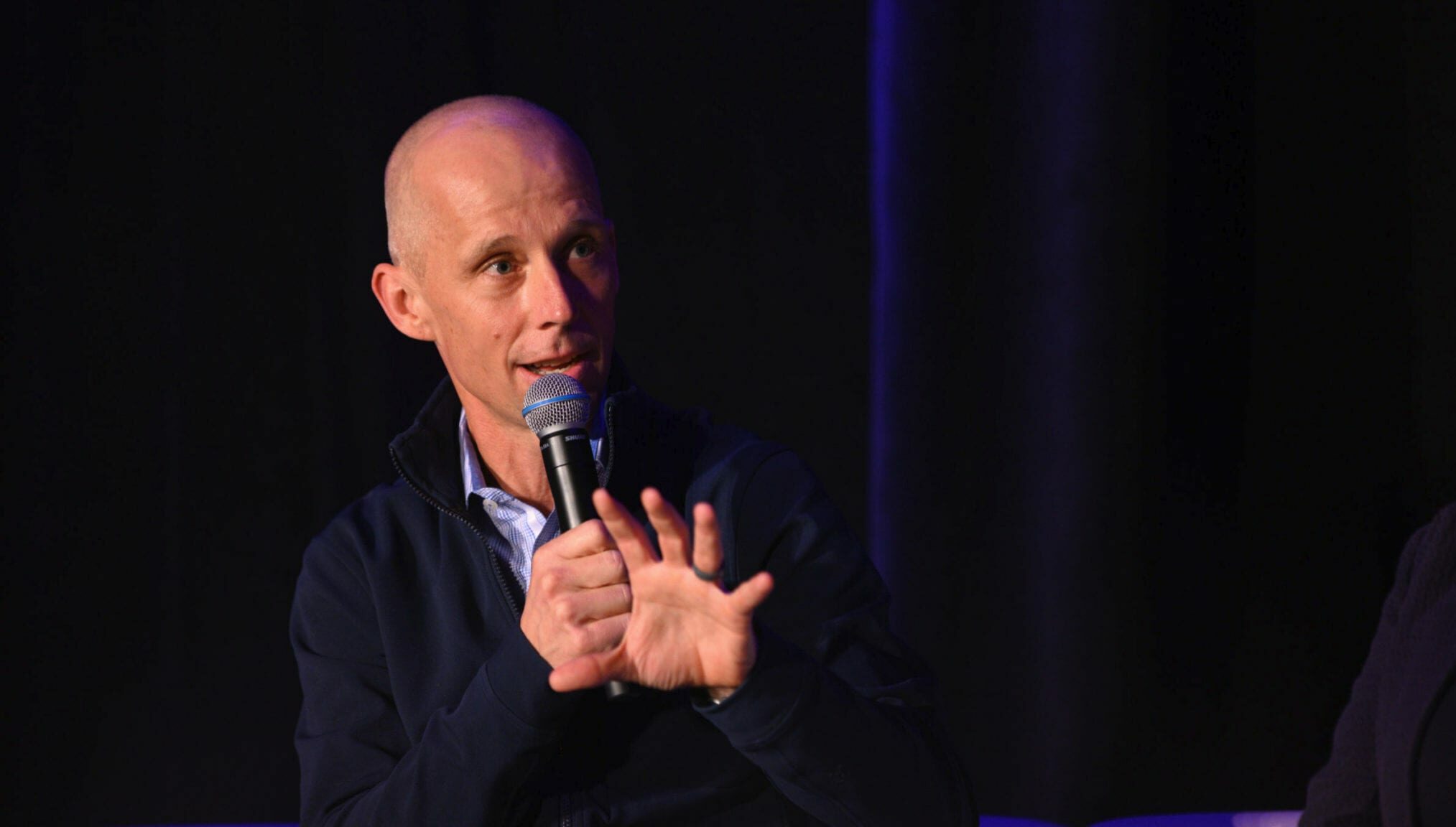 Nick Leschly at Endpoints JPM20 (Jeff Rumans)
Blue­bird spins it­self in­to two com­pa­nies, sev­er­ing gene ther­a­py and can­cer units
Blue­bird bio, once one of biotech's flashiest com­pa­nies, is tak­ing a sweep­ing step as it looks to right the ship af­ter a se­ries of high-pro­file set­backs: split­ting the com­pa­ny in two.
The Cam­bridge-based com­pa­ny will split it­self in­to a unit fo­cused on can­cer and a unit fo­cused on rare dis­ease, sev­er­ing the cell ther­a­py and gene ther­a­py units that the biotech rode to promi­nence. CEO Nick Leschly ex­plained the move as a prac­ti­cal one, re­flect­ing the dif­fer­ent kinds of ex­per­tise in the dis­ease ar­eas.
"You don't build an on­col­o­gy com­pa­ny by hir­ing peo­ple who are ex­perts in se­vere ge­net­ic dis­ease, nor do you do vice ver­sa," Leschly told WSJ. "A lot of this comes down to … pri­or­i­ties and fo­cus."
Yet the move comes as blue­bird's stock has lost much of its ini­tial lus­ter, as blue­bird has strug­gled to turn strong da­ta in­to com­mer­cial ther­a­pies and in­vestors moved on to new­er gene ther­a­py com­pa­nies such as CRISPR Ther­a­peu­tics.
And it will ef­fec­tive­ly end Leschly's day-to-day in­volve­ment in the biotech he has be­come syn­ony­mous with and a gene ther­a­py field where he long served as the most promi­nent CEO. Leschly will lead the as-yet-un­named new­co, while An­drew Oben­shain, their long­time Eu­ro­pean chief, will lead blue­bird bio. Leschly will hang on as blue­bird's ex­ec­u­tive chair.
An­a­lysts were skep­ti­cal that the ap­proach was the so­lu­tion. In a note to in­vestors, Piper San­dler's Tyler Van Bu­ren said blue­bird had strug­gled to re­plen­ish its pipeline over the years, de­spite sig­nif­i­cant fund­ing, and he wor­ried that they didn't have enough as­sets or cash to sus­tain mul­ti­ple com­pa­nies.
"Ul­ti­mate­ly, while these two fran­chis­es are dif­fer­ent, we are not con­vinced that their re­spec­tive pipelines are ro­bust enough to sus­tain the in­de­pen­dent en­ti­ties," he wrote, "and we be­lieve some in­vestors ap­pre­ci­at­ed the bal­ance of the two fran­chis­es."
The com­pa­ny's stock $BLUE, which has fall­en dra­mat­i­cal­ly from its 2018 peak, when it was worth over $11 bil­lion, re­mained flat at just un­der $49.
Af­ter com­mand­ing at­ten­tion with cu­ra­tive da­ta for a sick­le cell gene ther­a­py and nu­mer­ous re­mis­sions in tri­als for a mul­ti­ple myelo­ma cell ther­a­py, blue­bird has strug­gled to bring both past the fin­ish line.
Af­ter their most re­cent de­lay, the com­pa­ny re­mains near­ly two years away from sub­mit­ting their sick­le cell gene ther­a­py to the FDA. The FDA is now re­view­ing the mul­ti­ple myelo­ma cell ther­a­py ide-cel, now part­nered with Bris­tol My­ers Squibb, but the agency ini­tial­ly served the com­pa­ny with a refuse-to-file let­ter for sub­mit­ting in­suf­fi­cient man­u­fac­tur­ing in­for­ma­tion.
The gene ther­a­py, known as Zyn­te­glo, was ap­proved in Eu­rope for an­oth­er rare blood dis­ease, be­ta tha­lassemia. But the $1.8 mil­lion price tag blue­bird placed on it shocked an­a­lysts and in­dus­try watch­ers and, with the pan­dem­ic hit­ting short­ly af­ter their of­fi­cial launch, the com­pa­ny had yet to sell a sin­gle unit as of their No­vem­ber Q3 fil­ing.
De­spite the set­backs, the com­pa­ny still re­mains at the front of a now crowd­ed pack to com­mer­cial­ize a sick­le cell cure, and an­a­lysts peg peak sales for ide-cel as high as $900 mil­lion. Blue­bird al­so has an im­munother­a­py for Merkel cell car­ci­no­ma and a gene ther­a­py for cere­bral adrenoleukody­s­tro­phy in clin­i­cal de­vel­op­ment.