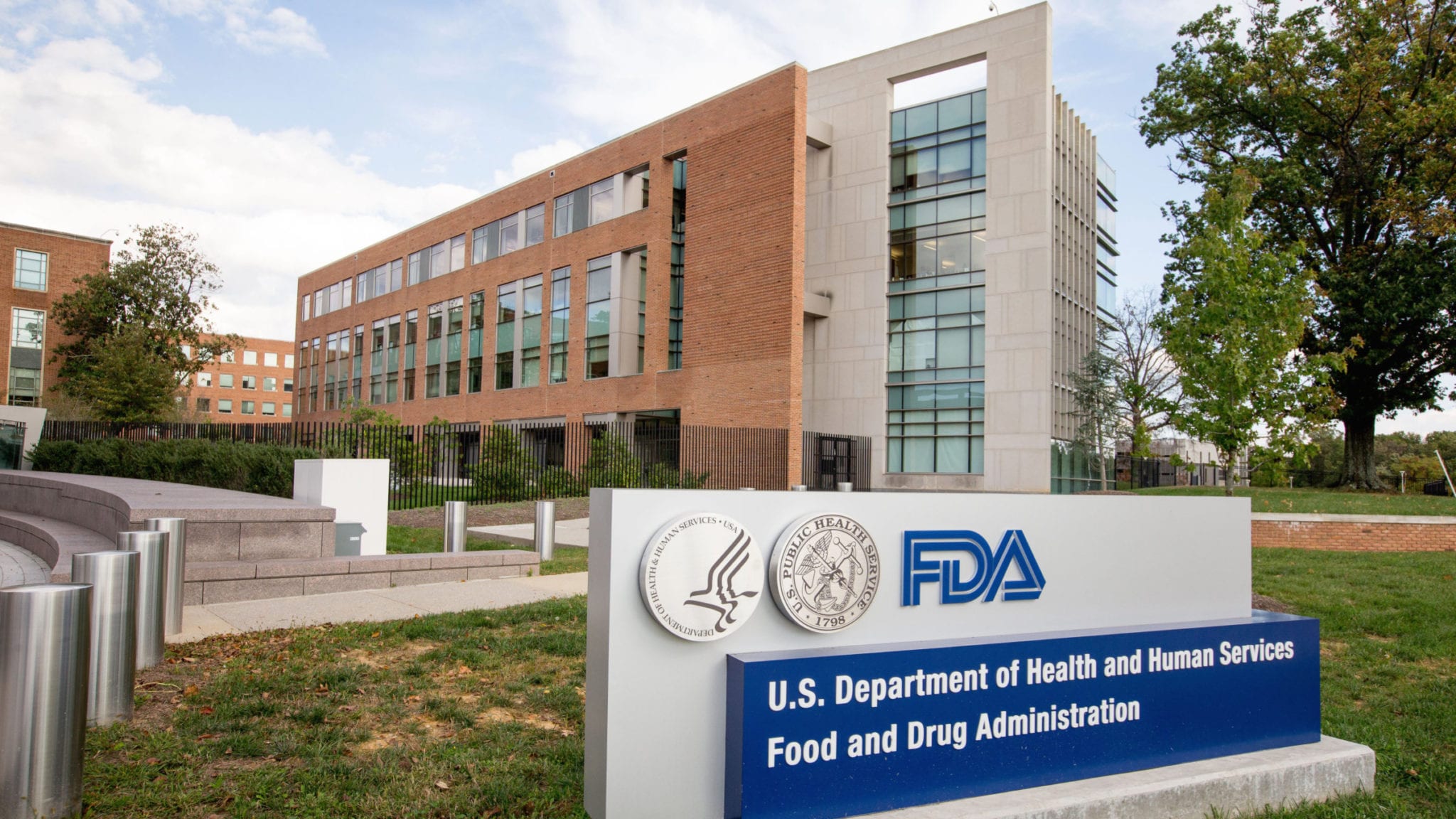 FDA [via Andrew Harnik/AP]
Boehringer In­gel­heim's Ofev wins FDA ap­proval for use in scle­ro­der­ma pa­tients
Five years af­ter se­cur­ing its first ap­proval in id­io­path­ic lung fi­bro­sis, Boehringer In­gel­heim's drug Ofev has been cleared to slow the rate of pul­monary de­cline in pa­tients with an­oth­er lung scar­ring dis­ease.
The ap­proval — for pa­tients with in­ter­sti­tial lung dis­ease as­so­ci­at­ed with sys­temic scle­ro­sis or scle­ro­der­ma (SSc-ILD) — marks the first FDA nod for the rare lung con­di­tion.
The agency's en­dorse­ment was based on da­ta from a 576-pa­tient place­bo-con­trolled study. The main goal of the tri­al was to mea­sure lung func­tion via forced vi­tal ca­pac­i­ty (FVC) — de­fined as the amount of air that can be forcibly ex­haled from the lungs af­ter tak­ing the deep­est breath pos­si­ble — at the end of 52 weeks, al­though some pa­tients were treat­ed for up to 100 weeks.
Pa­tients giv­en the drug, known chem­i­cal­ly as nintedanib, ex­pe­ri­enced a slow­er rate of FVC de­cline. Those giv­en the place­bo saw a de­cline of 93.3 (mL/year), ver­sus 52.4 (mL/year) in pa­tients on the drug (p=0.04).
On the safe­ty side how­ev­er, there were some side-ef­fects — large­ly di­ar­rhea — that led to dose re­duc­tions. Da­ta showed 34% of Ofev-treat­ed pa­tients, com­pared to 4% of place­bo-treat­ed pa­tients, re­quired tweaks to their dos­ing.
Scle­ro­der­ma is a rare con­di­tion that is char­ac­ter­ized by the thick­en­ing and scar­ring of tis­sues — in­clud­ing the lungs — across the body. In­ter­sti­tial lung dis­ease (ILD) is a con­di­tion af­fect­ing con­nec­tive tis­sue that forms the sup­port struc­ture of the alve­oli in lungs, and is com­mon in scle­ro­der­ma. SSc-ILD, which af­fects rough­ly 50,000 Amer­i­cans, caus­es lung func­tion to pro­gres­sive­ly de­cline, and is the lead­ing cause of death in scle­ro­der­ma pa­tients.
In the first half of this year, net sales of Ofev to treat id­io­path­ic lung fi­bro­sis (IPF) rose by 21.6% to 677 mil­lion eu­ros (about $747 mil­lion) on a cur­ren­cy-ad­just­ed ba­sis.
Ofev was cleared for use in IPF in Oc­to­ber 2014 — on the same day as ri­val Roche's Es­bri­et, kick­start­ing a scram­ble for mar­ket share.
This Ju­ly, Boehringer signed a pact with Bridge Bio­ther­a­peu­tics to ex­pand its IPF ar­se­nal. The Ko­re­an biotech has a au­to­tax­in in­hibitor, BBT-877, in ear­ly-stage de­vel­op­ment.