Costs ris­ing, As­traZeneca switch­es con­trac­tors and once again de­lays sched­uled com­ple­tion of its trou­bled $650M-plus HQ project
De­sign of As­traZeneca's Cam­bridge Bio­med­ical Cam­pus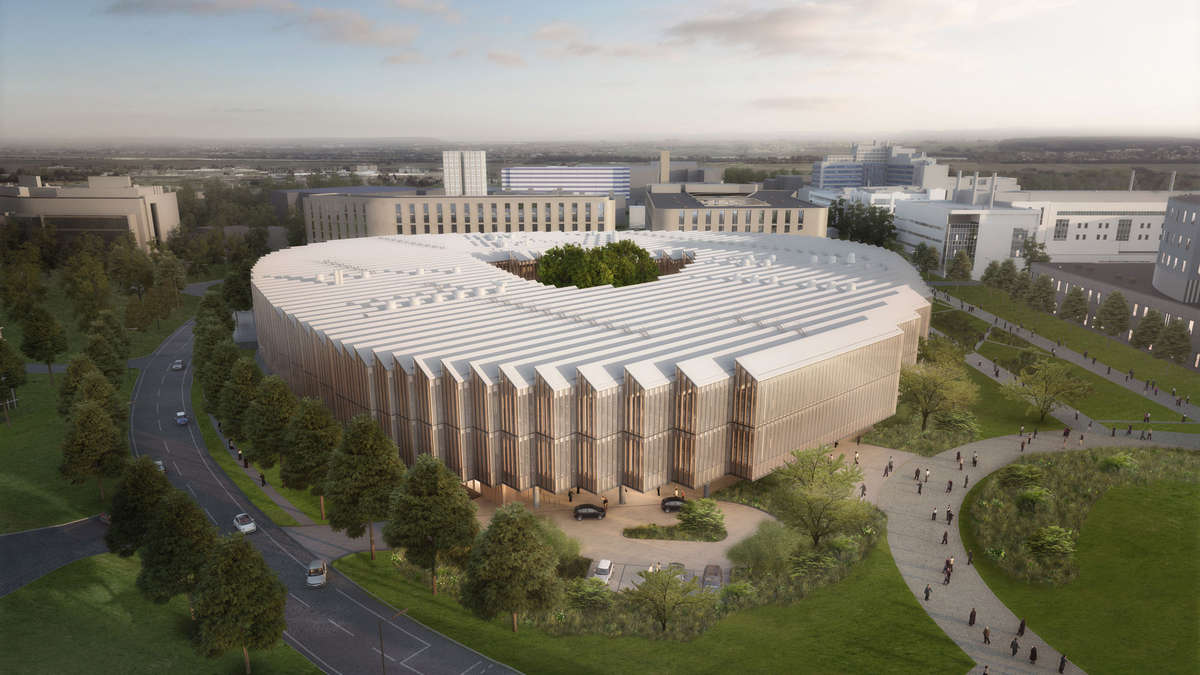 Click on the im­age to see the full-sized ver­sion
Those ru­mors about big trou­ble for As­traZeneca's $650 mil­lion (plus) HQ project proved to be en­tire­ly ac­cu­rate. To­day a spokesper­son for the phar­ma gi­ant tells me that they are switch­ing build­ing con­trac­tors and once again sig­nif­i­cant­ly de­lay­ing a planned move-in at the Cam­bridge, UK site. And the price tag for com­ple­tion is head­ed high­er.
Their state­ment in re­sponse to a query:
Yes, as the sci­en­tif­ic fit-out and com­mis­sion­ing phase of the build­ing takes shape, we are tran­si­tion­ing from Skan­s­ka to a com­pa­ny called Mace which has ex­per­tise in this next phase. As we be­gin this sci­en­tif­ic fit-out we will have more up­dates but, as of now, we're look­ing at oc­cu­pa­tion in first half of 2020.
The pun­ish­ing set­back came af­ter a UK trade pub cit­ed Skan­s­ka's trou­ble in get­ting the sprawl­ing head­quar­ters site com­plete — a full 5 years af­ter it was be­gun. The project — in­tend­ed to rep­re­sent As­traZeneca's bold em­brace of new tech and its com­mit­ment to the UK's bio­phar­ma hub — has be­come an ex­pen­sive al­ba­tross around CEO Pas­cal So­ri­ot's neck as he push­es to turn around the com­pa­ny.
Orig­i­nal­ly the project was to be com­plet­ed in 2016, then 2017 and most re­cent­ly in the spring of 2019 as As­traZeneca in­tend­ed a stag­gered oc­cu­pa­tion for the lo­cal R&D work force, which has swelled in an­tic­i­pa­tion of the rib­bon-cut­ting cer­e­mo­ny. This new set of con­struc­tion goals will push the move-in to a full 7 years af­ter con­struc­tion was green-light­ed at As­traZeneca.
As the work slowed, it al­so be­came sig­nif­i­cant­ly more ex­pen­sive. Orig­i­nal­ly slat­ed to cost about $430 mil­lion, the com­pa­ny had to add $220 mil­lion more. Now it's head­ed even high­er.
As­traZeneca de­clined to say what the new price tag on the build­ing is, but con­ced­ed that the es­ti­mate has now pushed past the $650 mil­lion mark.
(W)hat we can say is that our over­all in­vest­ment in our Cam­bridge HQ project will be high­er than ini­tial­ly com­mu­ni­cat­ed, now at over £500m. The in­creased in­vest­ment re­flects our com­mit­ment to Cam­bridge and the UK sci­ence-base, in par­tic­u­lar:

We have ac­cel­er­at­ed our tran­si­tion to the Cam­bridge area ahead of build­ing com­ple­tion and over 2,600 of our staff are al­ready here.
Part of our in­vest­ment in the new site is more state of the art equip­ment and tech­nolo­gies and we are in­vest­ing heav­i­ly in this space.