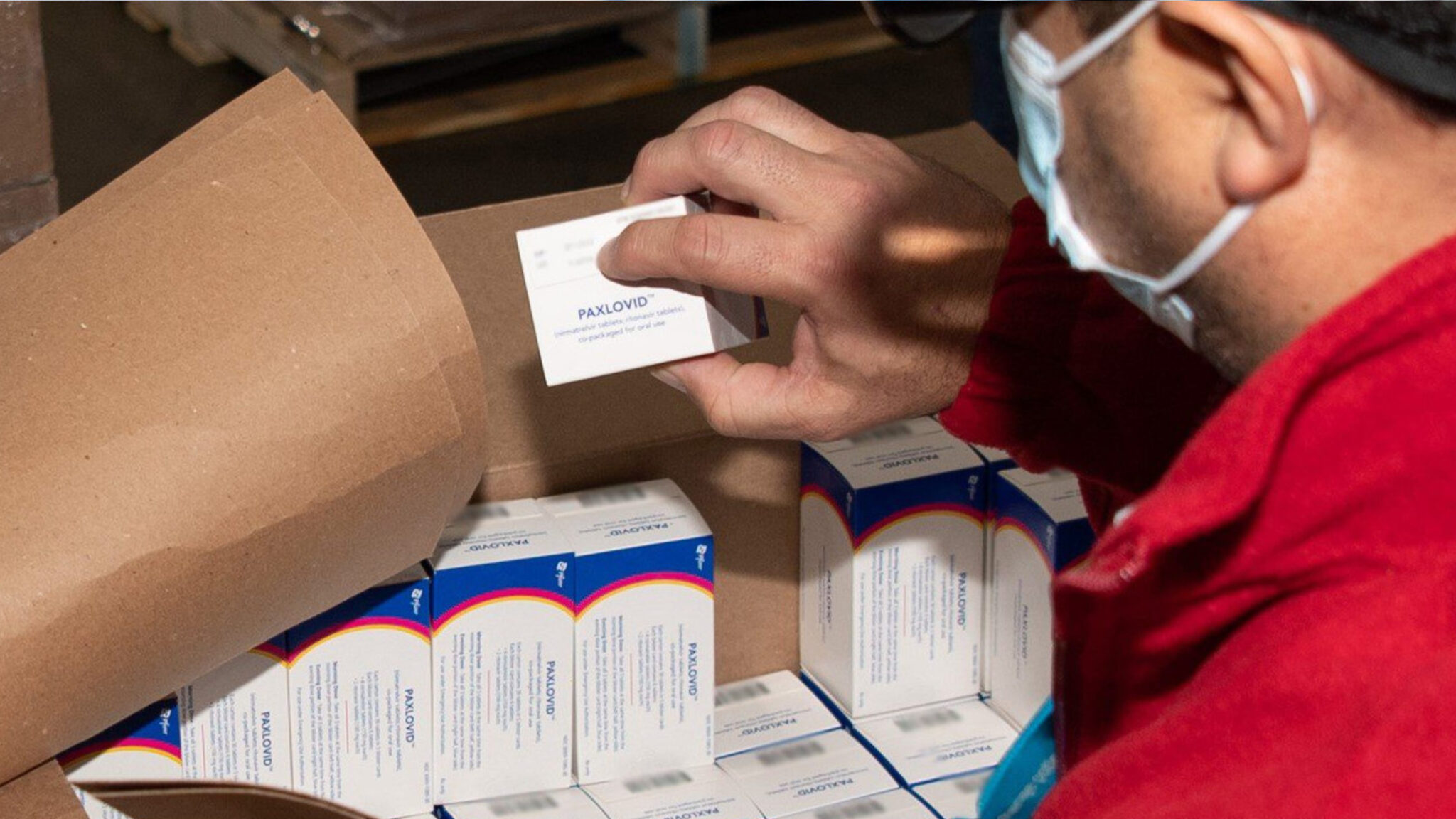 FDA au­tho­rizes the first at-home pills from Pfiz­er to treat Covid-19
The FDA on Wednes­day signed off on Pfiz­er's Covid-19 pills, which are meant to help keep peo­ple out of the hos­pi­tal.
The news comes at a cru­cial mo­ment, as the Omi­cron vari­ant has tak­en over Delta as the promi­nent strain in the US, and as mon­o­clon­al an­ti­body in­fu­sions will like­ly be in very short sup­ply as two of the three cur­rent­ly mar­ket­ed are in­ef­fec­tive against Omi­cron.
Pfiz­er will see ear­ly sup­ply con­straints of their pills, which are made up of nir­ma­trelvir tablets and ri­ton­avir tablets, co-pack­aged for oral use, mean­ing doc­tors will have to be very care­ful on how they're doled out. And if Mer­ck's pill is au­tho­rized soon too, there may be more op­tions, al­though there's al­so a dras­tic dif­fer­ence in ef­fi­ca­cy be­tween the two.
"I don't think you would find any­one who would pre­fer the Mer­ck pill to the Pfiz­er pill, giv­en the da­ta ev­i­dent so far," Walid Gel­lad, a pro­fes­sor of med­i­cine at the Uni­ver­si­ty of Pitts­burgh, told End­points News.
Mer­ck's pill saw its ef­fi­ca­cy plum­met be­tween in­ter­im and fi­nal analy­ses in its piv­otal tri­al — from a 50% rel­a­tive re­duc­tion in hos­pi­tal­iza­tions and deaths at the in­ter­im to just 30% in the fi­nal re­sults — mean­ing that more doc­tors will like­ly re­ly on the Pfiz­er pill. There are al­so ques­tions about how Mer­ck's pill works, which led France's ex­perts to re­ject it.
Pfiz­er, mean­while, re­cent­ly said that its pill, known com­mer­cial­ly as Paxlovid, proved to re­duce the rel­a­tive risk of hos­pi­tal­iza­tion or death by 89% (with­in three days of symp­tom on­set) and 88% (with­in five days of symp­tom on­set) com­pared to place­bo in a tri­al of more than 2,000 peo­ple.
The FDA al­so said in the EUA's health care provider fact sheet that the pill should stand up against the Omi­cron vari­ant, but the FDA did not re­view the pill be­fore an ad­comm so most of the tri­al da­ta has on­ly been re­leased in Pfiz­er press re­leas­es so far. And all pa­tients in the Pfiz­er tri­al had not re­ceived a Covid-19 vac­cine.
Gel­lad warned that the "ben­e­fit of the pills def­i­nite­ly goes down in vac­ci­nat­ed peo­ple, and the mag­ni­tude of that re­duc­tion in ben­e­fit is still not clear. We on­ly got pre­lim­i­nary da­ta in the press re­lease about im­pact on high-risk vac­ci­nat­ed peo­ple in the non-com­plet­ed tri­al. There will be some ben­e­fit, but pre­sum­ably not near­ly the im­pact as on un­vac­ci­nat­ed."
The Pfiz­er pill is au­tho­rized for those over 12 years of age, weigh­ing at least 88 pounds, with pos­i­tive re­sults of di­rect SARS-CoV-2 test­ing, and who are at high risk for pro­gres­sion to se­vere Covid, in­clud­ing hos­pi­tal­iza­tion or death. But there are cer­tain re­stric­tions, with FDA say­ing Paxlovid is not rec­om­mend­ed in pa­tients with se­vere kid­ney or se­vere liv­er im­pair­ment, adding:
Be­cause Paxlovid works, in part, by in­hibit­ing a group of en­zymes that break down cer­tain drugs, Paxlovid is con­traindi­cat­ed with cer­tain drugs that are high­ly de­pen­dent on those en­zymes for me­tab­o­lism and for which el­e­vat­ed con­cen­tra­tions of cer­tain drugs are as­so­ci­at­ed with se­ri­ous and/or life-threat­en­ing re­ac­tions. Paxlovid is al­so con­traindi­cat­ed with drugs that, con­verse­ly, strong­ly in­duce those same en­zymes, lead­ing to the faster break­down of nir­ma­trelvir or ri­ton­avir, as re­duced con­cen­tra­tions of nir­ma­trelvir or ri­ton­avir may be as­so­ci­at­ed with po­ten­tial­ly los­ing vi­ro­log­ic re­sponse and de­vel­op­ing vi­ral re­sis­tance. Paxlovid can­not be start­ed im­me­di­ate­ly af­ter dis­con­tin­u­ing such med­ica­tions be­cause the ef­fects of those med­ica­tions re­main af­ter dis­con­tin­u­a­tion.
But with very lim­it­ed sup­plies ini­tial­ly (65,000 cours­es are ship­ping the first week of Jan­u­ary), on­ly a hand­ful of states will see more than 3,000 cours­es of Paxlovid in that first week next month.
"An ad­di­tion­al 200,000 cours­es are ex­pect­ed in Jan­u­ary, ramp­ing up steadi­ly in the months ahead," HHS said of Pfiz­er's pill. The US has bought 10 mil­lion cours­es, and Pfiz­er said in a state­ment that it al­so raised pro­duc­tion pro­jec­tions from 80 mil­lion to 120 mil­lion cours­es of treat­ment in 2022, as a re­sult of con­tin­ued in­vest­ments.
The US al­so may have about 400,000 cours­es of Mer­ck's pill avail­able in the next few days, if au­tho­rized, ac­cord­ing to a Bloomberg re­port. But by the end of Jan­u­ary, the US gov­ern­ment ex­pects to have about 3 mil­lion cours­es of Mer­ck's pill.
Al­so by the end of Jan­u­ary, the US will have about 300,000 cours­es of the Glax­o­SmithK­line and Vir mAb treat­ment, and an­oth­er 55,000 dos­es were shipped out this week.