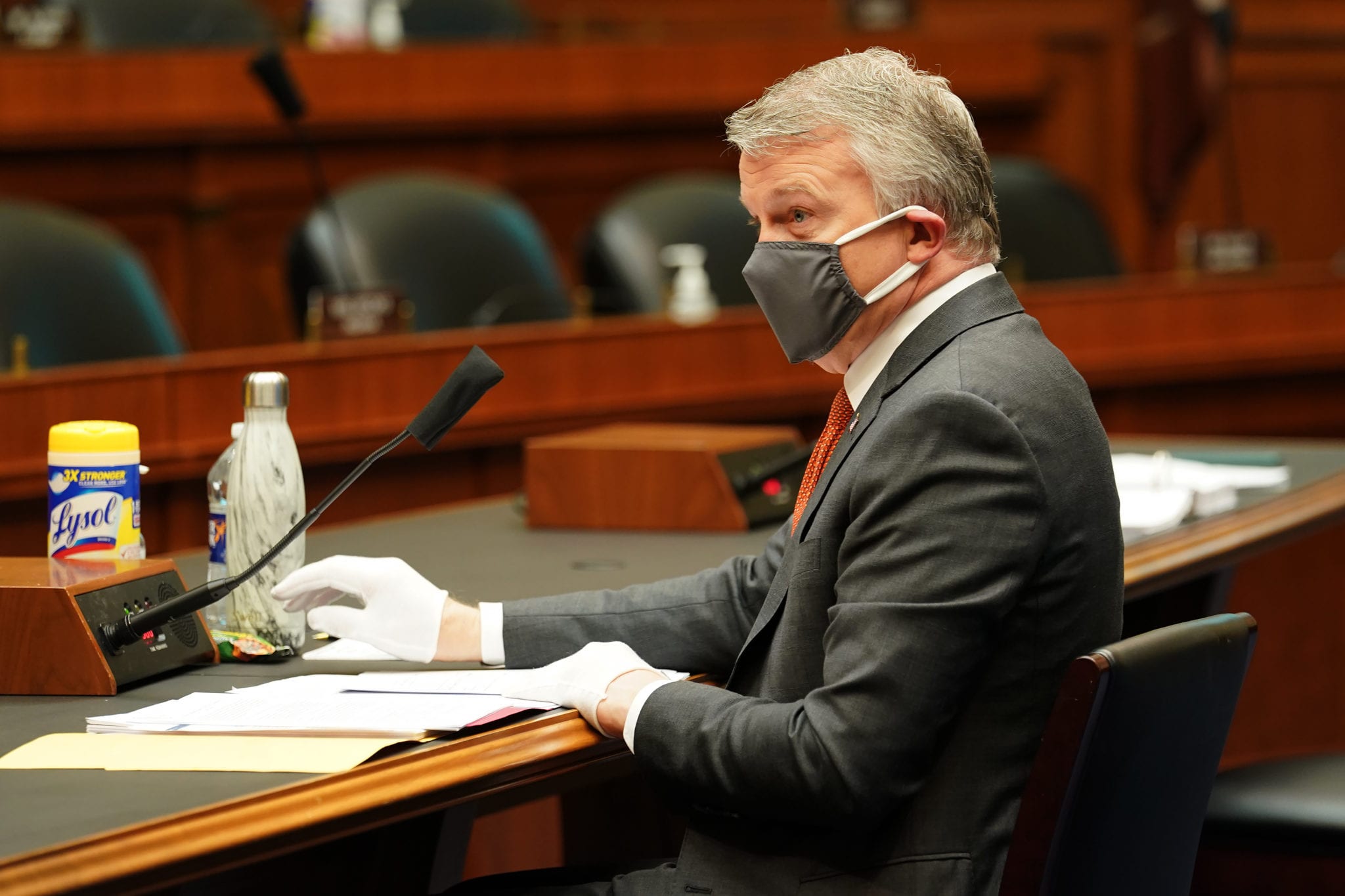 Rick Bright arrives to testify before the House Energy and Commerce Subcommittee on Health on May 14, 2020, in Washington, DC. (Greg Nash, POOL/AFP via Getty Images)
Rick Bright de­tails mis­man­aged pan­dem­ic re­sponse, warns of drugs, vac­cine sup­ply prob­lems down the road; HHS push­es back
In wide-rang­ing con­gres­sion­al tes­ti­mo­ny, the oust­ed head of an agency at the cen­ter of the fed­er­al gov­ern­ment's Covid-19 vac­cine and treat­ment re­sponse crit­i­cized the Trump ad­min­is­tra­tion for a slow-foot­ed fed­er­al re­sponse that could re­sound through­out the course of the pan­dem­ic.
"I be­lieve we could have done bet­ter," Rick Bright, for­mer chief of the Bio­med­ical Ad­vanced Re­search and De­vel­op­ment Au­thor­i­ty (BAR­DA), told a House sub­com­mit­tee. "We don't have the right lead­er­ship for this re­sponse and we don't have the right plan for this re­sponse."
Bright, who has head­ed BAR­DA since 2016, was re­moved from his post in April. Sev­er­al days lat­er, he ac­cused HHS of re­as­sign­ing him be­cause he op­posed ef­forts to put sig­nif­i­cant funds be­hind Covid-19 drugs not sup­port­ed by da­ta, in­clud­ing the an­ti-malar­i­al hy­drox­y­chloro­quine. Bright sub­se­quent­ly filed a whistle­blow­er com­plaint de­tail­ing a long his­to­ry of po­lit­i­cal in­ter­fer­ence at the agency, set­ting up a much-an­tic­i­pat­ed con­gres­sion­al hear­ing on Thurs­day.
Thurs­day morn­ing, in the lead­up to Bright's tes­ti­mo­ny, Pres­i­dent Trump dis­missed Bright on Twit­ter as a "dis­grun­tled em­ploy­ee" who he had nev­er heard of. And HHS re­leased a lengthy re­but­tal to the whistle­blow­er com­plaints, set­ting the stage for some of the line of ques­tion­ing Re­pub­li­cans used dur­ing the hear­ing.
"Mr. Bright has not yet shown up for work, but con­tin­ues to col­lect his $285,010 salary, while us­ing his tax­pay­er-fund­ed med­ical leave to work with par­ti­san at­tor­neys who are politi­ciz­ing the re­sponse to COVID-19," a spokesper­son said in an emailed state­ment. "His whistle­blow­er com­plaint is filled with one-sided ar­gu­ments and mis­in­for­ma­tion."
The Of­fice of Spe­cial Coun­sel, a gov­ern­ment watch­dog, how­ev­er, pre­lim­i­nar­i­ly de­ter­mined to­day there was ev­i­dence back­ing Bright's claims and that he should be re­in­stat­ed.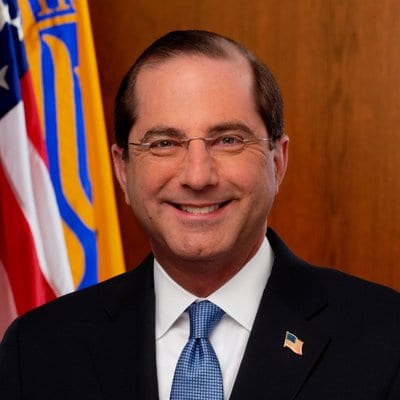 Alex Azar
Un­strap­ping a black cloth mask to tes­ti­fy, Bright point­ed to mis­man­age­ment at HHS from the ear­ly days of the pan­dem­ic. He said he tried to se­cure a sam­ple of the virus in Jan­u­ary to help ex­pe­dite the de­vel­op­ment of vac­cines, treat­ments and di­ag­nos­tics, but the agency was not able to ac­quire one un­til Feb­ru­ary. He at­tempt­ed to get fund­ing for vac­cines and coun­ter­mea­sures in his first meet­ing with HHS sec­re­tary Alex Azar, he said, but Azar was puz­zled by his ques­tion, he said, and over the months his con­tin­ued calls for ur­gency led to him be­ing shut out.
"I was told that my urg­ings caused a com­mo­tion and I was re­moved from those meet­ings," Bright said.
He point­ed to emails, men­tioned from his whistle­blow­er com­plaint, he re­ceived in Jan­u­ary from Mike Bowen, the head of mask man­u­fac­tur­er Pres­tige Ameritech, of­fer­ing N95s and warn­ing the US had in­suf­fi­cient do­mes­tic sup­ply.
"He said 'we're in deep shit, the world is, and we need to act' and I pushed that for­ward to the high­est lev­els I could in HHS and got no re­sponse," Bright said. "From that point I knew we were go­ing to have a cri­sis."
In their state­ment, HHS said Bright was not re­spon­si­ble for masks and said Bright's "as­sump­tion that oth­ers were not con­cerned with and work­ing on var­i­ous work­streams re­lat­ed to COVID-19 pre­pared­ness is bizarre and false."
Al­though Bright's com­plaint pinned his ouster on his op­po­si­tion to hy­drox­y­chloro­quine, jour­nal­ists point­ed out that Bright's sig­na­ture was on the doc­u­ments au­tho­riz­ing the emer­gency use of the pill for Covid-19 pa­tients. In their state­ment, HHS called Bright the "spon­sor" of the hy­drox­y­chloro­quine ef­fort who "cel­e­brat­ed" when the gov­ern­ment was able to se­cure the sup­ply.
Bright told the House that he had been "di­rect­ed to" file those au­tho­riza­tions by the Trump ad­min­is­tra­tion. He ar­gued the sup­ply was nec­es­sary for clin­i­cal tri­als but not out­side it. Along­side oth­er gov­ern­ment sci­en­tists, he said, he had worked to push back on ad­min­is­tra­tion ef­forts to set up an ex­pand­ed ac­cess pro­to­col by which peo­ple — in­clud­ing those who hadn't test­ed pos­i­tive to Covid-19 — could have ac­cess to the po­ten­tial­ly dan­ger­ous drug out­side of a hos­pi­tal. "We had to come up with an al­ter­nate so­lu­tion that the ad­min­is­tra­tion would ac­cept," he said.
While ini­tial­ly suc­cess­ful, Bright said, he then learned of and spoke out against a sub­se­quent gov­ern­ment plan to "flood" New York and New Jer­sey with the an­ti-malar­i­al, lead­ing to his ouster.
"That was the straw that broke the camel's back," Bright re­called, "and ex­pe­dit­ed my re­moval."
Turn­ing to­ward more re­cent con­tro­ver­sy, Bright said a chaot­ic gov­ern­ment re­sponse has en­dan­gered pa­tients and could im­pede the re­sponse go­ing for­ward. Over the week-and-a-half since the FDA au­tho­rized the use of remde­sivir as the first drug shown to have ef­fi­ca­cy against Covid-19, doc­tors have sharply crit­i­cized the gov­ern­ment for how they've dis­trib­uted the Gilead an­tivi­ral, with no clear cri­te­ria an­nounced and some hos­pi­tals with larg­er num­bers of pa­tients un­able to se­cure a sup­ply.
Bright was no longer at BAR­DA when remde­sivir was au­tho­rized, but he said no plan had been put in place to pre­pare for when it was.
"There was nev­er ac­tion tak­en on the ur­gency to come up with a plan for ac­qui­si­tion of lim­it­ed dos­es," Bright said, "nor to dis­trib­ute the lim­it­ed dos­es of remde­sivir."
Now, Bright said, sim­i­lar prob­lems loom for po­ten­tial vac­cines, once they're shown to work. Al­though BAR­DA and the lead­ing vac­cine com­pa­nies have put sig­nif­i­cant funds in­to scal­ing up man­u­fac­tur­ing, an ap­proved vac­cine will still come in batch­es rather than all at once, pos­ing a need to eq­ui­tably dis­trib­ute the dos­es un­til they are avail­able. Bright re­vealed that the gov­ern­ment had se­cured ac­cess to some of those dos­es with their fund­ing agree­ments, but he said there's lit­tle plan for how to give them out.
"It's go­ing to be a lim­it­ed sup­ply," Bright said. "We need to have a strat­e­gy and a plan in place now. We don't have that yet and it is a sig­nif­i­cant con­cern."
For a look at all End­points News coro­n­avirus sto­ries, check out our spe­cial news chan­nel.