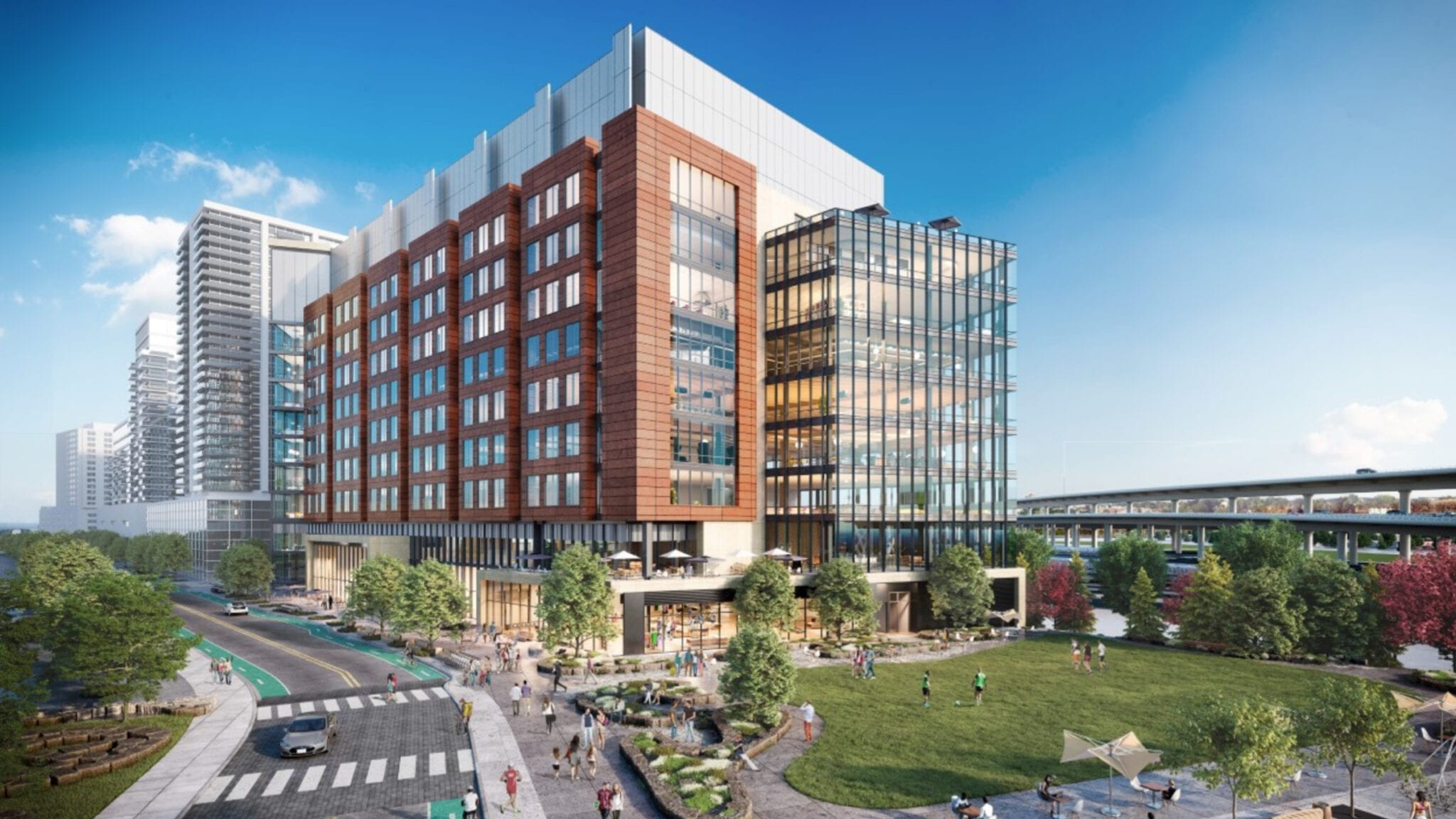 A rendering of Bristol Myers Squibb's new Cambridge site (DivcoWest)
Bris­tol My­ers adds on at Cam­bridge Cross­ing, set­tling in even fur­ther in bustling Boston-area biotech hub
In the sum­mer of 2020, Bris­tol My­ers Squibb un­veiled plans to plant its flag in the bustling bio­phar­ma Cam­bridge Cross­ing cam­pus on the bor­der of Cam­bridge, Boston and neigh­bor­ing Somerville. Now, the Big Phar­ma is dou­bling down on that move and giv­ing it­self a lit­tle ex­tra el­bow room to boot.
Last week, BMS ex­pand­ed its lease to in­clude the re­main­ing eighth and ninth floors of its build­ing at Cam­bridge Cross­ing, a move that en­sures "fu­ture flex­i­bil­i­ty," the com­pa­ny said in a state­ment to End­points News.
The com­pa­ny's 360,000-square-foot lease will merge all of its Cam­bridge staff in­to the 250 Wa­ter Street lo­ca­tion by 2023, the com­pa­ny said. The site will be home to R&D.
"We ex­pect that BMS' Cam­bridge fa­cil­i­ty will re­main a ma­jor re­search hub with in­cred­i­ble op­por­tu­ni­ties for sci­en­tif­ic dis­cov­ery through­out and fol­low­ing this tran­si­tion," the state­ment said.
BMS' two lo­ca­tions in the area cur­rent­ly are heav­i­ly fo­cused on dis­cov­ery and trans­la­tion work, with an em­pha­sis on dri­vers of can­cer drug re­sis­tance and im­mune-me­di­at­ed and fi­brot­ic con­di­tions. The an­nounce­ment fol­lowed Sanofi's plan to re­lo­cate to Cam­bridge Cross­ing, in which they inked a deal to take on a two-build­ing, 900,000-square-foot lease for 2,700 em­ploy­ees to call home. Those em­ploy­ees will be brought in from of­fices around the re­gion, and work in every­thing from R&D to med­ical and com­mer­cial wings of the com­pa­ny.
All cur­rent­ly avail­able space in the 43-acre neigh­bor­hood is now ful­ly leased, fol­low­ing the BMS ex­pan­sion, ac­cord­ing to a re­lease from the project's web­site. That marks the fourth sci­ence and tech­nol­o­gy build­ing ful­ly leased, fol­low­ing con­tracts with Phillips, Cerev­el Ther­a­peu­tics and Sanofi. How­ev­er, there are two build­ings on the way — both on Mor­gan Av­enue — this spring, good for a to­tal of 600,000 square feet of space.
The neigh­bor­hood is just a short dis­tance away from Kendall Square, where both com­pa­nies have of­fices cur­rent­ly, and is one of many ma­jor biotech re­al es­tate de­vel­op­ments in the Boston area. In Jan­u­ary, Bio­Med Re­al­ty an­nounced a deal to cre­ate 1.3 mil­lion square feet worth of space in Somerville's As­sem­bly Square, and CD­MO North­way opened a $40 mil­lion Waltham fa­cil­i­ty to ex­pand man­u­fac­tur­ing ca­pa­bil­i­ties, set to be ful­ly op­er­a­tional by the end of 2021.
In Au­gust, CRISPR Ther­a­peu­tics made a move to take over the 263,500 cus­tom-built R&D cen­ter in Boston's Sea­port neigh­bor­hood. What start­ed with the vi­sion of a club-like en­vi­ron­ment meant to bring sci­en­tists and en­tre­pre­neurs to­geth­er rapid­ly changed when Break­through Prop­er­ties land­ed on the sin­gle com­pa­ny to take over the space. The move high­light­ed just how pre­cious of­fice space is in key biotech hubs.