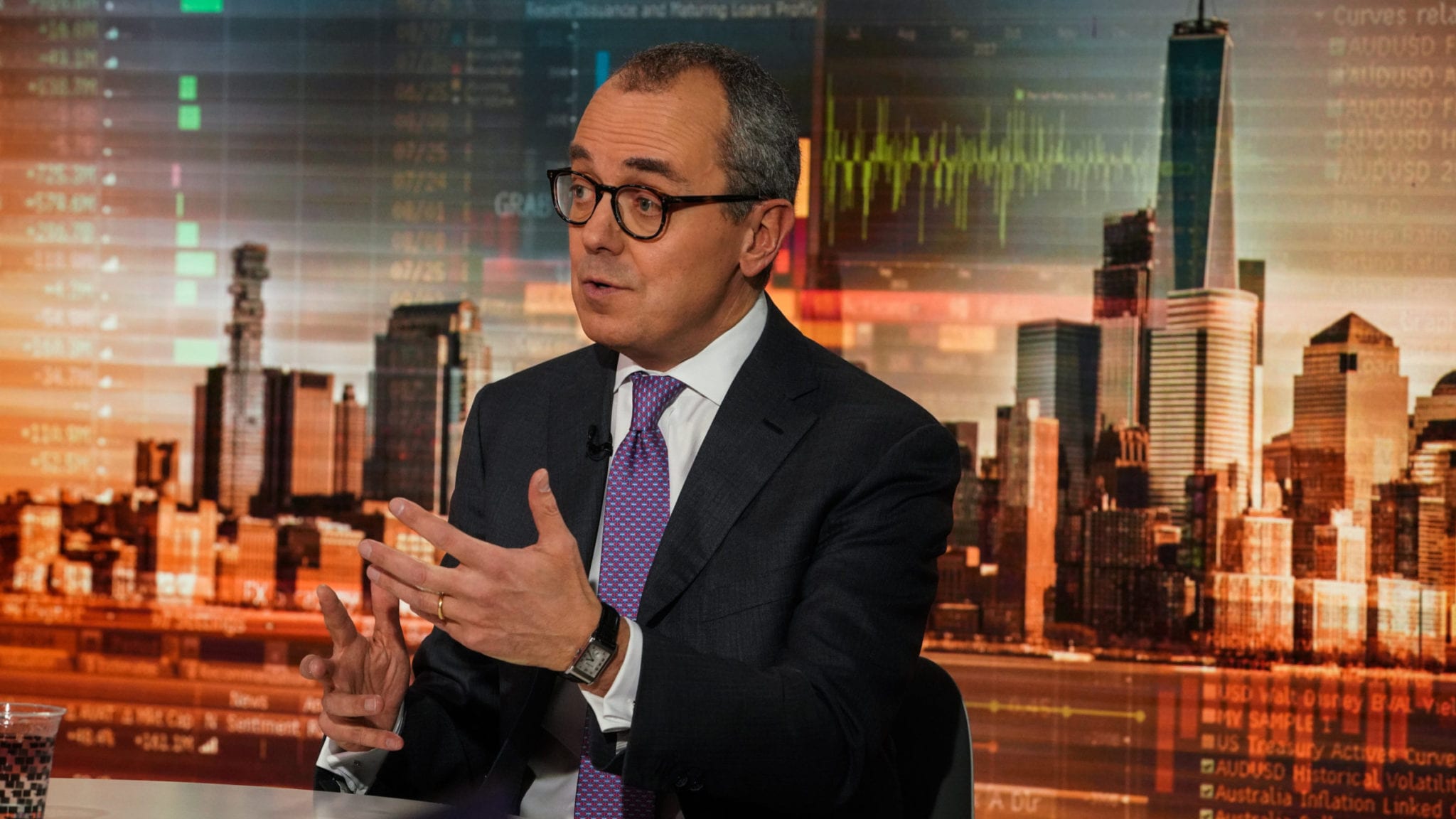 Giovanni Caforio, Bristol Myers Squibb CEO (Christopher Goodney/Bloomberg via Getty Images)
Bris­tol My­er­s' next-gen im­munol­o­gy med busts Am­gen's Ote­zla in head-to-head study. Is a show­down com­ing?
In an im­munol­o­gy mar­ket packed with block­buster bi­o­log­ics, Bris­tol My­ers Squibb hopes that its oral drug for milder cas­es could carve out a lu­cra­tive foothold. Now, with its eyes set on bust­ing Am­gen's Ote­zla, the drug­mak­er is rolling out full da­ta from a pair of late-stage stud­ies that bode well for its can­di­date.
Bris­tol My­ers' TYK2 in­hibitor deu­cravac­i­tinib sig­nif­i­cant­ly cut pso­ri­a­sis pa­tients' dis­ease ac­tiv­i­ty and spurred clear­er skin at four months than pa­tients dosed with Am­gen's Ote­zla or place­bo, ac­cord­ing to da­ta from two Phase III stud­ies pre­sent­ed Fri­day at the vir­tu­al Amer­i­can Acad­e­my of Der­ma­tol­ogy meet­ing.
In terms of PASI 75, a mea­sure of dis­ease sever­i­ty, 58.7% and 53.6% of pa­tients on deu­cravac­i­tinib achieved PASI 75 re­sponse re­spec­tive­ly, in the PO­E­T­YK-PSO-1 and PO­E­T­YK-PSO-2 stud­ies. Mean­while, just 12.7% and 9.4% of place­bo pa­tients and 35.1% and 40.2% of pa­tients on Ote­zla achieved the same.
Even more promis­ing for Bris­tol My­ers, deu­cravac­i­tinib main­tained its edge over Ote­zla be­tween 24 and 52 weeks of treat­ment. At the six-month check-in, 69.0% and 59.3% of pa­tients on deu­cravac­i­tinib hit PASI 75 ver­sus 38.1% and 37.8% on Ote­zla. Of those deu­cravac­i­tinib pa­tients who hit the PASI 75 mark at six months, 82.5% and 81.4% main­tained that re­sponse at the one-year check in.
Deu­cravac­i­tinib showed sim­i­lar­ly high­er rates of skin clear­ance than place­bo and Ote­zla with a slight­ly high­er rate of se­vere side ef­fects than Am­gen's drug.
Bris­tol My­ers is call­ing the re­sults sig­nif­i­cant even though the da­ta didn't come with p-val­ues. Ei­ther way, it's a strong show­ing from its drug, a TYK2 in­hibitor Bris­tol My­ers hopes will ush­er in a next gen­er­a­tion of im­munol­o­gy meds.
The drug­mak­er un­corked top-line da­ta from these stud­ies back in Feb­ru­ary, high­light­ing deu­cravac­i­tinib's im­por­tant role in dri­ving the com­pa­ny's pipeline suc­cess. At JP Mor­gan in Jan­u­ary, Bris­tol My­ers tout­ed the drug as one of four ma­jor block­buster pro­grams in the pipeline with the po­ten­tial to earn more than $4 bil­lion a year. The oth­er three were mava­camten, ac­quired in the MyoKar­dia buy­out, along with the ane­mia drug Re­blozyl and the can­cer cell ther­a­py fran­chise.
Un­like the bi­o­log­ics that have come to dom­i­nate the mar­ket, Bris­tol My­ers is aim­ing deu­cravac­i­tinib at milder pa­tients who pre­fer a more con­ve­nient oral dose. Re­searchers hope the TYK2 path­way will of­fer a safer al­ter­na­tive than the JAK class, which has been dogged by safe­ty flags since its in­cep­tion. The case in point there is Pfiz­er's Xel­janz, which has failed to cap­i­tal­ize on its ear­ly promise with a black box warn­ing for throm­bo­sis and se­ri­ous in­fec­tions, among oth­er things.