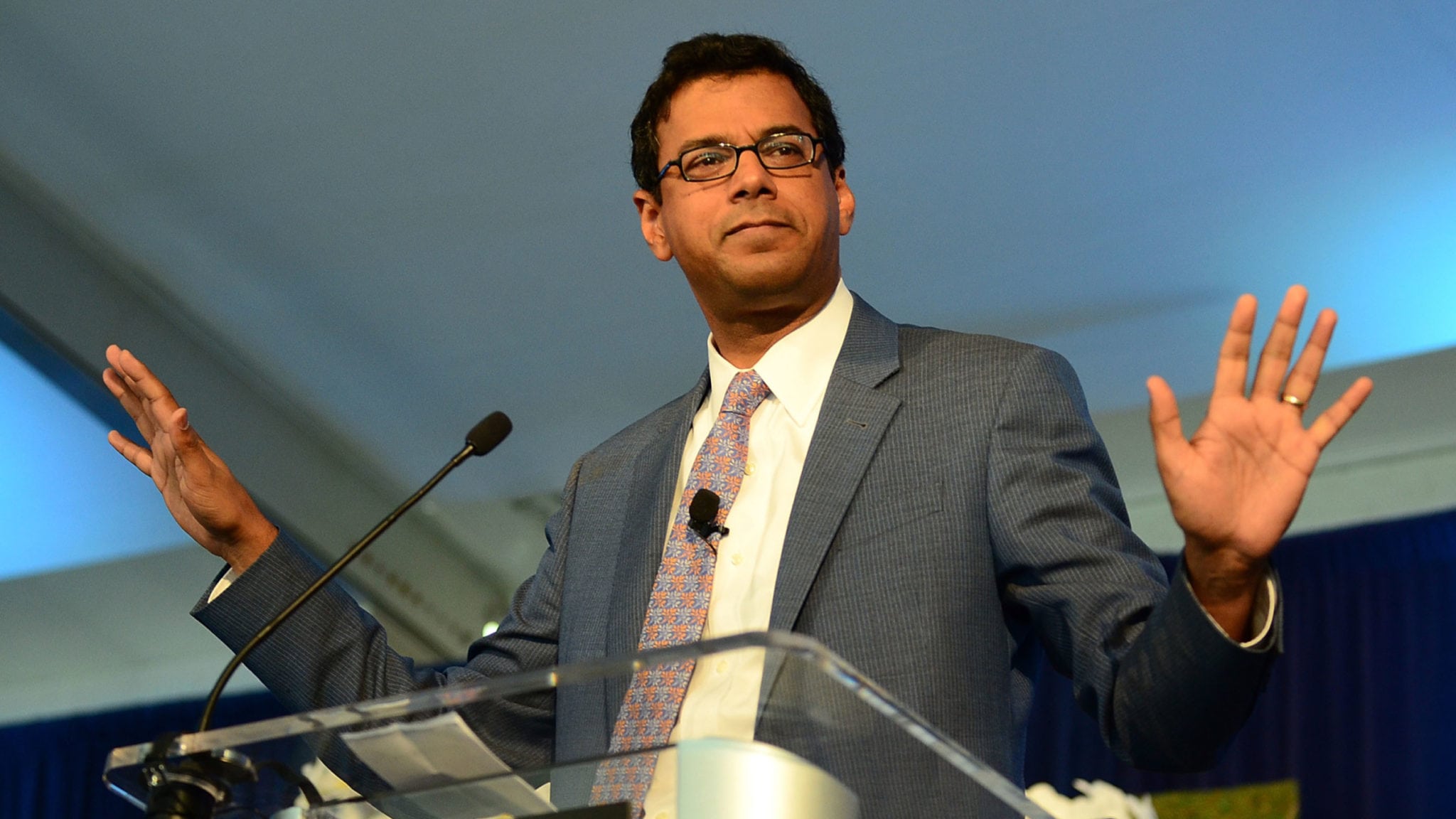 Buf­fett, Di­mon and Be­zos find their mir­a­cle man, charged with fix­ing a bro­ken health­care sys­tem
War­ren Buf­fett, Jamie Di­mon and Jeff Be­zos have found the per­son they think can fix a bro­ken US health­care sys­tem. And they're go­ing with a Re­nais­sance man.
At­ul Gawande is tak­ing the reins on Ju­ly 9 with a mis­sion to cre­ate a new en­ti­ty un­bound by prof­it goals. And he's one of the best-known fig­ures in the in­dus­try.
The com­pa­ny — which still doesn't have a name — will be based in Boston.
Gawande is a sur­geon at Brigham and Women's Hos­pi­tal, a pro­fes­sor at the Har­vard TH Chan School of Pub­lic Health and Har­vard Med­ical School plus a best­selling au­thor who has penned 4 books. He al­so writes for The New York­er from time to time.
The three ex­ecs from Ama­zon, Berk­shire Hath­away and JP Mor­gan Chase say they know they're in for a tough chal­lenge, but Gawande has their con­fi­dence.
"We said at the out­set that the de­gree of dif­fi­cul­ty is high and suc­cess is go­ing to re­quire an ex­pert's knowl­edge, a be­gin­ner's mind, and a long-term ori­en­ta­tion," said Be­zos. "At­ul em­bod­ies all three, and we're start­ing strong as we move for­ward in this chal­leng­ing and worth­while en­deav­or."
The three busi­ness head­lin­ers have at­tract­ed plen­ty of at­ten­tion with their al­liance on tam­ing health­care costs, and al­so a lot of skep­ti­cism about what they plan to do as well as what they can ac­com­plish. That skep­ti­cism was height­ened by a Wall Street Jour­nal piece out­lin­ing Di­mon's rapid as­sur­ances to his big health­care clients that he wasn't set­ting up a ri­val or­ga­ni­za­tion, liken­ing the ven­ture to a group pur­chas­ing or­ga­ni­za­tion.
Pub­licly, though, the three have lament­ed a sys­tem where ram­pant price in­creas­es have left the na­tion with an in­creas­ing­ly heavy fi­nan­cial bur­den, and it's a dis­cus­sion which bio­phar­ma com­pa­nies have a di­rect in­ter­est in.
We will have to wait and see what Gawande has in mind for trans­form­ing the sys­tem.
Here's what he had to say to­day:
I'm thrilled to be named CEO of this health­care ini­tia­tive. I have de­vot­ed my pub­lic health ca­reer to build­ing scal­able so­lu­tions for bet­ter health­care de­liv­ery that are sav­ing lives, re­duc­ing suf­fer­ing, and elim­i­nat­ing waste­ful spend­ing both in the US and across the world. Now I have the back­ing of these re­mark­able or­ga­ni­za­tions to pur­sue this mis­sion with even greater im­pact for more than a mil­lion peo­ple, and in do­ing so in­cu­bate bet­ter mod­els of care for all. This work will take time but must be done. The sys­tem is bro­ken, and bet­ter is pos­si­ble.
---
Im­age: At­ul Gawande Get­ty/Geisinger Health Sys­tem