Buoyed by he­mo­phil­ia A gene ther­a­py up­date, Bio­Marin switch­es to head-to-head study -- but shares slide on dura­bil­i­ty con­cerns
With its he­mo­phil­ia A gene ther­a­py poised to go through a piv­otal pro­gram by the end of next year, Bio­Marin $BM­RN set out to boost hopes for its suc­cess with a new batch of Phase I/II da­ta for its val­rox pro­gram (val­oc­toco­gene rox­a­parvovec/BMN 270). But the biotech's shares turned wob­bly and start­ed to slide on con­cerns that the new num­bers may have re­vealed some longterm weak­ness on ef­fi­ca­cy.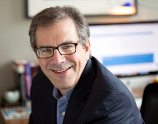 Hank Fuchs
Re­searchers at a con­fer­ence in Glas­gow are point­ing to one of the dosage arms where they tracked a 97% cut in an­nu­al­ized bleed­ing rate. And the biotech now plans to boost the num­ber of pa­tients in a reg­is­tra­tion study so they can pro­vide clear ev­i­dence of the gene ther­a­py's abil­i­ty to beat the cur­rent stan­dard of care us­ing fac­tor re­place­ment ther­a­py.
The com­pa­ny will in­crease en­roll­ment by 90, tak­ing 130 pa­tients in­to the piv­otal pro­gram af­ter see­ing ev­i­dence of a durable abil­i­ty over 2 years to slash bleed rates in pa­tients..
"In or­der to make this op­tion avail­able with the ur­gency and da­ta sup­port that peo­ple with se­vere he­mo­phil­ia A de­serve, we plan to raise the sam­ple size of our reg­is­tra­tional study, Gen­er8-1 with the 6e13 dose to demon­strate ben­e­fits well be­yond pro­phy­lac­tic fac­tor use." said Hank Fuchs, pres­i­dent, world­wide re­search and de­vel­op­ment at Bio­Marin.
The 6e13 vg/kg co­hort saw no spon­ta­neous bleeds and elim­i­na­tion of all bleeds in tar­get joints in the sec­ond year. And 71% and 86% of par­tic­i­pants had ze­ro bleeds re­quir­ing Fac­tor VI­II in­fu­sions in years 1 and 2 re­spec­tive­ly com­pared to 14% who had ze­ro bleeds re­quir­ing Fac­tor VI­II in­fu­sions for a year at base­line. There was a 96% re­duc­tion in mean FVI­II us­age through week 104. Qual­i­ty of life as mea­sured by the six-do­main Haemo-QoL-A in­stru­ment rapid­ly im­proved across all do­mains by up to 17.3 points in mean over base­line through the sec­ond year.
Not­ed Bio­Marin: "This is well above the 5.2 point in­crease con­sid­ered to be the min­i­mal clin­i­cal­ly im­por­tant dif­fer­ence."
An­a­lysts, though, high­light­ed some con­cerns with the ther­a­py's abil­i­ty to keep fac­tor lev­els run­ning at a con­sis­tent lev­el, some­thing no gene ther­a­py de­vel­op­er wants to see. Leerink's Joseph Schwartz picked out some sore points:
In the midst of to­day's up­date, we be­lieve in­vestors will take is­sue with at least 2 points in the da­ta – 1) the grad­ual de­cline in FVI­II lev­els (breach­ing low­er bound of nor­mal on me­di­an FVI­II), and 2) Haemo-QoL gap down – gap up both be­fore and af­ter week 52. To the first point, mgmt. ref­er­enced pre­clin­i­cal ev­i­dence as well as the bi­ol­o­gy of gene ex­pres­sion to sug­gest a sta­ble plateau may have been achieved. Up­on fur­ther ob­ser­va­tion, it ap­pears the ma­jor gap down oc­curred be­tween weeks 78 and 91 lead­ing to the ma­jor­i­ty of pts. ex­hibit­ing nor­mal lev­els of FVI­II (50-150 IU/dL) by week 104. It is not ex­act­ly clear what trig­gered the drop, or whether this de­crease was an anom­aly (e.g., dri­ven by 1-2 pts.); how­ev­er, we would ex­pect to see con­tin­ued per­sis­tence of ~50 IU/dL lev­el in sub­se­quent up­dates po­ten­tial­ly at the Amer­i­can So­ci­ety of Hema­tol­ogy (ASH) by YE18. As for the sud­den drop in Haemo-QoL, mgmt. clar­i­fied that the week 52-78 dy­nam­ic was dri­ven by ex­tra­or­di­nary cir­cum­stances in 1 pt. (in­clud­ing job loss and a pre-planned knee re­place­ment). Over­all, dri­ven by a broad im­pact (i.e., across all six do­mains of the as­sess­ment), mgmt. is op­ti­mistic that the pos­i­tive ef­fects seen across clin­i­cal end­points are al­so ben­e­fit­ing pt. QoL.
Bio­Marin's shares slid 4% mid-day on the wor­ries.
Bio­Marin has high hopes for this ther­a­py, a bell­wether treat­ment in a mix of drugs be­ing po­si­tioned to take the he­mo­phil­ia mar­ket by storm. Its progress on he­mo­phil­ia A comes a year af­ter Pfiz­er struck a pricey deal with Sang­amo to use its zinc fin­ger tech to make a ri­val — though Bio­Marin re­mains well in front. The Sang­amo team dosed their first pa­tient last fall, while Bio­Marin has two years of da­ta on some pa­tients.
In the mean­time, Bio­Marin is wait­ing out the clock on its May 25 PDU­FA dead­line for peg­valiase, which it hopes will soon be­come its 7th mar­ket­ed drug.