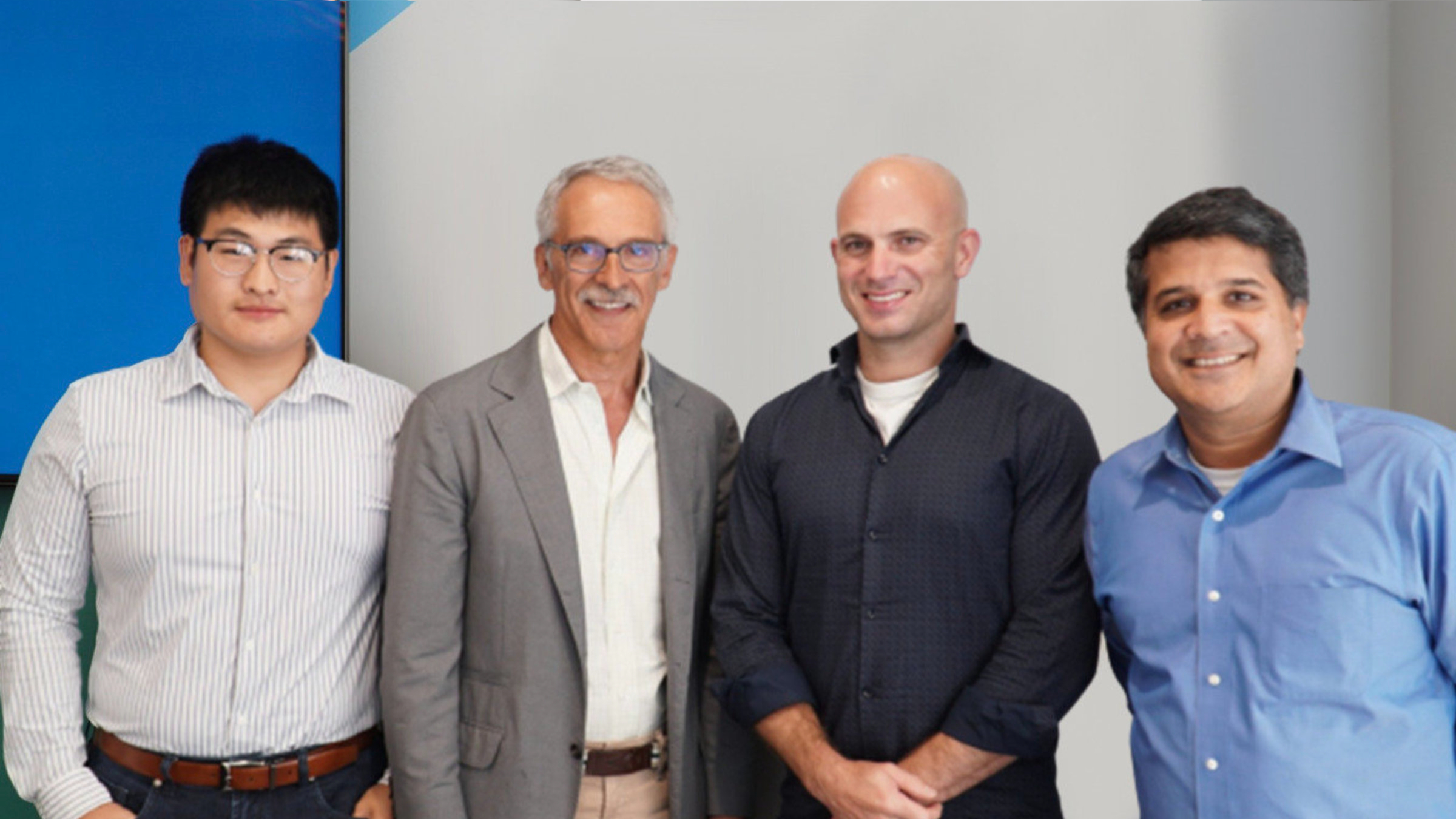 Left to right: Kingson Lin, Kevin Rakin, Seth Herzon and Ranjit Bindra
By ex­ploit­ing the DNA re­pair sys­tem, Yale sci­en­tists want to crack chemother­a­py re­sis­tant brain can­cer
In 2005, Roger Stupp pub­lished an ar­ti­cle in NE­JM, show­ing that adding temo­zolo­mide to ra­dio­ther­a­py ex­tend­ed brain can­cer pa­tients' sur­vival time by 2 months. For a can­cer in which me­di­an sur­vival was usu­al­ly less than a year, that was prac­tice-chang­ing.
Temo­zolo­mide would be added to the first line of chemother­a­pies for glioma pa­tients, and its use along­side ra­di­a­tion would be termed "The Stupp Pro­to­col."
How­ev­er, a large num­ber of pa­tients were un­re­spon­sive to TMZ, and many who were re­spon­sive would go on to de­vel­op re­sis­tance to TMZ.
In a new study pub­lished in Sci­ence, Yale sci­en­tists de­scribe an al­ter­na­tive drug to TMZ that may over­come that re­sis­tance prob­lem. Led by Seth Her­zon and Ran­jit Bindra, they looked specif­i­cal­ly at glioblas­toma cells that are MGMT-de­fi­cient — a bio­mark­er for cells that would re­spond bet­ter to TMZ ini­tial­ly, but de­vel­op re­sis­tance lat­er on.
MGMT is a DNA re­pair pro­tein. It works via a "sui­cide" mech­a­nism, in which it takes away a methyl group from the dam­aged DNA, there­by fix­ing it, but in­ac­ti­vates it­self as a re­sult. On the oth­er hand, once in the body, TMZ breaks down to be­come an alky­lat­ing agent, which means it adds alkyl groups (of which the sim­plest is a methyl group) to the DNA, there­by dam­ag­ing the DNA.
(Last year, sci­en­tists dis­cov­ered that TMZ, once thought to be ex­ceed­ing­ly sta­ble, is al­so high­ly ex­plo­sive, ap­par­ent­ly. It's ten­ta­tive­ly clas­si­fied as a Class 1 ex­plo­sive, putting it in the same zone as dy­na­mite.)
In healthy cells where MGMT works as it should, af­ter TMZ is added, the cells' DNA re­pair sys­tems read­i­ly cor­rect the DNA le­sions. But in MGMT-de­fi­cient tu­mors, those le­sions build up, which trig­gers the cell's mis­match re­pair sys­tem. The MMR sys­tem rec­og­nizes the DNA is dam­aged, and caus­es the tu­mor cells to die.
How­ev­er, the prob­lem is that even­tu­al­ly mu­ta­tions pop up in the MMR path­way it­self, and the tu­mor re­curs.
So Her­zon and Bindra con­ceived an ap­proach that would, like TMZ, dam­age the DNA in glioma cells, but do away with the re­sis­tance once mu­ta­tions hap­pen in the MMR path­way. In their pa­per, they de­scribe one can­di­date, KL-50, which is what's known as an in­ter­strand crosslink­ing (ICL) agent. Es­sen­tial­ly, it slow­ly cre­ates a link be­tween the two strands of DNA — slow enough that healthy cells can re­verse it. But in can­cer cells, the link proves to be tox­ic and caus­es the cell to die.
Her­zon not­ed that ICL agents "in and of it­self [are] not a nov­el find­ing — those types of mol­e­cules are well known in the lit­er­a­ture, and have been used un­suc­cess­ful­ly for decades in the clin­ic. What's unique about our com­pound is that it is, in essence, a cell lines-spe­cif­ic crosslink­ing agent, so it on­ly forms these in­ter­strand crosslinks in an MGMT-de­fi­cient back­ground."
But to healthy cells, "the mol­e­cule is es­sen­tial­ly in­vis­i­ble," Her­zon said.
In ad­di­tion, by us­ing the ICL mech­a­nism, the drug isn't de­pen­dent on the cell's MMR sys­tem.
"We de­signed it in a way so that it would be im­per­vi­ous to re­sis­tance mu­ta­tions that are com­mon with glioma. One of those is mu­ta­tions in mis­match re­pair. With temo­zolo­mide, mis­match re­pair mu­ta­tions ren­der the drug com­plete­ly in­ac­tive," Bindra said. "But we specif­i­cal­ly made these DNA mod­i­fiers in a way that they're im­per­vi­ous to that mu­ta­tion. But they're still de­pen­dent on the loss of MGMT, so they still have that ther­a­peu­tic in­dex."
"It's re­al­ly a new way to ap­proach tu­mor cell re­sis­tance, and al­so again, to ex­ploit the DNA re­pair de­fects," Bindra said.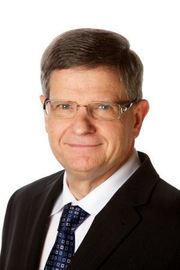 Roger Red­del
How­ev­er, for gliomas, which have his­tor­i­cal­ly been dif­fi­cult to treat, the ju­ry re­mains out on whether such a drug will work. "The new treat­ment looks very good in pre­clin­i­cal stud­ies, es­pe­cial­ly with re­gard to over­com­ing the most com­mon mech­a­nism of re­sis­tance to TMZ, but clin­i­cal tri­als will be re­quired to de­ter­mine whether it is bet­ter," Roger Red­del of the Uni­ver­si­ty of Syd­ney told End­points News in an email.
"GBM is a dif­fi­cult tu­mor for many rea­sons in­clud­ing the way it in­fil­trates sur­round­ing brain tis­sue which means it is dif­fi­cult to re­move com­plete­ly by surgery, and the ex­ten­sive het­ero­gene­ity with­in in­di­vid­ual tu­mors and be­tween tu­mors of the same type. The new ap­proach does not specif­i­cal­ly ad­dress any of these is­sues, but has the po­ten­tial ad­van­tage that it seeks to im­prove one of the few treat­ments that has proven ef­fec­tive," Red­del, who wrote an ac­com­pa­ny­ing ed­i­to­r­i­al on the study in Sci­ence, not­ed.
Bindra and Her­zon, along with co-au­thor King­son Lin, have spun their dis­cov­ery in­to Mod­i­fi Bio, which they launched from stealth to­day.
"As a physi­cian sci­en­tist [who has] ded­i­cat­ed my clin­i­cal ca­reer and the last 10 years treat­ing adult and pe­di­atric brain tu­mors, I think there's a lot of room to move on bio­mark­er-di­rect­ed ther­a­pies, that have re­al­ly been rig­or­ous­ly val­i­dat­ed in vit­ro and in vi­vo to set them up for the great­est chance of suc­cess in the clin­ic," Bindra, who di­rects Yale's brain tu­mor cen­ter, said.
"We've seen so many fail­ures — they say GBM is a grave­yard for ther­a­peu­tics, but I say, if you bring dead drugs to the grave­yard, they're not go­ing to sud­den­ly live," Bindra said.
Their biotech, Mod­i­fi Bio, starts with $6.4 mil­lion in seed fund­ing, which it says will sup­port IND-en­abling stud­ies and en­able it to build out the plat­form that dis­cov­ered KL-50, which Bindra terms a 'DNA mod­i­fi­er.'
No­tably, Roger Stupp al­so sits on Mod­i­fi's ad­vi­so­ry board. Mod­i­fi, de­rived from the Span­ish word 'mod­i­fi­ca­do', hopes to be in Phase I tri­als by 2024, it said.
"The new ap­proach is al­so note­wor­thy be­cause the drug de­sign prin­ci­ple it us­es could be ex­tend­ed to oth­er tu­mor types with dif­fer­ent DNA re­pair de­fi­cien­cies," Red­del al­so not­ed.
Durham-based Chimerix is an­oth­er biotech tak­ing the bio­mark­er-based ap­proach to gliomas. It bought On­co­ceu­tics last year, and is test­ing its can­di­date in re­cur­rent gliomas with an H3 K27M mu­ta­tion.