Can No­vo's block­buster push on obe­si­ty drug semaglu­tide suc­ceed where oth­ers failed?
An­a­lysts have some high ex­pec­ta­tions for No­vo Nordisk's weight drug semaglu­tide, but they're no high­er than the ones held by No­vo's ex­ec­u­tive team.
Pegged as a po­ten­tial $2.2 bil­lion drug in 5 years in one re­cent as­sess­ment, No­vo ex­ecs dur­ing Wednes­day's Q2 call re­viewed the Phase II obe­si­ty da­ta they had nailed down in June, out­lin­ing plans for a loom­ing Phase III that they be­lieve can show their GLP-1 drug can knock off up to around 15% of an obese per­son's weight rel­a­tive to place­bo.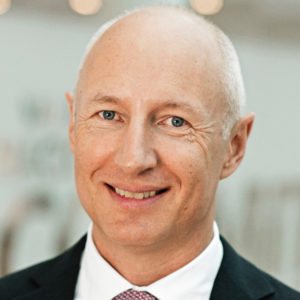 Lars Fruer­gaard Jor­gensen
In the mid-stage study, re­searchers tracked an av­er­age 17.8 kilo­gram (39 pound) weight loss from an av­er­age base­line weight of 111 ki­los, or 244 pounds, for all the pa­tients in the drug arm who com­plet­ed the one-year tri­al. That's a 16.2% weight loss in the drug group, com­pared to 2.3% in the place­bo arm.
Their oth­er weight drug Sax­en­da is gen­er­al­ly re­lied on to knock off 5% to 10% of a per­son's weight, mark­ing this new drug's po­ten­tial to set a "new ef­fi­ca­cy stan­dard for an­ti-obe­si­ty med­i­cines," in the words of R&D chief Mads Krogs­gaard Thom­sen in the call.
Five years ago a group of new weight drugs were wind­ing their way through the FDA ap­proval process. They made it, af­ter clear­ing some high hur­dles for drugs aim­ing at a big mar­ket, but the com­mer­cial re­cep­tion for the mar­gin­al weight loss they could be ex­pect­ed to de­liv­er was aw­ful. Are­na bailed on Ei­sai, leav­ing it with Belviq, Take­da dropped out of their Orex­i­gen pact and ri­val Vivus was left sell­ing Qsymia with a hand­ful of reps, with rev­enue falling.
No­vo thinks much bet­ter ef­fi­ca­cy can as­sure re­al suc­cess, and the phar­ma com­pa­ny is plan­ning to mount a new and even more am­bi­tious roll­out, if the Phase II da­ta hold up.
Sig­nif­i­cant­ly, No­vo is al­so re­ly­ing on a good safe­ty pro­file so far in obe­si­ty, with­out any ev­i­dence of reti­nal dis­ease, which has popped up in their di­a­betes study.
CEO Lars Fruer­gaard Jor­gensen al­so con­firmed that they are tak­ing the high­er, once-week­ly dos­es in­to Phase III, which will launch next year. In his words:
Yes, so we ba­si­cal­ly plan to con­duct a three, as you cor­rect­ly stat­ed, us­ing a once week­ly ap­pli­ca­tion and as we have done al­so in type two di­a­betes in more than 8,000 in­di­vid­u­als. The ba­sis for cal­cu­lat­ing the dose is ob­vi­ous­ly the usu­al ben­e­fit/risk as­sess­ment and since there were no un­ex­pect­ed risks or ad­verse events or side ef­fects as­so­ci­at­ed with semaglu­tide oth­er than those re­lat­ed to GLP-1 ag­o­nists ther­a­py, it's ob­vi­ous that we will go to­wards the high­er end of the dose range.

And I can in­form you that go­ing in­to more de­tail that at both the high­est dos­es, 1.3 and 1.4, we are speak­ing to the tune of 15 to 17 plus kilo­gram weight loss af­ter a 1-year treat­ment in those pa­tients who com­plete. So that is what we are ex­pect­ing. And Sax­en­da in that very tri­al per­formed like it should do, giv­en the kind of ef­fi­ca­cy lev­el that we have seen in the SCALE stud­ies. So this is a new lev­el of ef­fi­ca­cy which is why we are al­ready now plan­ning for the Phase III pro­gram.
This time around No­vo says it can be dif­fer­ent. And it could use a new block­buster now as the di­a­betes mar­ket un­der­goes some marked changes.