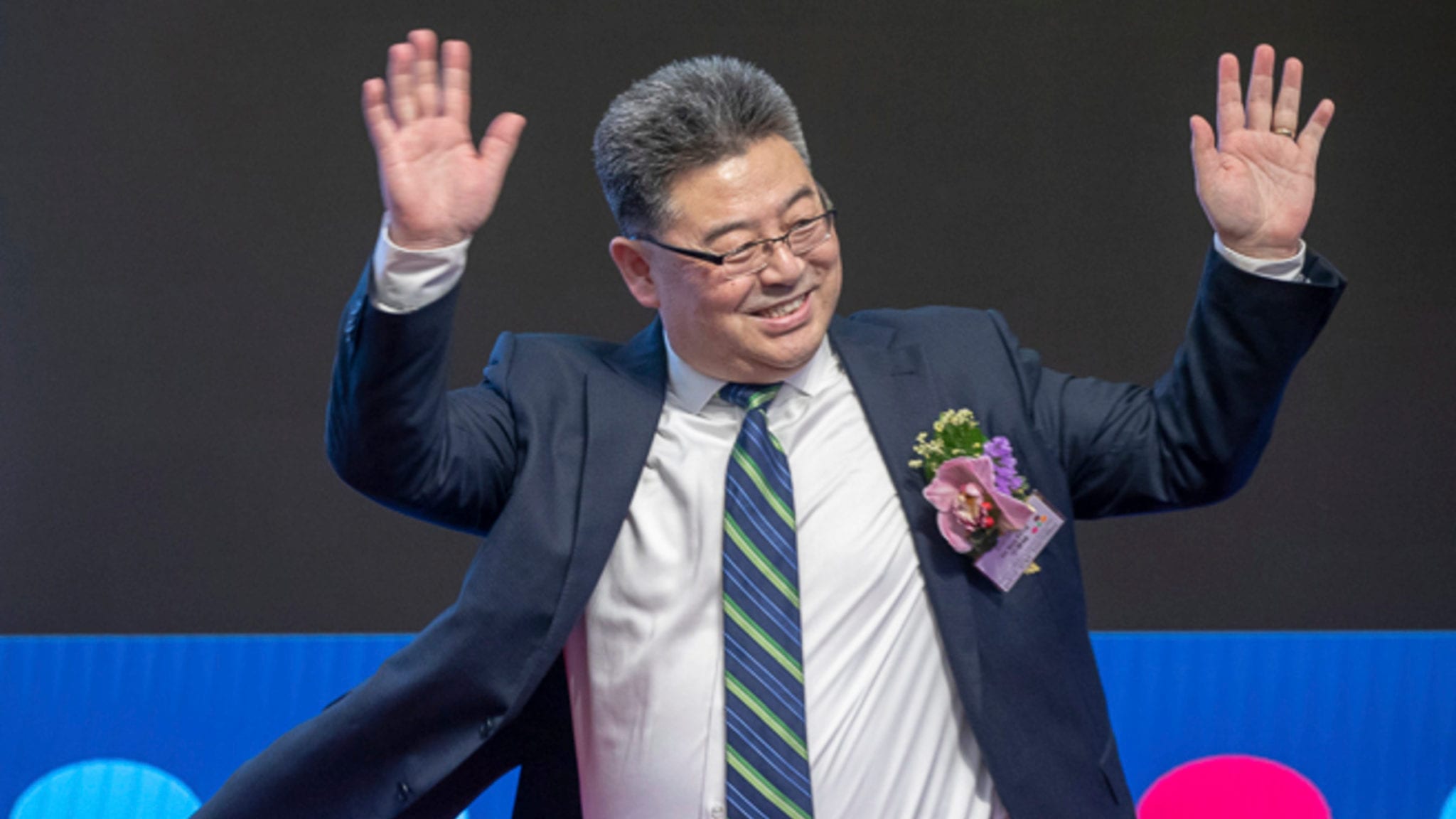 Xuefeng Yu in Hong Kong, 2019 (Imaginechina via AP Images)
CanSi­no reaps $748M wind­fall from Shang­hai IPO — as it warns Covid-19 vac­cine won't be a huge mon­ey mak­er
CanSi­no be­gan the year with a clear goal to se­cure a sec­ondary list­ing on Shang­hai's STAR mar­ket. Then some­thing more ur­gent came along: As a ris­ing vac­cine de­vel­op­er on a mis­sion to bring glob­al stan­dard im­mu­niza­tions to Chi­na, it heed­ed the call to make a vac­cine to pro­tect against a virus that would par­a­lyze the whole world.
Xue­feng Yu and his team man­aged to keep do­ing both.
More than a month af­ter CanSi­no's Covid-19 vac­cine can­di­date is au­tho­rized for mil­i­tary use in Chi­na, the Hong Kong-list­ed com­pa­ny has made a roar­ing de­but in Shang­hai. It fetched $748 mil­lion (RMB$5.2 bil­lion) by float­ing 24.8 mil­lion shares, and soared 88% on its first trad­ing day.
At RMB$209.71 apiece, it's the sec­ond most ex­pen­sive IPO ever on the nascent tech board, ac­cord­ing to the South Chi­na Morn­ing Post.
In open­ing the STAR mar­ket last year, Shang­hai's stock ex­change fol­lowed its Hong Kong coun­ter­part's foot­steps. By low­er­ing the list­ing re­quire­ments to ac­com­mo­date pre-rev­enue tech and biotech com­pa­nies, both bours­es are look­ing to lure do­mes­tic up­starts back from Nas­daq.
It's not un­com­mon for STAR stocks to jump dra­mat­i­cal­ly or even dou­ble up­on their de­buts. In fact, CanSi­no closed at a low­er price than ex­pect­ed.
"The first-day gain turned out to be small­er than traders ex­pect­ed be­cause of wor­ries about frothy val­u­a­tions on the over­all A-share mar­ket," Ivan Li, a mon­ey man­ag­er at Shang­hai-based Loy­al Wealth Man­age­ment, told SCMP. "But in­vestors still have con­fi­dence in the stock and its vac­cines in the pipeline."
Covid-19 has de­layed clin­i­cal plans for its ear­li­er-stage vac­cines, CanSi­no re­port­ed in its prospec­tus, which are can­di­dates de­signed to pro­tect against pneu­mo­coc­cal dis­eases as well as diph­the­ria, tetanus and per­tus­sis.
Mean­while, lo­gis­ti­cal trou­bles are still stalling the plan to test the coro­n­avirus vac­cine, Ad5-nCoV, in Cana­da. With po­lit­i­cal ten­sion and spec­u­la­tion run­ning high, CanSi­no has turned to Sau­di Ara­bia to kick off its first Phase III test — like all the oth­er Chi­nese vac­cine mak­ers, it's opt­ing to do late-stage stud­ies in places where in­fec­tions are still wide­spread.
Even if the Phase III re­sults are pos­i­tive, though, don't ex­pect it to be a mon­ey mak­er. CanSi­no not­ed that the Chi­nese gov­ern­ment might be tak­ing con­trol of pric­ing and sup­ply as well as ex­ports, lead­ing to a low­er prof­it mar­gin than oth­er prod­ucts.
An Ebo­la vac­cine de­vel­oped with a sci­en­tist from Chi­na's army — who's al­so a col­lab­o­ra­tor on the Covid-19 pro­gram — re­mains the on­ly ap­proved prod­uct in CanSi­no's port­fo­lio. Two meningo­coc­cal vac­cines are now un­der reg­u­la­to­ry re­view.
The com­pa­ny wrote that it's build­ing a sales and mar­ket­ing team, with the goal be­ing to ex­pand from the cur­rent 20-plus to 100 by the end of 2020.