UP­DAT­ED: J&J vac­ci­na­tions re­sume as FDA, CDC con­fi­dent in ben­e­fit-risk pro­file
The FDA and CDC on Fri­day evening lift­ed the pause on J&J vac­ci­na­tions af­ter de­cid­ing that a very rare but some­times fa­tal side ef­fect does not change the fact that the vac­cine's known and po­ten­tial ben­e­fits still out­weigh the risks.
FDA al­so up­dat­ed the fact sheets for vac­cine re­cip­i­ents and providers to note the risk of blood clots and low lev­els of platelets, known as throm­bo­sis with throm­bo­cy­tope­nia syn­drome (TTS).
"Most cas­es of throm­bo­sis with throm­bo­cy­tope­nia re­port­ed fol­low­ing the Janssen COVID-19 Vac­cine have oc­curred in fe­males ages 18 through 49 years; some have been fa­tal," a sec­tion on page three of the 24-page fact sheet for health providers says. FDA added a sim­i­lar line to the up­dat­ed fact sheet for re­cip­i­ents and care­givers, al­though in this up­date, the agency did not men­tion that the side ef­fect could be fa­tal.
Some pub­lic health of­fi­cials raised con­cerns over the week­end that US of­fi­cials were down­play­ing the risks.
I re­spect @NI­HDi­rec­tor very much. How­ev­er, I dis­agree with him strong­ly @Meet­The­P­ress.

The risk in women <50 of TTS (the se­vere clot­ting dis­or­der) af­ter J&J is 1:80,000. This is low, but not the same risk of light­en­ing strik­ing. What's more, mR­NA vac­cines do not car­ry this risk. https://t.co/BKj4gT5vEi

— Leana Wen, M.D. (@Dr­LeanaWen) April 25, 2021
The de­ci­sion to restart the vac­ci­na­tions fol­lows a CDC ad­vi­so­ry com­mit­tee's vote ear­li­er Fri­day that made the same rec­om­men­da­tion and stopped short of re­strict­ing its use for spe­cif­ic pop­u­la­tions.
J&J and FDA worked out the de­tails of the warn­ing ear­li­er in the day, ac­cord­ing to J&J's pre­sen­ta­tion Fri­day, and J&J cau­tioned the com­mit­tee against re­strict­ing use of the vac­cine.
The CDC said Fri­day that it has now spot­ted 15 cas­es of TTS, among about 8 mil­lion re­ceiv­ing the vac­cine. Those 15 cas­es in­clude three deaths (up from one death from last week), sev­en peo­ple hos­pi­tal­ized, four of whom are in in­ten­sive care, and five peo­ple dis­charged.
Tom Shimabukuro, deputy di­rec­tor of the CDC's Im­mu­niza­tion Safe­ty Of­fice, al­so not­ed about 10 oth­er pos­si­ble cas­es of TTS are un­der in­ves­ti­ga­tion.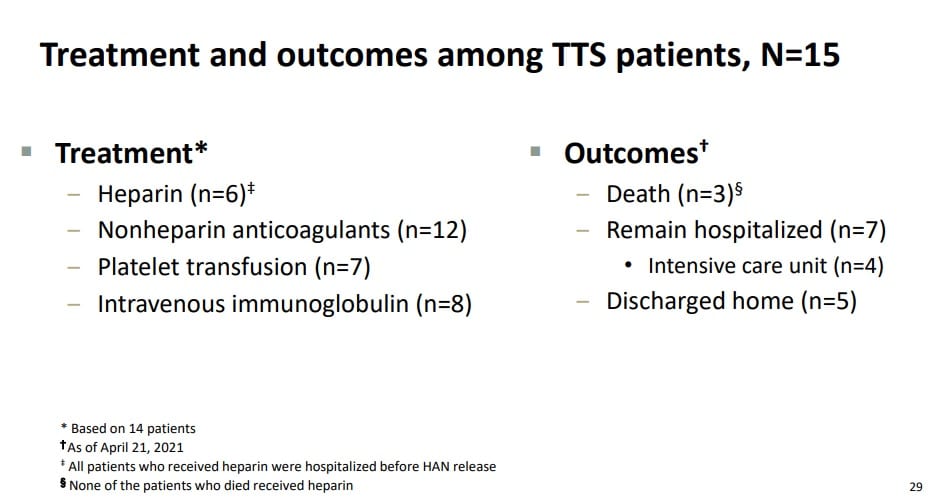 The fea­tures of TTS ap­pear sim­i­lar to what is be­ing ob­served in rare in­stances fol­low­ing the As­traZeneca Covid-19 vac­cine in Eu­rope, Shimabukuro added, echo­ing com­ments made ear­li­er this week when the Eu­ro­pean Med­i­cines Agency added a warn­ing to its J&J Covid vac­cine la­bel due to TTS.
But un­like the EU, the US cur­rent­ly has plen­ti­ful and avail­able quan­ti­ties of both of the mR­NA vac­cines from Mod­er­na and Pfiz­er, which may change the ben­e­fit-risk sce­nario for J&J vac­cines in the US.
CDC mod­el­ing on Fri­day showed that even if the FDA restart­ed vac­ci­na­tions with the J&J shot in all age cat­e­gories im­me­di­ate­ly, the avail­able dos­es would on­ly speed up US vac­ci­na­tions for all in­tend­ing to do so by about two weeks (from 74 days to 88 days af­ter Fri­day).
But physi­cians at the meet­ing al­so not­ed the im­por­tance of hav­ing a sin­gle-shot vac­cine in their ar­ma­men­tar­i­um for unique pop­u­la­tions like those who are home­less, home-bound or mi­grant and sea­son­al com­mu­ni­ties.