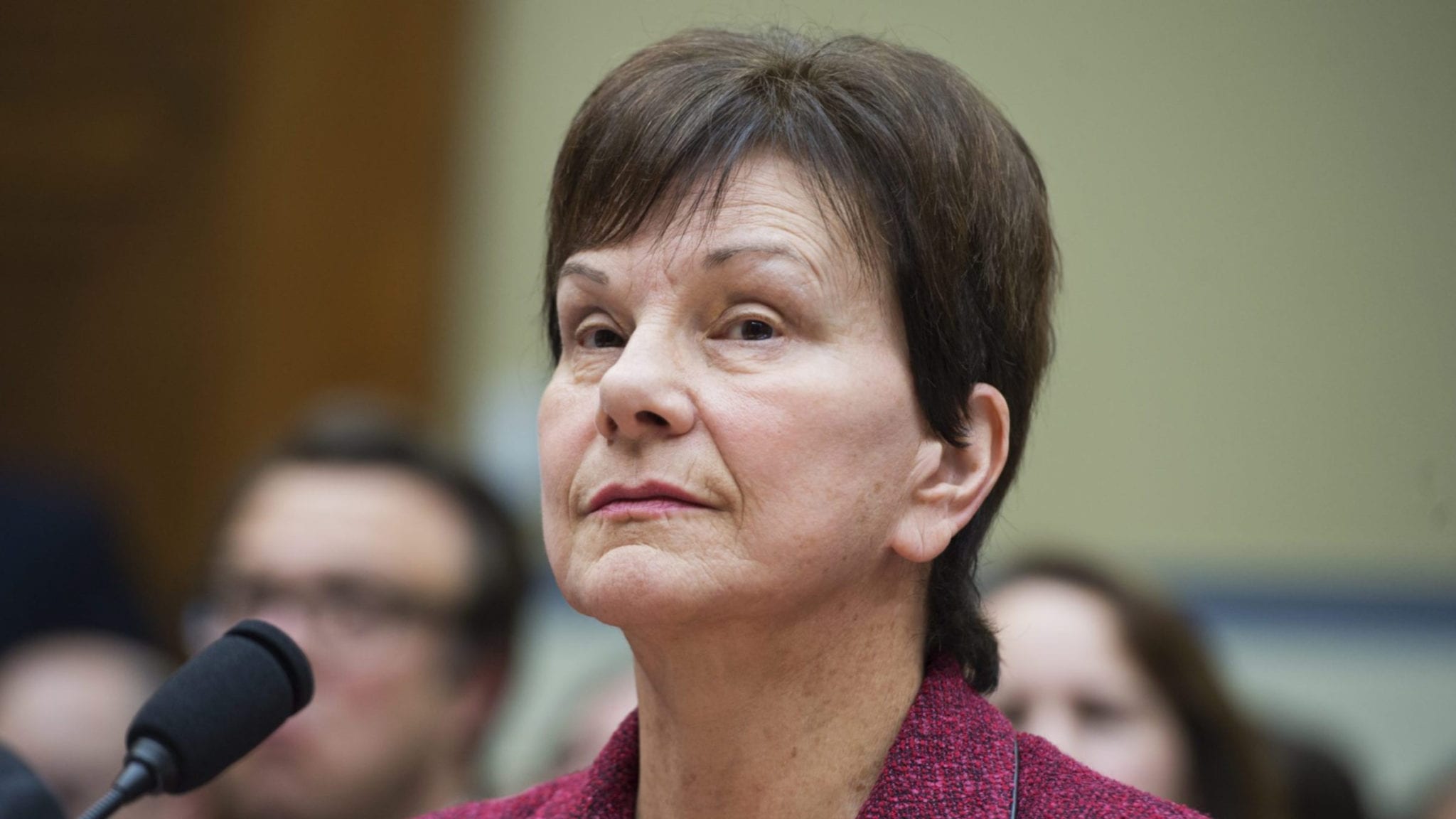 Janet Woodcock, director of the Center for Drug Evaluation and Research (Tom Williams/CQ Roll Call via AP Images)
CDER's Janet Wood­cock: Phar­ma, reg­u­la­tors have lessons to learn from Covid-19
When phar­ma­ceu­ti­cal com­pa­nies, health care lead­ers and reg­u­la­tors fi­nal­ly get a chance to de­brief and pull lessons learned from the coro­n­avirus pan­dem­ic, a chief take­away may re­volve around the many missed re­search op­por­tu­ni­ties. How­ev­er, learn­ings from Covid-19 may one day lead to nov­el tri­al de­sign and in­creased co­op­er­a­tion among these play­ers promise a bet­ter path for­ward when speed and safe­ty need equal con­sid­er­a­tion. This mes­sage was among many shared by a lead­ing reg­u­la­tor in a 9 No­vem­ber au­dio in­ter­view with ed­i­tors at the New Eng­land Jour­nal of Med­i­cine (NE­JM).
Janet Wood­cock, the long­time di­rec­tor of the FDA's Cen­ter for Drug Eval­u­a­tion and Re­search, stepped away from that role to par­tic­i­pate in Op­er­a­tion Warp Speed (OWS), the gov­ern­ment's coro­n­avirus treat­ment and ther­a­peu­tics ac­cel­er­a­tor. In con­ver­sa­tion with NE­JM's ed­i­tor-in-chief, Er­ic Ru­bin, deputy ed­i­tor Lind­sey Baden, and ex­ec­u­tive man­ag­ing ed­i­tor Stephen Mor­ris­sey, Wood­cock shared her unique per­spec­tive as a reg­u­la­tor-turned-drug de­vel­op­er dur­ing the pan­dem­ic.
The prob­lem with an EUA
Though emer­gency use au­tho­riza­tions (EUAs) are ap­pro­pri­ate when a nov­el dis­ease like Covid-19 strikes – in the case when, said Wood­cock, "our hands are emp­ty" – the ear­ly de­ploy­ment of a ther­a­py or vac­cine in­to the com­mu­ni­ty means "that it can be dif­fi­cult to con­tin­ue to do the re­search you need to do," she said.
Ide­al­ly, the de­ploy­ment of each EUA should have been a re­search op­por­tu­ni­ty: "They should have ran­dom­ized the first pa­tient…We'd be in a bet­ter sit­u­a­tion of un­der­stand­ing" more about which pop­u­la­tions ben­e­fit and what the true ef­fec­tive­ness is of the ther­a­pies au­tho­rized to date, she said. The RE­COV­ERY tri­al in the UK, an adap­tive, re­al-world ran­dom­ized tri­al that is yield­ing on­go­ing in­for­ma­tion about Covid-19 an­tivi­rals and ther­a­peu­tics, is an achiev­able ex­am­ple of how to col­lect high-qual­i­ty da­ta dur­ing clin­i­cal care.
When is there enough ev­i­dence gath­ered from these sources to war­rant the is­suance of an EUA? "To your ques­tion, this is a clas­sic dilem­ma for peo­ple with very se­ri­ous ill­ness, which is how much cer­tain­ty do you want to have, ver­sus the per­il of a mor­tal ill­ness," not­ed Wood­cock.
What tri­als are oc­cur­ring world­wide are dis­ag­gre­gat­ed and small, not­ed Wood­cock, with the cur­rent es­ti­ma­tion of OWS be­ing that on­ly about 5% of ther­a­peu­tics tri­als will yield ev­i­dence high enough for pub­lish­able stud­ies. OWS has at­tempt­ed to over­come some of the het­ero­gene­ity and da­ta qual­i­ty is­sues by form­ing a "da­ta lake" for big da­ta analy­sis.
In reg­u­lar In­ter­na­tion­al Coali­tion of Med­i­cines Reg­u­la­to­ry Au­thor­i­ties (ICM­RA) calls in­volv­ing reg­u­la­tors for up to 50 coun­tries, Wood­cock said, "I've pre­sent­ed the da­ta on the world­wide tri­als and the lack of ac­tion­able tri­als, and I think every­one is on the same page about this and there will be an op­por­tu­ni­ty for … the med­ical ecosys­tem world­wide to come to­geth­er and say, 'We can do bet­ter.' We can have a more co­or­di­nat­ed and co­he­sive re­sponse."
Go­ing for­ward, hope for co­op­er­a­tion and in­no­va­tion
Asked about the best way for stake­hold­ers to be well po­si­tioned in terms of in­fra­struc­ture and sci­en­tif­ic ap­proach the next time a rapid­ly spread­ing in­fec­tion chal­lenges the globe, Wood­cock point­ed to the promise of ad­just­ing clin­i­cal tri­al de­sign. "For a long time, I've been a pro­po­nent of mas­ter pro­to­cols and plat­form tri­als," she said. "I think we need to have things like that set up and ready to go. They can cer­tain­ly build re­al­ly valu­able in­for­ma­tion about stan­dard of care dur­ing the pan­dem­ic," she said. "And we al­so need some agree­ment amongst in­ves­ti­ga­tors."
What's more, though gov­ern­ment needs to take the lead in mov­ing tri­als along, it's vi­tal that phar­ma­ceu­ti­cal com­pa­nies par­tic­i­pate as well. Aca­d­e­m­ic-led tri­als are ide­al in that they are freer from po­ten­tial con­flicts of in­ter­est, but aca­d­e­m­ic med­ical cen­ters lack in­fra­struc­ture to run large, well-de­signed tri­als at speed, said Wood­cock. When re­search­ing a com­mon ill­ness like Covid-19 dur­ing a pan­dem­ic, there is the ad­di­tion­al prob­lem that "many of these pa­tients are in the com­mu­ni­ty, so they don't have an op­por­tu­ni­ty to par­tic­i­pate in tri­als," she not­ed. The reach that phar­ma­ceu­ti­cal com­pa­nies can achieve with con­tract re­search or­ga­ni­za­tions can over­come some of these hur­dles.
"I think the prob­lem right now is aca­d­e­m­ic tri­als are felt to be slow and clunky," and of­ten have da­ta col­lec­tion is­sues re­lat­ed to slow ac­cru­al and low num­bers. Speak­ing some­what tongue in cheek, Wood­cock said she's adopt­ed a quote from epi­demi­ol­o­gist Mar­tin Landry and dubbed it "Landry's Rule": "The num­ber of pa­tients en­rolled is in­verse­ly pro­por­tion­al to the num­ber of pro­fes­sors."
At OWS, said Wood­cock, "We are lever­ag­ing the aca­d­e­m­ic net­works, but we're try­ing to bring in a tremen­dous amount of in­fra­struc­ture sup­port," though even with all the sup­port OWS has af­ford­ed, there have still been prob­lems with slow site ac­ti­va­tion and en­roll­ment, she ac­knowl­edged.
Asked about her per­spec­tive now that she's tak­en off her reg­u­la­tor hat and is see­ing phar­ma­ceu­ti­cal de­vel­op­ment from the oth­er side of the fence, Wood­cock said, "I al­so ap­pre­ci­ate from this side the pres­sure the com­pa­nies are un­der to get things done, and get things out there, and how there's con­stant pres­sure here that a lot of peo­ple don't un­der­stand; they think we should just have these ther­a­pies out there."
---
RAPS: First pub­lished in Reg­u­la­to­ry Fo­cus™ by the Reg­u­la­to­ry Af­fairs Pro­fes­sion­als So­ci­ety, the largest glob­al or­ga­ni­za­tion of and for those in­volved with the reg­u­la­tion of health­care prod­ucts. Click here for more in­for­ma­tion.