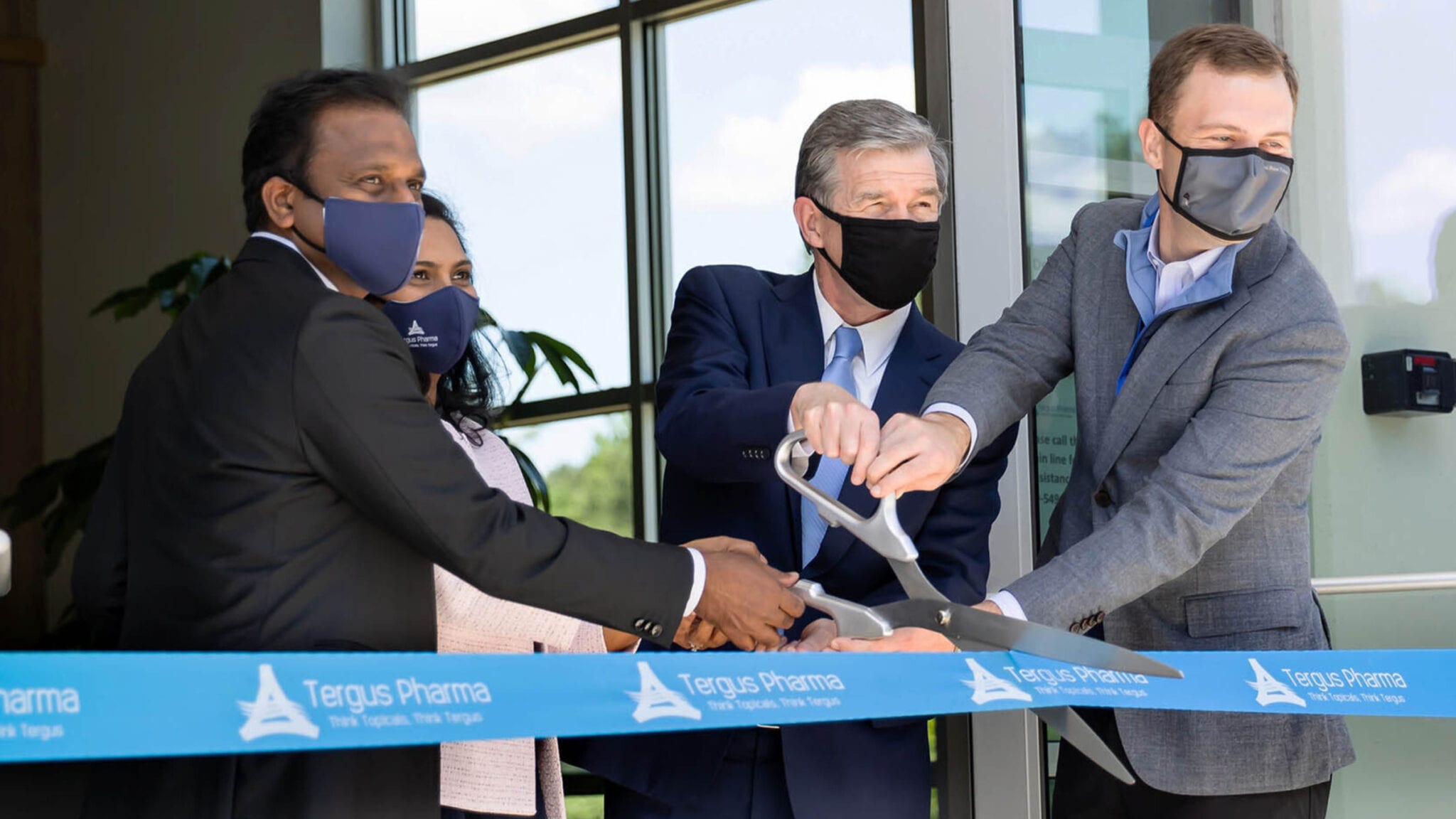 Tergus ribbon cutting ceremony
CD­MO Ter­gus cuts the rib­bon on Durham plant, lat­est in a line of com­pa­nies pack­ing in­to the emerg­ing NC hub
Among the fastest-grow­ing biotech hubs in the US, North Car­oli­na has seen a flur­ry of in­vest­ments from drug­mak­ers, par­tic­u­lar­ly con­tract man­u­fac­tur­ers. Now, an­oth­er CD­MO is plant­i­ng its flag near the Raleigh-Durham cor­ri­dor, lever­ag­ing the grow­ing brain trust in the area.
This week, Ter­gus Phar­ma cut the rib­bon on a 100,000-square-foot head­quar­ters and CD­MO fa­cil­i­ty in Durham, NC. The new fa­cil­i­ty will house four R&D labs, six man­u­fac­tur­ing suites and six fill-fin­ish and pack­ag­ing suites. The com­pa­ny's goal is lofty: be­come the largest top­i­cal drug CD­MO in the US.
The Tar Heel State has turned in­to a re­cruit­ment ma­chine for the biotech in­dus­try — and that's not an ac­ci­dent, Gov. Ray Coop­er said at the rib­bon cut­ting cer­e­mo­ny.
"When you look at the syn­er­gy that we have in biotech­nol­o­gy here in North Car­oli­na, you know that we are the place to be. When you look at the qual­i­ty of life, when you look at the amaz­ing work­force, when you see our great uni­ver­si­ties both pub­lic and pri­vate, along with our com­mu­ni­ty col­leges, you know that this is the place to be," he said.
Ear­li­er this week, Chi­nese on­col­o­gy play­er CARs­gen Ther­a­peu­tics threw its hat in­to the North Car­oli­na ring, with the an­nounce­ment of two new sites in Raleigh-Durham, and the cre­ation of its first man­u­fac­tur­ing hub in the US. In April, In­vi­tae chose North Car­oli­na over Wash­ing­ton, DC; Boston; and Austin, Texas, drawn by the life sci­ences com­mu­ni­ty that In­vi­tae COO Ken Knight said will be easy to tap in­to for em­ploy­ees, and a need for a lo­ca­tion on the east coast of the US.
Be­fore that, CD­MO Abzena an­nounced the ad­di­tion of a new fa­cil­i­ty, and Fu­ji­film Diosynth and Bio­gen too. Those are just the deals that have been an­nounced with­in the last two months.
"We're on a hot streak, folks," Coop­er said at the Ter­gus cer­e­mo­ny. "And it's go­ing to keep go­ing as long as we can keep the tal­ent­ed work­force avail­able for com­pa­nies like this that are grow­ing and thriv­ing in North Car­oli­na."