Cel­gene scores an­oth­er win for megablock­buster con­tender ozan­i­mod, but it's haunt­ed by key dis­abil­i­ty miss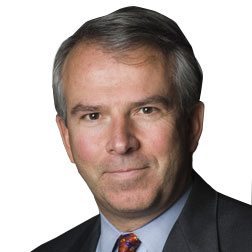 Bob Hug­in, Cel­gene
Cel­gene post­ed an­oth­er key Phase III suc­cess for its megablock­buster con­tender ozan­i­mod, once again un­der­scor­ing its po­ten­tial to dis­rupt the mul­ti­ple scle­ro­sis field.
In­ves­ti­ga­tors held back the da­ta, but ozan­i­mod beat Avonex in re­duc­ing the an­nu­al­ized rate of re­laps­ing and re­mit­ting MS. And that will be added to the ear­li­er promis­ing Phase III re­sults be­ing pack­aged for an FDA ap­pli­ca­tion lat­er in the year.
There was, how­ev­er, a po­ten­tial­ly big hitch this time around. Cel­gene's drug did not demon­strate a dis­abil­i­ty ben­e­fit over Avonex on a pooled ba­sis, which will like­ly blunt its com­mer­cial prospects. Said Baird's Bri­an Sko­r­ney:
Though the mar­ket doesn't seem to be re­act­ing to this, we're dis­ap­point­ed by the lack of ef­fect on dis­abil­i­ty pro­gres­sion, as a stat-sig ef­fect would have been a key dif­fer­en­tia­tor from Gilenya, which is set to go gener­ic in 2019.
Ever­core ISI's Umer Raf­fat flagged it ear­ly.
As we dis­cussed in our deep dive cou­ple of weeks ago, we had found in­vestor ex­pec­ta­tions around the dis­abil­i­ty end­point to be a bit mis­placed be­cause Gilenya's da­ta nev­er demon­strat­ed an ex­tra­or­di­nary stat sig dis­abil­i­ty ben­e­fit over an ac­tive com­para­tor like Avonex … and as per CELG press re­lease, rate of dis­abil­i­ty pro­gres­sion was very low in the tri­als.
Cel­gene picked up this drug in its $7.2 bil­lion Re­cep­tos buy­out. Not on­ly did it hit the pri­ma­ry end­point in the lat­est Phase III show­down, it al­so scored on the key sec­ondary end­points of the "num­ber of new or en­larg­ing T2 MRI le­sions over 24 months of treat­ment com­pared to Avonex and the num­ber of gadolin­i­um-en­hanc­ing MRI le­sions at 24 months of treat­ment com­pared to Avonex."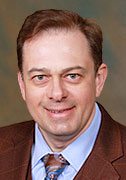 Bruce Cree
"The re­sults of the phase III RA­DI­ANCE tri­al con­firm the da­ta ob­served in SUN­BEAM and are con­sis­tent with the long-term phase II RA­DI­ANCE tri­al," said Bruce Cree, as­so­ciate pro­fes­sor of neu­rol­o­gy, Mul­ti­ple Scle­ro­sis Cen­ter, Uni­ver­si­ty of Cal­i­for­nia, San Fran­cis­co. "The sig­nif­i­cant ef­fects seen with ozan­i­mod on re­lapse and MRI out­comes, in­clud­ing brain vol­ume loss, cou­pled with the safe­ty and tol­er­a­bil­i­ty pro­file ob­served in the two phase III tri­als, rep­re­sent an ex­cit­ing ad­vance­ment for a dis­ease which needs ad­di­tion­al oral ther­a­pies with fa­vor­able ben­e­fit-risk pro­files."
The sto­ry, though, has a long way to go be­fore Cel­gene can claim to­tal vic­to­ry. MS is a fast-chang­ing field with new ther­a­pies like Roche's Ocre­vus com­ing in to shake things up. Big fran­chise drugs like Tec­fidera have been fal­ter­ing and Cel­gene's Phase III da­ta will be close­ly and care­ful­ly ex­am­ined to see how it stacks up against grow­ing com­pe­ti­tion.
The ju­ry is still out on whether or not this is a game chang­er. For one thing, Cel­gene is al­so de­vel­op­ing the drug for in­flam­ma­to­ry bow­el dis­ease. Adds Raf­fat:
From my per­spec­tive, one of the most impt dri­vers of com­mer­cial up­take for ozan­i­mod will de­pend on whether Gilenya is gener­ic in 2019 or not. I think there is re­al­is­tic chance that Gilenya is brand­ed be­yond 2019 … there are impt Gilenya patents that have not been vet­ted by the Street.
Cel­gene's ex­ec­u­tive chair­man Bob Hug­in staked the com­pa­ny's rep­u­ta­tion on this drug's abil­i­ty to hit $4 bil­lion to $6 bil­lion in an­nu­al rev­enue.
Be­fore Cel­gene got a chance to buy this drug, then Te­va CEO Je­re­my Levin got a shot at it. That deal, though, fell through, leav­ing Te­va to push ahead with laquin­i­mod, which just failed a Phase III in MS, blight­ing its hopes for a suc­ces­sor to Co­pax­one.
To­day, as Te­va works on re­struc­tur­ing its op­er­a­tions, more than one ex­ec is like­ly to be won­der­ing about what may have hap­pened if that deal had gone through.