Cel­gene's $710M deal on mon­gersen im­plodes as Phase III Crohn's study flops
Cel­gene's $710 mil­lion cash roll of the dice on the in­flam­ma­to­ry bow­el dis­ease drug mon­gersen (GED-301) has come up snake eyes.
The big biotech $CELG an­nounced Thurs­day evening that it is ter­mi­nat­ing the Phase III on Crohn's af­ter it failed to pass muster in an in­ter­im fu­til­i­ty analy­sis. An­oth­er planned Phase III study is be­ing scrapped, and the team there will make a fi­nal de­ter­mi­na­tion if there's any fu­ture left for this drug af­ter they com­plete an analy­sis of Phase II da­ta on ul­cer­a­tive col­i­tis.
Cel­gene's stock plunged 7% on the news, tear­ing out a $7 bil­lion-plus chunk of its mar­ket cap.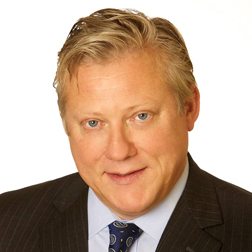 Scott Smith, Cel­gene
Cel­gene COO Scott Smith presided over the brief last rites, say­ing that "while we are dis­ap­point­ed with the re­sults of RE­VOLVE, we re­main com­mit­ted to ad­vanc­ing our port­fo­lio of nov­el med­i­cines for pa­tients suf­fer­ing from this dis­ease and oth­er in­flam­ma­to­ry bow­el dis­or­ders."
Al­most ex­act­ly three years ago to the day, the biotech spelled out promis­ing mid-stage da­ta for Crohn's, ex­plain­ing why Cel­gene's then CEO (now ex­ec­u­tive chair­man) Bob Hug­in had com­mit­ted to a deal worth up to $2.6 bil­lion with the lit­tle known Irish com­pa­ny No­gra.
Leerink's Ge­of­frey Porges wrote it off as an un­for­tu­nate out­come trig­gered by an in­ex­pe­ri­enced team of deal­mak­ers at Cel­gene who rushed in­to this three years ago with way too much mon­ey up front. Notes Porges:
This dis­ap­point­ment is like­ly to cost the com­pa­ny up to $2bn in long-term rev­enue, and up to 4-5% in val­ue; it is al­so a painful re­minder of the costs of a "shots on goal" ap­proach to busi­ness de­vel­op­ment, and the per­ils of heav­i­ly front-loaded in­vest­ments in­to cat­e­gories where the or­ga­ni­za­tion lacks tech­ni­cal and com­mer­cial ex­per­tise.
The com­pa­ny now will shift all of its fo­cus to ozan­i­mod af­ter of­fer­ing a peek at the Phase II re­sults for Crohn's and ul­cer­a­tive col­i­tis post­ed at the World Con­gress of Gas­troen­terol­o­gy at ACG2017 in Or­lan­do.
For Cel­gene, the mon­gersen deal helped il­lus­trate its will­ing­ness to bet big on clin­i­cal-stage as­sets. Mon­gersen is the biotech's most ad­vanced ex­per­i­men­tal drug in its in­flam­ma­tion and im­munol­o­gy pipeline, where the com­pa­ny had high hopes for some block­buster break outs.
This one proved an ex­pen­sive fail­ure.