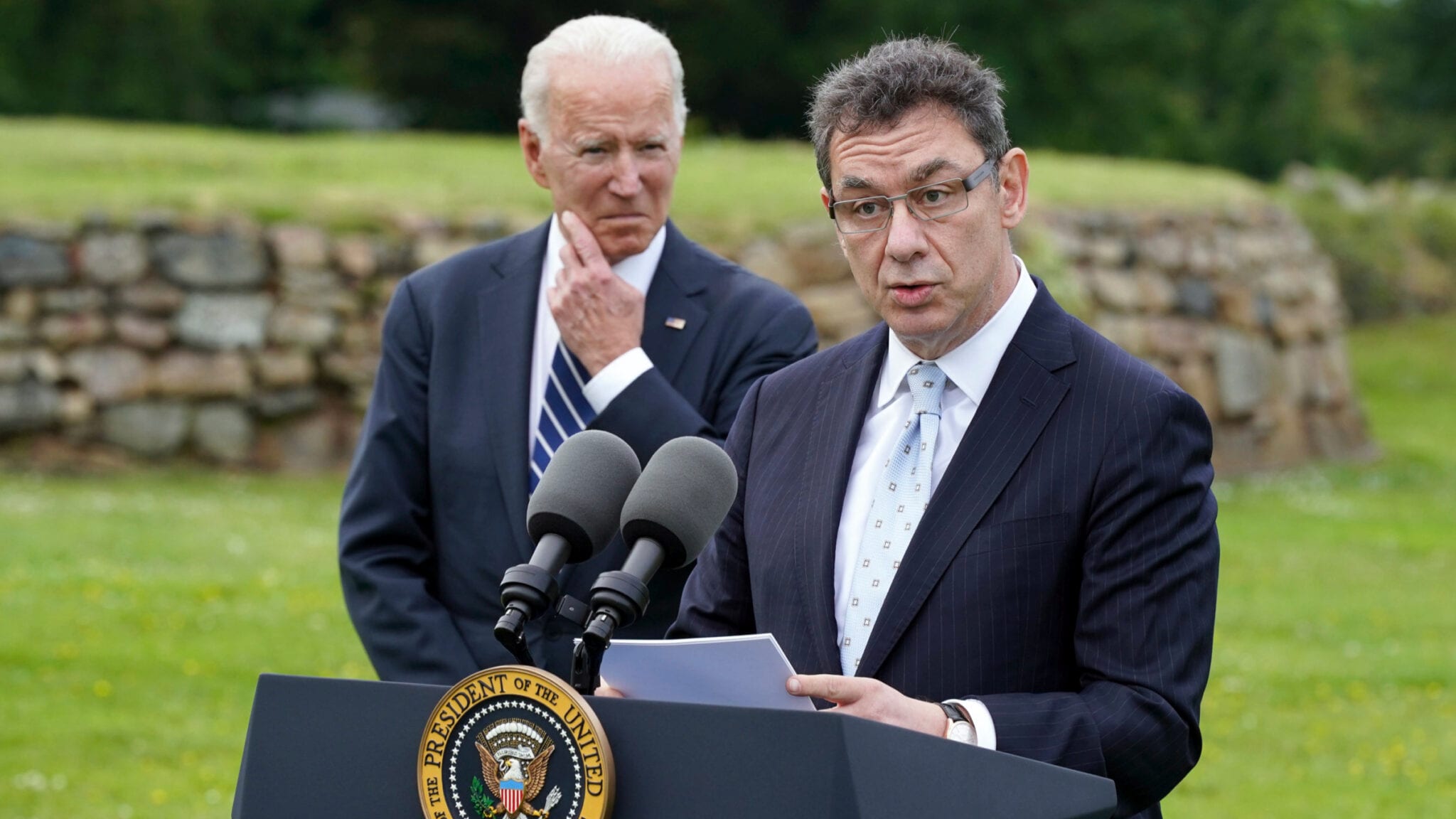 President Biden and Pfizer CEO Albert Bourla (Patrick Semansky/AP Images)
Chaot­ic ad­comm sees Pfiz­er/BioN­Tech boost­ers re­ject­ed for gen­er­al pop­u­la­tion, but rec­om­mend­ed for old­er and high-risk pop­u­la­tions
With just days be­fore Pres­i­dent Joe Biden's Covid-19 boost­er roll­out is set to go in­to ef­fect, an FDA ad­vi­so­ry com­mit­tee ap­peared on the verge of not rec­om­mend­ing boost­ers for any­one in the US be­fore a last-minute change of word­ing laid the ground­work for old­er adults to have ac­cess to a third dose.
The FDA's ad­comm on Vac­cines and Re­lat­ed Bi­o­log­i­cal Prod­ucts (VRB­PAC) round­ly re­ject­ed Pfiz­er/BioN­Tech boost­er shots for all in­di­vid­u­als old­er than 16 by a 16-2 vote Fri­day af­ter­noon. Soon af­ter, how­ev­er, the agency posed com­mit­tee mem­bers a new ques­tion lim­it­ing boost­er use to the 65-and-old­er pop­u­la­tion and in­di­vid­u­als at high risk of dis­ease due to oc­cu­pa­tion­al ex­po­sure or co­mor­bidi­ties.
That ques­tion, com­ing rough­ly 45 min­utes af­ter the first, passed through the ad­comm with a unan­i­mous 18-0 vote. This vote cen­tered on an emer­gency use au­tho­riza­tion — not the sup­ple­men­tal BLA for which Pfiz­er had ap­plied.
And at the end of the hear­ing, CBER di­rec­tor Pe­ter Marks asked the pan­el to take an "in­for­mal poll" on whether health-care work­ers and oth­ers at high risk of "oc­cu­pa­tion­al ex­po­sure" be in­clud­ed in the EUA. Here, the pan­el al­so gave a unan­i­mous 18-0 yes.
Af­ter the votes, Pfiz­er vac­cine chief Kathrin Jansen said in a state­ment that the com­pa­ny would con­tin­ue to push for boost­ers in the gen­er­al pop­u­la­tion.
"These da­ta, and the larg­er body of sci­en­tif­ic ev­i­dence pre­sent­ed at the meet­ing, un­der­score our be­lief that boost­ers will be a crit­i­cal tool in the on­go­ing ef­fort to con­trol the spread of this virus," Jansen said in an emailed state­ment to End­points News. "We thank the com­mit­tee for their thought­ful re­view of the da­ta and will work with the FDA fol­low­ing to­day's meet­ing to ad­dress the com­mit­tee's ques­tions, as we con­tin­ue to be­lieve in the ben­e­fits of a boost­er dose for a broad­er pop­u­la­tion."
Sev­er­al ad­comm mem­bers not­ed through­out the dis­cus­sion pe­ri­od that they'd be open to rec­om­mend­ing boost­ers for small­er high-risk pop­u­la­tions, prompt­ing pan­el chair Arnold Mon­to to ask Marks for mul­ti­ple clar­i­fi­ca­tions on the orig­i­nal, broad vot­ing ques­tion. The ques­tion, re­leased late Thurs­day night, asked whether or not the safe­ty and ef­fi­ca­cy da­ta from Pfiz­er/BioN­Tech's orig­i­nal Phase III study "sup­port­ed ap­proval" of a boost­er at least six months af­ter the sec­ond dose in those aged 16 and up.
But Mon­to asked if Marks would al­low pan­el mem­bers to con­sid­er da­ta from oth­er re­al-world stud­ies in their votes, to which Marks said the com­mit­tee would be al­lowed to con­sid­er the "to­tal­i­ty of the da­ta." Then, Mon­to want­ed to know if the ques­tion could be mod­i­fied to al­low com­mit­tee mem­bers to vote on a nar­row­er pop­u­la­tion.
Marks once again an­swered in the af­fir­ma­tive but, in an ex­tra­or­di­nary ex­change, re­ceived sig­nif­i­cant push­back from top vac­cine of­fi­cial Mar­i­on Gru­ber who not­ed that Pfiz­er's sub­mis­sion cov­ered all in­di­vid­u­als old­er than 16. Gru­ber, along with an­oth­er top vac­cine staffer, Philip Krause, an­nounced their in­tent to re­tire last month af­ter rais­ing con­cerns with boost­ers in the Lancet.
Mon­to then al­lowed Pfiz­er to make a five-minute clos­ing state­ment that was not on the agen­da, in which com­pa­ny ex­ecs pushed for the com­mit­tee to vote on the orig­i­nal ques­tion.
Ob­servers crit­i­cized the FDA in the im­me­di­ate wake of the first vote, pos­ing what they said was an in­flex­i­ble ques­tion giv­en some da­ta has shown the ben­e­fits of boost­ers out­weigh the risk in old­er pop­u­la­tions. Scripps Re­search di­rec­tor Er­ic Topol blast­ed the agency, say­ing the first ques­tion "was set up to fail" in es­sen­tial­ly ask­ing for da­ta that are not yet avail­able.
The vote ques­tion was set up to fail, call­ing for a blan­ket ap­proval for all age 16+ (re­lat­ed to ag­gres­sive Pfiz­er EUA re­quest). How could that pos­si­bly be vot­ed for in fa­vor when such broad da­ta do not ex­ist any­where?
Of course, the vote was 16 to 3 against. pic.twit­ter.com/8aNB7o2k4E

— Er­ic Topol (@Er­ic­Topol) Sep­tem­ber 17, 2021
Through­out the af­ter­noon, pan­elists had ex­pressed se­vere reser­va­tions about rec­om­mend­ing boost­ers for every­one old­er than 16, par­tic­u­lar­ly giv­en the un­known safe­ty risks in young boys and men with re­gards to my­ocardi­tis. It's an is­sue that harkened back to the orig­i­nal vac­cine ad­comm as well, when pan­elists took is­sue with ap­prov­ing vac­cines for 16- and 17-year-olds.
"I was struck by the FDA's com­ments on the to­tal­i­ty of da­ta giv­en there's more da­ta com­ing soon on safe­ty for my­ocardi­tis," pan­el mem­ber Hay­ley Gans said af­ter the first vote. "It feels like a missed op­por­tu­ni­ty when they con­sid­er these [datasets] large enough even when we have da­ta we could have looked at … it feels like we're mak­ing de­ci­sions when there's still da­ta out there."
Af­ter the first vote con­clud­ed with a re­sound­ing no, FDA of­fi­cials re­turned to com­mit­tee mem­bers with a new ques­tion. Rather than fo­cus on the en­tire gen­er­al pop­u­la­tion, reg­u­la­tors posed the fol­low­ing ques­tion:
Based on the to­tal­i­ty of sci­en­tif­ic ev­i­dence avail­able, in­clud­ing the safe­ty and ef­fec­tive­ness da­ta from clin­i­cal tri­al C4591001, do the known and po­ten­tial ben­e­fits out­weigh the known and po­ten­tial risks of a Pfiz­er-BioN­Tech Covid-19 vac­cine boost­er dose ad­min­is­tered at least 6 months af­ter com­ple­tion of the pri­ma­ry se­ries for use in:
a) In­di­vid­u­als 65 years of age and old­er, and
b) In­di­vid­u­als at high risk of se­vere Covid-19
It's here where the ma­jor­i­ty of pan­elists seemed to agree, giv­ing the EUA their thumbs up rec­om­men­da­tion.
The ad­comm start­ed off bright and ear­ly at 8:30 a.m. East­ern, with Mon­to wel­com­ing view­ers to the livestream. Af­ter a brief in­tro­duc­tion he soon hand­ed things off to Marks who, in a strik­ing move, di­rect­ed pan­el mem­bers to fo­cus con­ver­sa­tions on the sci­ence rather than con­cerns over vac­cine eq­ui­ty or "op­er­a­tional is­sues re­lat­ed to a boost­er cam­paign."
Marks' com­ments came against the back­drop of Gru­ber and Krause's res­ig­na­tions. The two al­so co-au­thored an ar­ti­cle in the Lancet this week as­sert­ing boost­er dos­es for the gen­er­al pop­u­la­tion are not ap­pro­pri­ate at this stage in the pan­dem­ic, and Gru­ber — who spoke dur­ing the in­tro­duc­tion — not­ed this would like­ly be her last ad­comm ap­pear­ance.
An­oth­er co-au­thor to that pa­per, British sta­tis­ti­cian Jonathan Sterne, gave a pre­sen­ta­tion ear­ly in the ses­sion on the top­ic of "con­found­ables," or vari­ables that can in­tro­duce or pre­dict both vac­ci­na­tion and Covid-19 out­comes in re­al-world stud­ies. Sterne's dis­cus­sion drew wide praise among ob­servers on so­cial me­dia, rais­ing ques­tions over how dif­fi­cult it is to de­ter­mine whether wan­ing vac­cine im­mu­ni­ty is pri­mar­i­ly a re­sult of the shots be­com­ing less ef­fec­tive or the Delta vari­ant's surge.
Do your­self a fa­vor and look at these awe­some slides from Jonathan Sterne pre­sen­ta­tion at FDA to­day on in­ter­pret­ing ob­ser­va­tion­al vac­cine stud­ies. Great pre­sen­ta­tion and il­lus­tra­tions with open­safe­ly da­ta.https://t.co/M6XVN­wOQXX pic.twit­ter.com/GdI­ISt­GHIK

— Aaron Richter­man, MD (@Aaron­Richter­man) Sep­tem­ber 17, 2021
BOOST­ERS: Dr. Jonathan Sterne's slide from VRB­PAC on how 2-dose vac­cines pro­vide per­sis­tent pro­tec­tion from se­vere dis­ease in stud­ies where delta vari­ant is cir­cu­lat­ing. For me, the de­bate on boost­ers can be di­vid­ed in­to 2 lines of re­search: im­muno­log­ic & epi­demi­o­log­ic pic.twit­ter.com/8Tus6B4vls

— Mon­i­ca Gand­hi MD, MPH (@Mon­ica­Gand­hi9) Sep­tem­ber 17, 2021
If VE study ti­tles were hon­est (from Jonathan Sterne's #VRB­PAC pre­sen­ta­tion) pic.twit­ter.com/omqAA­JEnf4

— Dr. Lind­sey Nicole Shultz (@lshultz82) Sep­tem­ber 17, 2021
Sand­wich­ing Sterne were da­ta pre­sen­ta­tions from the CDC and Is­raeli health of­fi­cials, who de­scribed how the pan­dem­ic had pro­gressed in their coun­tries. The Is­raeli pre­sen­ta­tion al­so in­clud­ed da­ta from re­al-world stud­ies dur­ing the coun­try's Delta surge, which proved no­table giv­en the FDA's writ­ten ques­tion to pan­el mem­bers asked sole­ly about Pfiz­er's Phase III study.
Soon af­ter came the heavy hit­ters: Pfiz­er and the FDA. Much of the ar­gu­ments as­sert­ed here matched up with how they each in­ter­pret­ed the da­ta in the brief­ing doc­u­ments re­leased ear­li­er this week. In a mi­nor point of con­tention dur­ing the hear­ing, Mon­to cut off Pfiz­er's pre­sen­ter who went over his al­lot­ted time when try­ing to re­it­er­ate find­ings from Is­raeli stud­ies.
Af­ter these pre­sen­ta­tions and the open com­ment pe­ri­od, pan­elists be­gan their Q&A ses­sion with Pfiz­er and the FDA. The first ques­tion de­liv­ered some fire­works, with Gru­ber giv­ing Krause the op­por­tu­ni­ty to ques­tion Pfiz­er on the sta­tis­ti­cal mod­els used in a re­al-world study in Is­rael.
Krause claimed there was a dis­crep­an­cy be­tween the ef­fi­ca­cy Pfiz­er re­port­ed us­ing a spe­cif­ic mod­el, which said ef­fi­ca­cy af­ter 8 months fell to 58% to 61%, but num­bers cal­cu­lat­ed through a dif­fer­ent math­e­mat­i­cal process us­ing cas­es per per­son-years re­sult­ed in 93% ef­fi­ca­cy. These dis­parate fig­ures, Krause said, came from the same num­ber of cas­es in a study by Cal­i­for­nia health care com­pa­ny Kaiser Per­ma­nente.
When giv­en time to re­spond, how­ev­er, Pfiz­er be­gan ex­pe­ri­enc­ing tech­ni­cal dif­fi­cul­ties. Ex­ecs from the Big Phar­ma os­ten­si­bly had three mi­cro­phone lines open at the same time, per the ad­comm's tech­ni­cal mod­er­a­tor, prompt­ing an un­sched­uled break to fix the is­sue. Af­ter the feed re­turned, Mon­to moved the pan­el on to the next ques­tion.
Pan­elists con­tin­ued pep­per­ing Pfiz­er with ques­tions about the risks of my­ocardi­tis in younger pa­tients and whether Pfiz­er should tai­lor its boost­er shots to spe­cif­ic vari­ants. Ques­tions al­so arose about how Is­raeli of­fi­cials have clas­si­fied se­vere Covid-19, with the CDC pre­sen­ter say­ing they use a loos­er de­f­i­n­i­tion than the Unit­ed States.
Then things moved to the dis­cus­sion pe­ri­od when things start­ed to grow more chaot­ic. Ul­ti­mate­ly, the pan­el land­ed on rec­om­mend­ing an EUA for in­di­vid­u­als 65 and old­er and at high risk for se­vere Covid-19. The ball now moves back to the FDA's court, and it's not im­me­di­ate­ly clear how long it will take for the agency to make an EUA de­ci­sion.
For a look at all End­points News coro­n­avirus sto­ries, check out our spe­cial news chan­nel.