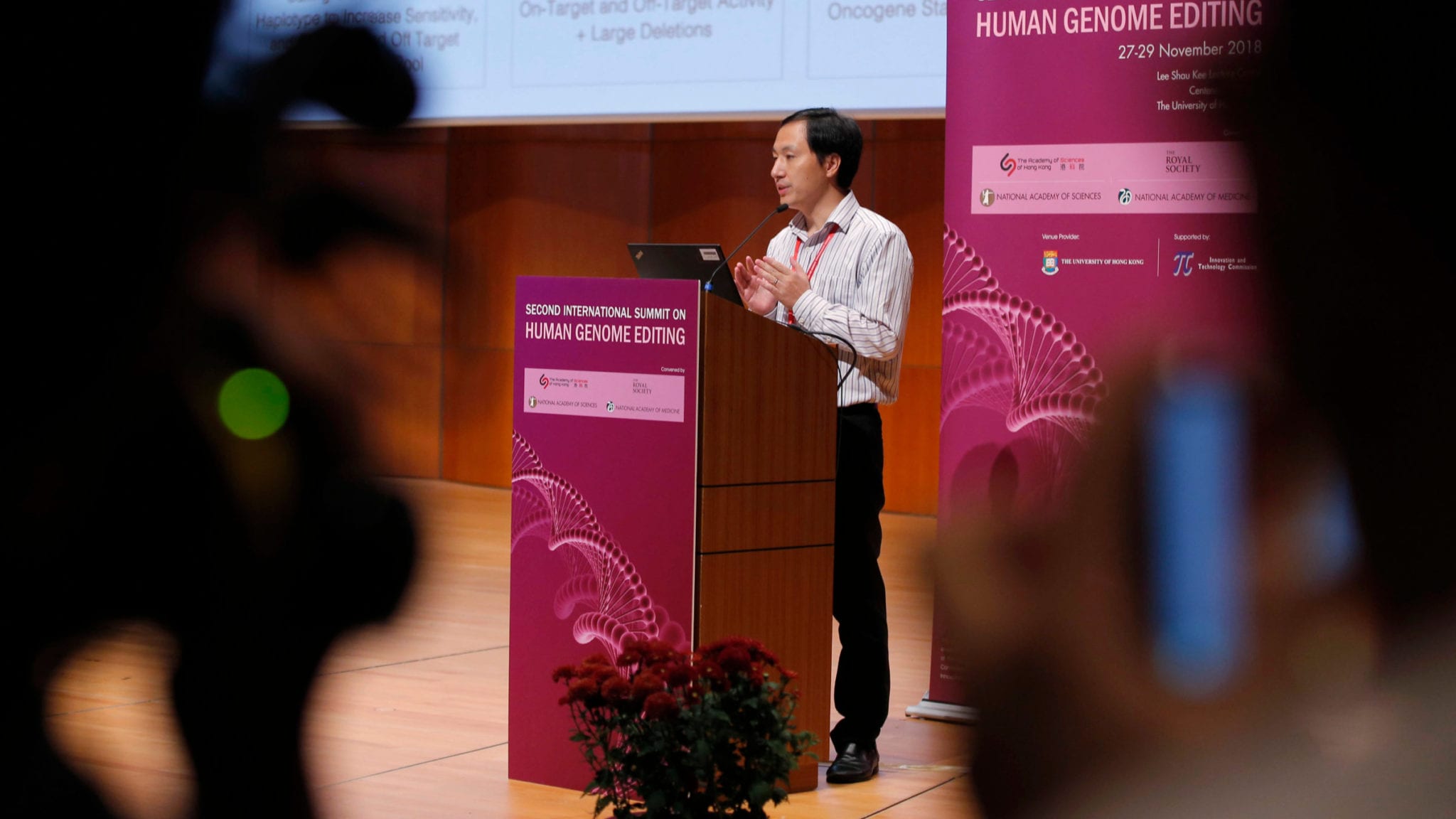 Jiankui He at the International Summit on Human Genome Editing, November 2018. (AP Images)
Chi­nese court sen­tences Jiankui He to 3 years in jail — and con­firms birth of 3rd CRISPR ba­by
A year af­ter shock­ing the world with the rev­e­la­tion that the world's first CRISPR gene edit­ed ba­bies had been born, Jiankui He is go­ing to jail for three years.
The ini­tial tri­al found He — a for­mer pro­fes­sor at the South­ern Uni­ver­si­ty of Sci­ence and Tech­nol­o­gy in Shen­zhen who hadn't been seen pub­licly for months — guilty of il­lic­it­ly prac­tic­ing med­i­cine along­side two oth­er re­searchers who as­sist­ed him in "il­le­gal­ly ex­e­cut­ing hu­man em­bryo edit­ing and re­pro­duc­tive med­ical ac­tiv­i­ties with re­pro­duc­tive pur­pos­es," ac­cord­ing to state news agency Xin­hua. The trio were al­so fined about $640,000 (RMB$4.5 mil­lion) col­lec­tive­ly.
He's con­tro­ver­sial ex­per­i­ment in­volved re­cruit­ing HIV pos­i­tive men and their wives for an IVF pro­ce­dure in which the sperm were "washed" and the em­bryo was ge­net­i­cal­ly tin­kered to in­ac­ti­vate the CCR5 gene — as one par­tic­u­lar mu­ta­tion, Δ32, had been tied to pro­tec­tion against the virus. While de­fend­ing his ac­tions at a Hong Kong con­fer­ence last No­vem­ber, He said the pro­tec­tion can free the chil­dren of stig­ma as­so­ci­at­ed with HIV.
A to­tal of three ba­bies, in­clud­ing twin girls with the pseu­do­nyms Lu­lu and Nana , were born as a re­sult. While He had made it clear that a third preg­nan­cy was un­der­way, the birth wasn't con­firmed un­til to­day.
Sci­en­tists, bioethi­cists, biotech ex­ec­u­tives and re­search in­sti­tu­tions from around the world have since torn his case to pieces, ques­tion­ing every­thing from the med­ical need and the con­sent process to tech­ni­cal flaws and spot­ty da­ta.
The sen­tence af­firmed on­ly some of those wor­ries, no­tably find­ing that He and his as­so­ciates forged doc­u­ments of eth­i­cal ap­proval.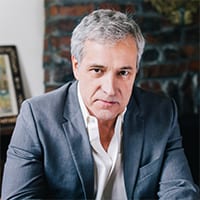 William Hurl­but
William Hurl­but, a Stan­ford bioethi­cist who has talked to He about his work, de­scribed it as a sad sto­ry in which every­one — He, his young fam­i­ly with a 1-year-old and a 3-year-old, his col­leagues, and his coun­try — lost. But it's al­so awak­ened the world to "the se­ri­ous­ness of our ad­vanc­ing ge­net­ic tech­nolo­gies."
"Re­gard­ing the ver­dict, that is a ju­di­cial is­sue and I am not fa­mil­iar with Chi­nese law on these mat­ters," he wrote in a state­ment pro­vid­ed to End­points News. "Hav­ing said that, it is im­por­tant to re­al­ize that he did not act alone and re­ceived con­sid­er­able en­cour­age­ment and co­op­er­a­tion in his project—both with­in Chi­na and in­ter­na­tion­al­ly. It would be a mis­take to con­sid­er what he did to be dri­ven sim­ply by self­ish goals of fame and for­tune. I talked with him at great length and I can as­sure you that he al­so had strong­ly ide­al­is­tic mo­tives in what he was try­ing to do—and be­lieved he would bring hon­or to his na­tion."
He con­tin­ued:
This means that we must take the oc­ca­sion not just to mete out pun­ish­ment, but to ini­ti­ate a se­ri­ous in­ter­na­tion­al dis­cus­sion about how to guide and gov­ern the ap­pli­ca­tion of our emerg­ing biotech­nol­o­gy.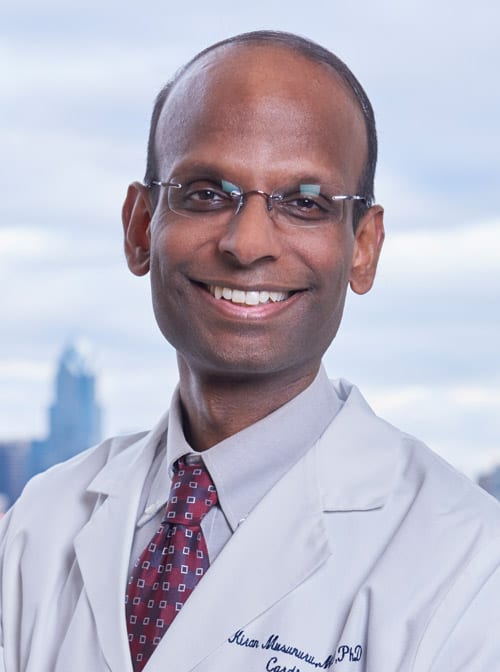 Ki­ran Musunuru
While He's sen­tence was longer than the oth­er two (Yin­li Zhang was sen­tenced to 2 years in jail and fined $140,000 while Jinzhou Qin gets 1 year and 6 months and $72,000 in fines), it ap­pears to be a "rel­a­tive­ly light sen­tence" ac­cord­ing to Ki­ran Musunuru, a gene edit­ing ex­pert at the Uni­ver­si­ty of Penn­syl­va­nia and a co-founder of Verve Ther­a­peu­tics.
"Ap­par­ent­ly the max­i­mum sen­tence un­der Chi­nese law is 10 years of jail — but it's ac­tu­al­ly in line with the max­i­mum penal­ties for vi­o­lat­ing the U.S. Food, Drug, and Cos­met­ic Act which to me seems like the clos­est par­al­lel in U.S. law," he wrote to End­points News.
The Peo­ple's Court of Nan­shan Dis­trict of Shen­zhen ruled that He, Qin and Zhang or­ga­nized mul­ti­ple pre-IVF checks for prospec­tive par­ents, in­ject­ed gene edit­ing reagents banned in clin­i­cal set­tings in­to fer­til­ized em­bryos and tricked un­know­ing hos­pi­tal per­son­nel in­to im­plant­i­ng the em­bryos for preg­nan­cies. In do­ing so, their ac­tions verged be­yond sci­en­tif­ic ex­per­i­ments and should be con­sid­ered med­ical. Fur­ther­more, they al­so vi­o­lat­ed reg­u­la­tions that pro­hib­it­ed IVF pro­ce­dures for any­one with se­ri­ous her­i­ta­ble dis­eases (HIV in this case) and ethics guide­lines for­bid­ding the edit­ing of hu­man em­bryos.
Xin­hua re­port­ed that the case was tried in pri­vate on De­cem­ber 27 af­ter the procu­ra­torate (Chi­na's pros­e­cu­tion and in­ves­ti­ga­tion body) pros­e­cut­ed on Ju­ly 31. He, Qin and Zhang pled guilty in court, per CCTV News.
The whole de­ba­cle be­gan in March 2017, the re­port stat­ed, when He au­tho­rized Qin — an em­bryo cul­ture tech­ni­cian and cell re­searcher at Lu­o­hu Hu­man Hos­pi­tal — to search for eight cou­ples with HIV-pos­i­tive hus­bands. They al­leged­ly arranged for some­one to stand in for six of them dur­ing med­ical tests as they wouldn't oth­er­wise be el­i­gi­ble for IVF. He then asked Zhang, a re­searcher at the Guang­dong Peo­ple's Hos­pi­tal, to forge eth­i­cal as­sess­ment doc­u­ments and lat­er in­ject CRISPR reagents they ob­tained from over­seas to fer­til­ized em­bryos from six cou­ples.
Ap­par­ent­ly be­tween May and June in 2018, the team al­so arranged for the oth­er two cou­ples to fly to Thai­land for em­bryo im­plan­ta­tion. One of the cou­ples' em­bryos got CRISPR'd but the surgery failed to re­sult in a preg­nan­cy.
News of the ex­per­i­ment leaked in late No­vem­ber 2018 just as He was fi­nal­iz­ing a painstak­ing­ly planned pub­lic de­but of what he clear­ly as­sumed was a cel­e­brat­ed land­mark achieve­ment. In­stead, his em­ploy­er and coun­try prompt­ly dis­owned him and it elicit­ed a mael­strom of crit­i­cism high­light­ing fears that un­bri­dled hu­man em­bryo edit­ing could be dan­ger­ous from a sci­en­tif­ic, eth­i­cal, and so­ci­etal per­spec­tive.
Calls for a bind­ing glob­al mora­to­ri­um on hu­man clin­i­cal germline ex­per­i­men­ta­tion were made by a cadre of sci­en­tists, in­clud­ing those who orig­i­nal­ly de­vel­oped CRISPR/Cas9 as a gene edit­ing tool, un­til the safe­ty of the tech­nique has been es­tab­lished and a con­sen­sus on ac­cept­able use has been reached. The NIH sup­port­ed the call and a group of biotech ex­ecs fol­lowed suit.
Glob­al­ly, guide­lines vary wide­ly about the ex­tent (or lack there­of) of germline re­search — in­tro­duc­ing her­i­ta­ble changes to sperm, eggs or em­bryos — is per­mit­ted. Some re­gions ban it al­to­geth­er; some al­low lab re­search but not preg­nan­cies (like in the UK); while oth­ers have no poli­cies. In the US, the NIH does not fund germline re­search, but pri­vate fund­ing is sanc­tioned.
As part of guide­lines in­tro­duced in 2003, Chi­na re­quires projects that in­volve gene edit­ing to so­lic­it the ap­proval of ethics com­mit­tees be­fore they can be sanc­tioned. How­ev­er, those reg­u­la­tions pro­hib­it the im­plan­ta­tion of ge­net­i­cal­ly tweaked em­bryos in­to women or oth­er species. Fol­low­ing He's eth­i­cal­ly du­bi­ous ex­per­i­ment, Chi­na up­dat­ed its draft reg­u­la­tions this Feb­ru­ary.
De­spite the unan­i­mous con­dem­na­tion, some in­clud­ing Musunuru ar­gue that He's pa­pers should be pub­lished for the sci­en­tif­ic record and to keep oth­er rogue sci­en­tists in check. But that might seem even more un­like­ly now.
"In the Xin­hua an­nounce­ment about the jail sen­tence, it's stat­ed that the sci­en­tists will be on a 'black list' and will have 'life-long bans from var­i­ous types of sci­en­tif­ic re­search projects for fi­nan­cial sup­port' — hard to know ex­act­ly what that means, but it sug­gests to me that they won't be per­mit­ted to go back to do­ing sci­ence, which would make it hard for them to ever pub­lish their work in le­git­i­mate peer-re­viewed jour­nals," Musunuru, who chron­i­cled the scan­dal in a book ti­tled The CRISPR Gen­er­a­tion, wrote.
Of­fi­cials told Xin­hua that the health au­thor­i­ties have com­mit­ted to fol­low-up vis­its and check­ups for all the ba­bies un­der their guardians' con­sent.
---
With con­tri­bu­tion by Na­tal­ie Grover