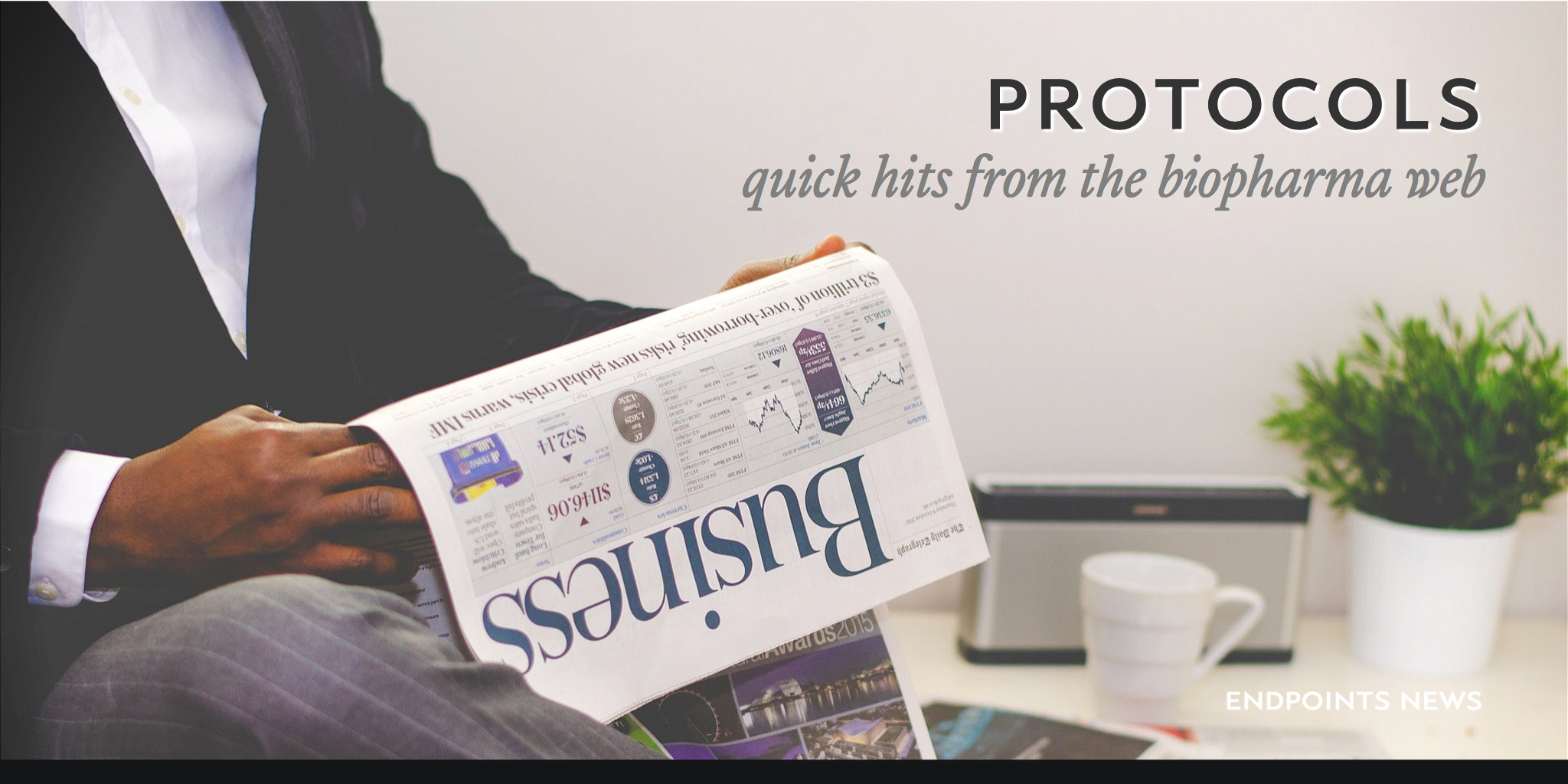 Chi­nese I/O play­er Ad­lai Nortye wraps $50M Se­ries B; Am­gen touts PhI­II da­ta for Rem­i­cade knock­off
→ Hangzhou-based Ad­lai Nortye has gar­nered $50 mil­lion from some top do­mes­tic back­ers for its vi­sion in build­ing a glob­al im­munother­a­py com­pa­ny in Chi­na. Yuan­ming Cap­i­tal led the Se­ries B round, joined by Ma­trix Part­ners Chi­na, Detong Cap­i­tal and Yahui Pre­ci­sion Med­i­cine Fund. Ad­lai Nortye jumped in­to late-stage stud­ies with an $86.6 mil­lion li­cens­ing deal with a strug­gling On­colyt­ics Biotech, which gave it de­vel­op­ment and com­mer­cial­iza­tion rights to Re­olysin (pelare­o­rep) in Chi­na, Hong Kong, Macau, Sin­ga­pore, South Ko­rea and Tai­wan. Un­der the lead­er­ship of CEO Carl­sten Lu, the 100-plus staffers will now fo­cus on ini­ti­at­ing a Phase III study of Re­olysin in breast can­cer and con­tin­u­ing a Phase Ib tri­al for EP4 an­tag­o­nist AN0025 in sol­id tu­mors. "We are very op­ti­mistic about Ad­lai Nortye's huge de­vel­op­ment po­ten­tial in the tu­mor im­munother­a­py area," said Yuan­ming found­ing part­ner Yuan Tian in a state­ment. "We look for­ward to col­lab­o­rat­ing close­ly with Ad­lai Nortye, con­tin­u­ing to sup­port their in­no­va­tion and com­pa­ny growth."
→ Ready­ing a case for what would be the fourth biosim­i­lar to Rem­i­cade, Am­gen $AMGN has of­fered some da­ta spot­light­ing ABP 710's non-in­fe­ri­or­i­ty to the J&J drug in mod­er­ate-to-se­vere rheuma­toid arthri­tis. When the com­pa­ny be­gins to seek reg­u­la­to­ry ap­provals, it will have to find its way in­to an in­tense ri­val­ry be­tween J&J and Pfiz­er, with the for­mer mov­ing to slash the price of the brand drug to guard against Pfiz­er's two ap­proved copy­cats. To be sure, Am­gen has a ways to go be­fore it can claim to have a prod­uct that ful­ly threat­ens Rem­i­cade — in­di­cat­ed for chron­ic se­vere plaque pso­ri­a­sis, mod­er­ate-to-se­vere Crohn's dis­ease, mod­er­ate-to-se­vere ul­cer­a­tive col­i­tis, pso­ri­at­ic arthri­tis and anky­los­ing spondyli­tis — but it's keen to fol­low its five mar­ket­ed biosim­i­lars (be­tween US and Eu­rope) with more suc­cess sto­ries.
→ Shares of Cara Ther­a­peu­tics $CARA shot up this morn­ing based on some pos­i­tive, though not uni­form­ly promis­ing, da­ta from their Phase II/III study of a new pain med called CR845. Re­searchers re­port­ed the high dose cleared the bar on sta­tis­ti­cal sig­nif­i­cance for pain re­duc­tion in the first 24 hours, but the low dose fell short of the mark. Some of the key sec­on­daries al­so came through, with the high dose hit­ting on sig­nif­i­cant­ly re­duc­ing the in­ci­dence of pa­tient-re­port­ed vom­it­ing, with the low dose again falling short. Their stock soared 32% Wednes­day morn­ing.
→ Roche's Chugai Phar­ma­ceu­ti­cal has ter­mi­nat­ed its pact on Japan­ese rights with Phar­ma­Mar on Zep­syre.